I was wondering if I need to change the title 'Dress Code for Women in Prague' to something like what to wear in Prague or what to pack? But then I decided to be consistent. In Prague you can wear anything you please. However, the weather often makes it very clear what one should wear!
I went to Prague at the beginning of April, when they officially declare summer and the prices go up! And yet depending on the kind of weather, we still needed to stay warm. So light jackets and coats were out. And jeans seems to be the national dress! You can't go wrong with jeans, jacket and walking shoes in Prague!
People involved in activities may dress to keep comfortable as they would stay warm anyway because of exercising! On one of the days there was a half-marathon in the city and the runners were out in full force in their sports gear!
People who were only walking often dressed to stay warm! As I said before jeans was common, so were leggings and of course backpacks to stash away things!
Maybe April was too cold for skirts and dresses but I did see a few people wearing them! The lady in the first picture was out there for a photo shoot, hence the pretty dress and high heels. Otherwise the cobbled streets are not friendly for high heels at all.
If you are still not convinced as to what women wear commonly, here it is, more jeans! The girl in red t-shirt is my daughter. The mom of the little boy, the boy, dog and Chhavi had a great time playing around! The girl in legging is my niece, Vasu!
I have been to Europe in the past an experience tells me to expect the weather to be such that you need jackets in summer. I always remember this. I have often been caught in mild rains too in the past. But that I always forget and I never carry an umbrella. And then I end up buying umbrellas in foreign currency which I don't like one bit. Luckily rains came on the last day of our trip and it was mild. But the next time I am headed to Europe I am going to carry an umbrella from home!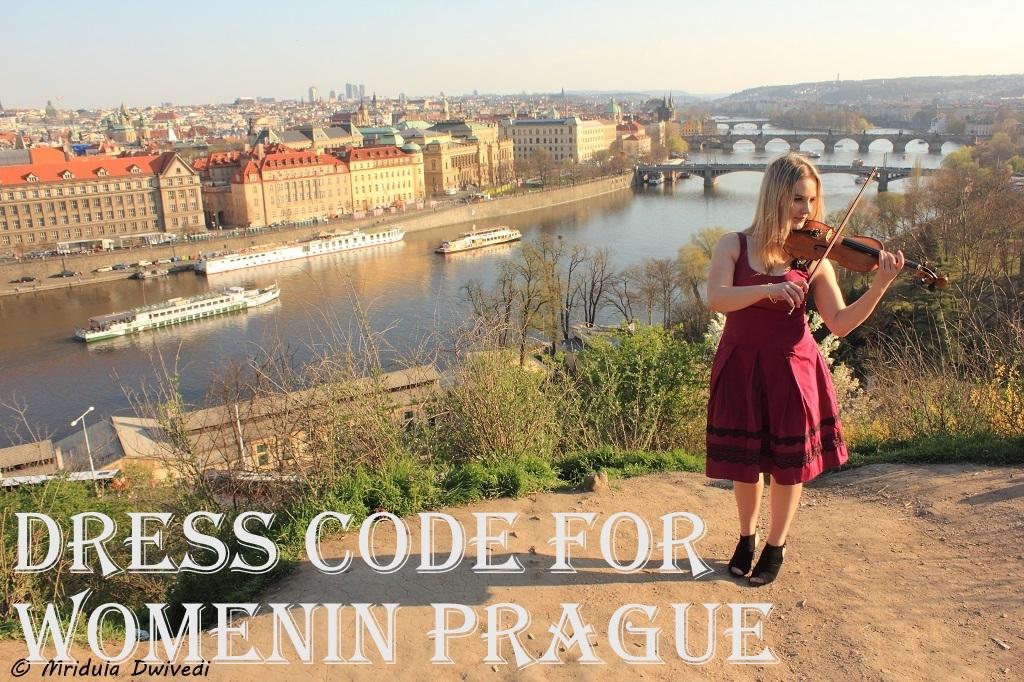 So if you are headed to Prague, do remember you can wear anything you wish but weather tells you to pack jackets too. Jeans seem to be the national dress. But I was told that if you wish to attend opera you need to be dressed formally. Then jeans is no good! That is all what I could figure about the dress code for Women in Prague.