Before visiting Oman, I had been to Dubai, Sharjah and Ajman. So, I almost knew what to expect when it comes to dress code for women in Oman. These countries have a courtesy policy which asks men and women, both, to cover up their knees and shoulders. But this post is only about women, as that is what I always focus on.
If you cover your knee and shoulders you are good in Oman. That means a t-shirt with sleeves and a capri below the knee is absolutely fine in most of the places.
However, there is an exception to this, if you wish to visit the Grand Mosque in Muscat, you need to cover up like the local women. Only hands and feet remain uncovered while visiting the mosque. I wore a long sleeved kurta, long skirt and carried a duppata (a long scarf will do). The ladies at the entrance of the mosque draped the duppata around my hair. If your dress does not meet the requirement you can rent appropriate clothes for a fee. Do remember that the Omani Rial is equal to 2.5 dollars. It is cheaper to dress correctly rather than rent!
But other than the mosque there is a lot of tolerance for the dress code, particularly for foreigners and tourists. As you can see in the picture above, you can wear shorts and a cropped top but it will attract a lot of attention.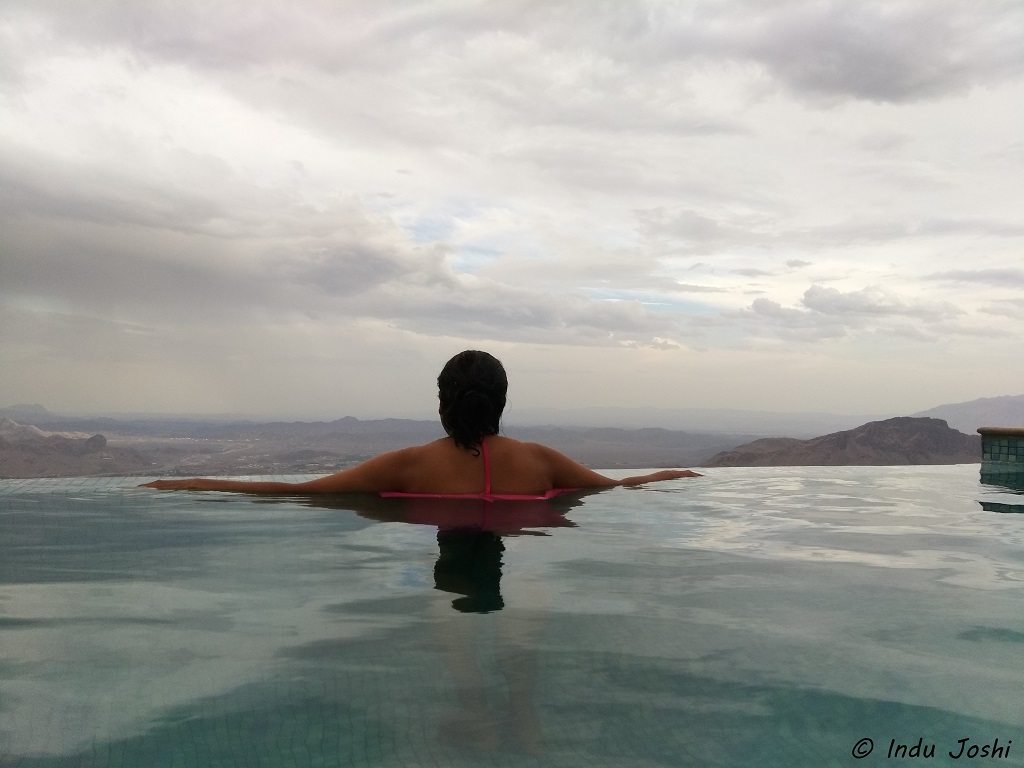 Within a resort swimming pool everyone wears a swimsuit or bikini. You can do so at the sinkhole or the beach too but outside a resort it will attract more attention.
In urban and touristic settings wearing sleeveless tops is also alright. The stated policy, as I said at the beginning of the post, is to cover the shoulders and the knees. But like Dubai, Oman too is quite tolerant of its tourists.
PS. I was invited to Oman by the Oman Tourism Board. The views stated in this post are entirely mine.