On my visit to Bharmour, we logged 12 kilometers everyday on foot for three days, one after another! On the first and the third day we could easily have taken a jeep to and from Hadsar, but when H is around such things rarely happen. I protest initially but in the end, the photo opportunities are just too good to ignore while walking. The waterfall or ice block on the road becomes a blur from the jeep, whereas I can stop as often as I want when we are walking. So, I always agree to get tortured one more time, after putting in a token protest initially.
I think I can still walk 12 kilometers because once upon a time, I used to run a lot. I could run for 10 kilometers at a stretch but that is real ancient history now. The second thing that makes me walk is the thought of food, that I can eat without any guilt if I walk something like 12 kilometers.

A steaming pot of Maggie noodles is just the kind of food I like to gobble at the end of a long day's walk. I like it anyway but I am teased mercilessly by my two nephews, Seshadri and even my dad joins in and calls me 'head junkie' of the home, all for savoring some Maggie 🙁 Whenever I have a bad day, there is nothing like a hot plate of Maggie made by my elder nephew (B1 = Brat 1) to cheer me up. I think he cooks the best Maggie in the world. But after a long day's walk I am forgiven for eating it. H feels I have earned it. That, or he knows one wrong word and I would refuse to budge even an inch on the next day, forget 12 kilometers.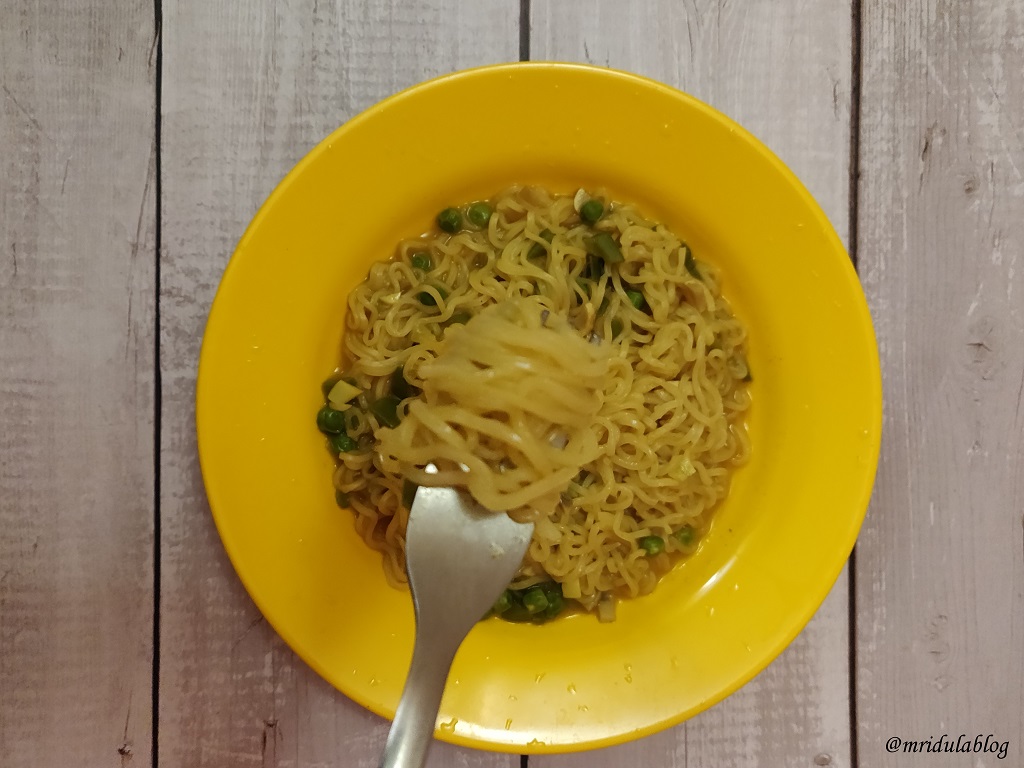 Maggie is something that I like a lot but I like tea even more. There was a time and I am not joking, I must have been gulping at least 20 cups a day, now I am down to 4 or 5. I do not like the nes-tea (ever occured to you it ryhmes with nasty?) that they serve in my office. I like the hot cup I get at my home and it is B2 (Brat 2 = Younger Nephew) who makes it so well. But nothing can beat the dabha tea. As soon as I see one, I refuse to move ahead without having a cup and H again behaves like an angel (he is not so fond of tea) cause he knows he has to make me walk again the next day, so better to keep me in good humor.

The next best thing in this world is jalebi but I did not get a very good picture of it here, for the uninitiated it is the left most iteam in the picture above. There was a time when I could gulp one packet of cake daily and remain feather weight because I would spend 2 to 3 hours on a badminton court or a basketball court. Gone are those days now. All I get to play is some TT, and though I enjoy it thoroughly, but I cannot gulp sweets like I used to. Still, I seem to gain weight everyday! After walking 12 kilometers I can afford to have a few sweets without feeling guilty.
This is Mr. Sharma of Sharma Dabha near the bus stand, Bharmour. He makes the most wonderful parathas (stuffed Indian bread) and tea in Bharmour. He puts a few clove flakes in the tea and it tastes heavenly. We got chatting with him and he told us that he worked for IB (Intelligence Bureau) for 21 years before taking voluntary retirement and coming back to his village. If you ever head to Bharmour do not miss his tea or parathas.
PS. The original post was with photos but I lost them along the way. I decided to keep the story to remember my trip.