The last time I took a flight with Air India (its domestic operation was earlier known as Indian Airlines) it was from Delhi to Bagdogra. I was headed to Baiguney (Sikkim) to attend an event organized by Club Mahindra.
Those of you who have been on sponsored trips, you might agree with me that an invitation feels complete only when the air tickets arrive in your own email box! Before that it is only a potential invitation.
I almost always arrive in plenty of time at the airport and this trip was also no exception. I also like to do web check in so that I can get a window seat. Without a window seat I sulk sulk and then sulk some more. There was another person flying from Delhi and we both checked in without any hassle.
I remember chatting with the young Air India ground crew and we realized that we were from nearby small towns. Once in flight I remember Saurabh watched Pan Singh Tomar whereas I watched an old Hindi movie (which was quite a tear filled affair), I vaguely remember the plot but I cannot remember which movie it was!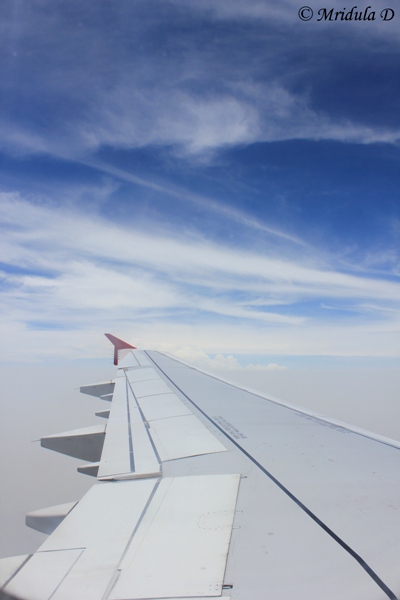 Delhi Bagdogra on an Air India Flight
In this flight I remember they ran out of vegetarian food. I had to do with lot of bread and butter but I was so hungry that even that was fine with me. As a traveler I really ignore these minor hiccups, they really don't affect my mood, more so on short flights. I am not sure I would be equally gracious if this happened on an eight hour flight!
When the plane started its descent my eyes were glued to the scenery but this was another flight when the clouds ruled at the touch down and I could not see much while landing.
Over all it was a pleasant flight but then the airline has such a reputation overall that every time you board the plane you wonder how it will go!