After Fort Kochi, Kerala Backwaters were my next stop. But instead of the traditional places Travspire offered me a cycling, walking and boating trip with my base at Breeze Backwater Homes in Kuthiathode. My room there was literally five steps away from the backwaters. Before lunch I had gulped two cups of tea and spent quite some time hanging in a hammock.
Before cycling I had a big traditional Kerala lunch served on a banana leaf. The stuff was seriously good but the amount of food I consumed was not ideal for a day of cycling. Such unwelcome thoughts were, however, pushed aside and I concentrated on enjoying my meal. Vishnu was my companion for the trip and Appu took the car so that he could bring the cycles back when we went for boating.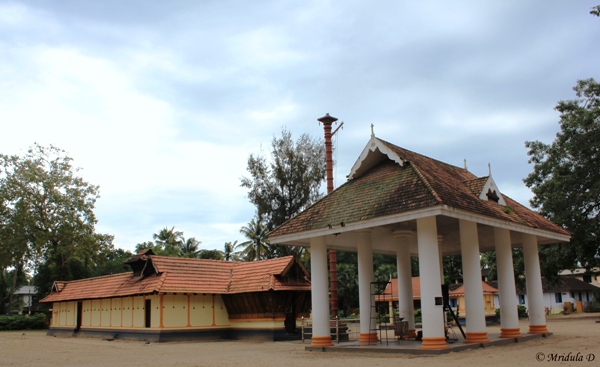 The Local Temple
One of our first stops was the local temple where I asked Vishnu if the locals still knew each-other? He said that they certainly did and temples were the usual gathering places for the people. He also said to enter the people have to wear traditional dress which meant sari for women. But a group of women went to High Court and won the right to enter in Salwar Kurta! I was quite surprised to hear that.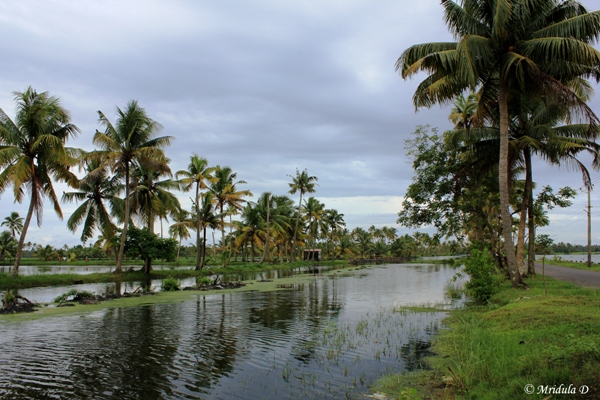 The Cycling Route, Kerala Backwaters
The path partially went through the village and then it opened to the backwaters and open spaces. Even in the village lanes people were tolerant of us, they would only honk us out gently out of the way. At no point I thought it was unsafe to cycle around. And in the open spaces it was a lot of fun. At this spot there was a local toddy shop. Vishnu gently mentioned it and I did not pursue it. Now I wish that I had gone and had some local toddy along with fish. I generally don't eat fish but I can nibble at it maybe once every 2 years. Someone else have to finish the dish for me.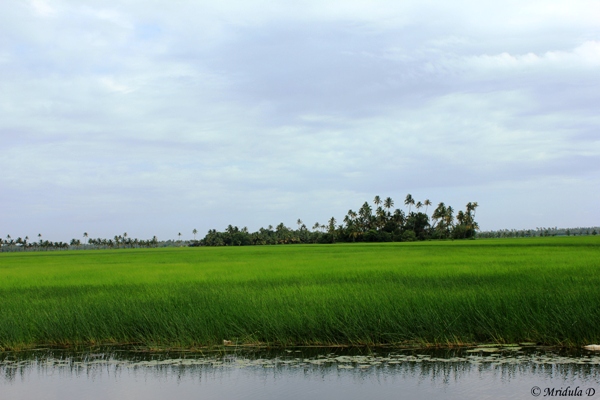 Lush Green Paddy Fields, Kerala Backwaters
We cycled past lush green paddy fields stretching long and wide. It was a sight to behold and the picture above is rubbish compared to the actual scene. I will admit readily that sometimes I do take pictures that can make a place look better than it actually is but this is not one of those pictures. We would stop whenever we came across something to admire. And I stopped for the longest time near the paddy fields.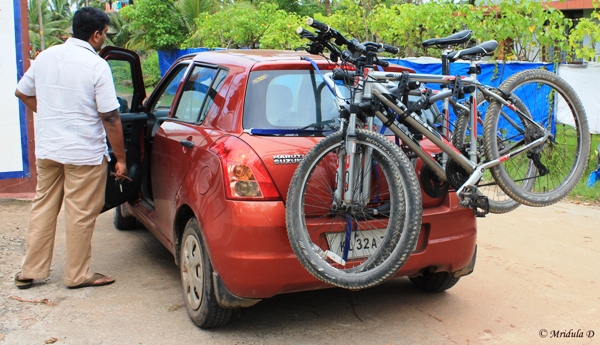 Cycling in Kerala Backwaters
My cycling adventure came to an end near Chettanam Fishing Harbor. Here you can see Vishnu chatting to Appu (whom you can't see, he is sitting inside the car). The cycles got loaded to the car in the end. I was glad I could cycle all the eight kilometers without falling off once. At one pint there was a lot of water across the dirt track. I almost fell there but in the end I managed to get through without splashing mud all over the cycle and me.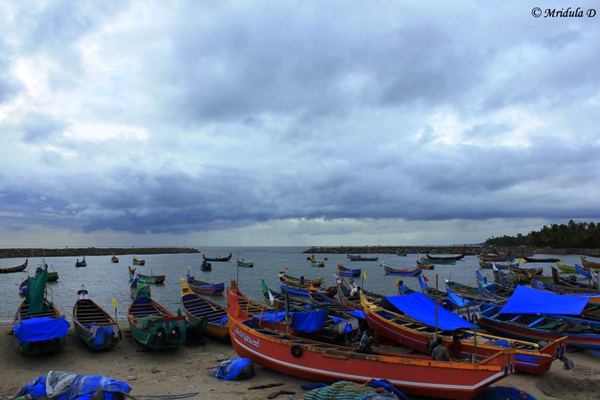 Chettanam Fishing Harbor, Kerala
Chettanam Fishing Harbor is used by local fishermen. The black curves you see toward the horizon are protective structures made for the ships so that they can enter the sea in comparatively rough weather as well. Vishnu mentioned that sometimes the catch from a single trip could be worth 3 lakhs Indian rupees (.3 million) which would be then shared between all the members of the boat. We walked along the stone structure for sometime.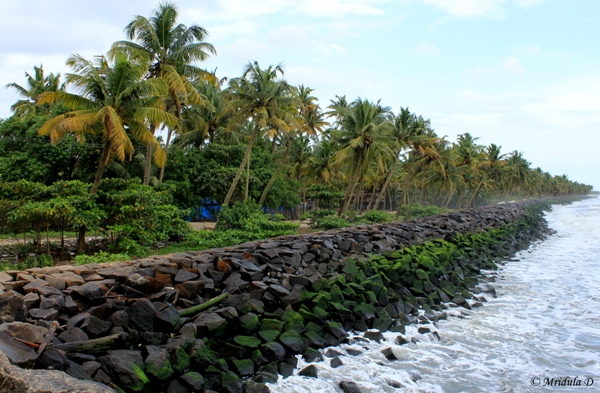 The Shore near Chettanam Fishing Harbour, Kerala
And as we tuned back I saw this beautiful shoreline dotted with coconut trees, as far as my eyes could see. The sea was rough though. For here our boat trip was a short car ride and even a shorter walk away.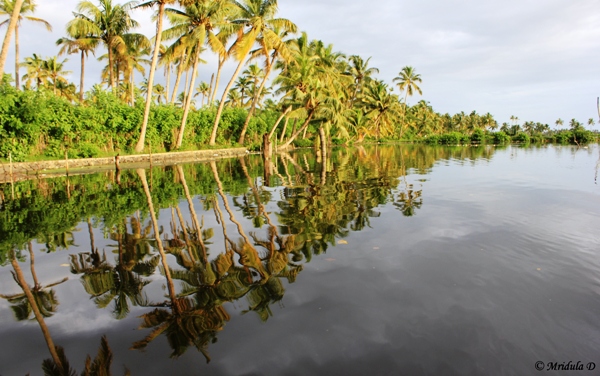 Kerala Backwaters
Our boat was a small one. It was rowed with help of a long bamboo pole. The water in the channel was shallow. And the boatman was proud to point out that it was a non-polluting vessel. Also being smaller than the houseboats it can once again navigate through smaller waterways. There were many caretaker huts along the way. Occasionally a lone person would be walking away on the other side of the bank. There were steel bands along some coconut trees which Vishnu told me were meant to discourage rats.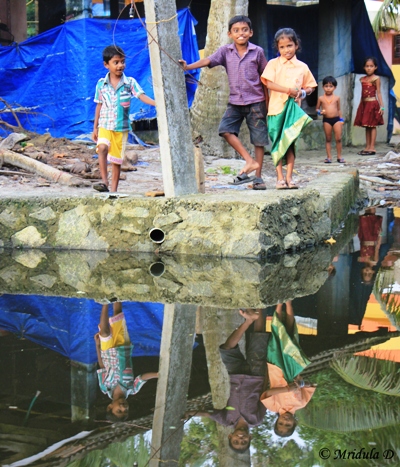 Curious Kids at Kerala Backwaters
At one point I crossed these curious kids all happily playing along the water, no gadgets in site. This was an absolutely quiet stretch and I enjoyed the silence. It is music to my city strained ears.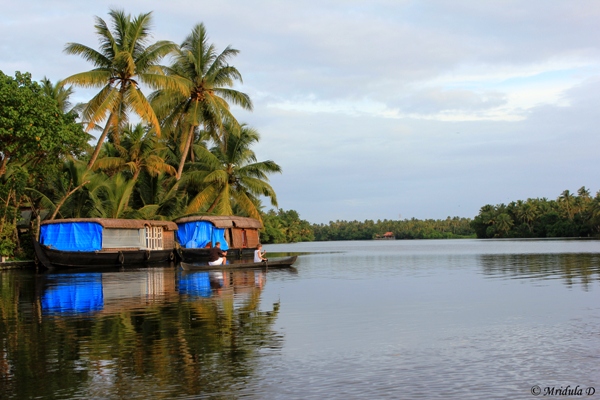 Houseboats, Kerala Backwaters
In fact this was the only other traffic we encountered. There were foreigners in the small boat rowing it all by themselves! And the two houseboats parked by the side. Soon we were back to Breeze Backwater Homes. It was time for another round of tea for me.
What a beautiful evening it was! I have to take my daughter to the place one day.