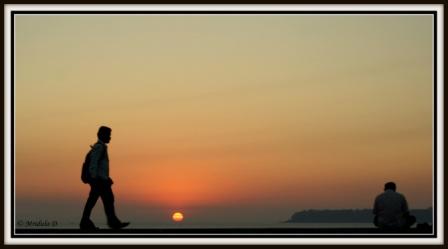 Clicked this one as I was going back to the Mumbai airport from the taxi itself. It was the same taxi where I said I had interesting conversation with the taxi owner. When he saw me taking out the camera, he applied brakes so  that I could take a better picture!
When I was through taking pictures we started chatting. He told me he understood English because he has worked for a long time in the Middle East. He said he came back with a lot of money with which he got his sisters married and invested the rest in a business venture but that gave only losses so here he was, driving a taxi again.
The conversation soon turned to his kids and like many parents he found it difficult to understand them. He said they would ask him to buy expensive clothes. I said you should tell them you do not buy such expensive clothes for yourself, why should you buy it for them? He was not too convinced that he should actually say something like that!
Then came the issue of working along with studying. I said I would let my kids do that, as it would teach them the value of money, because whoever will employ them would not give the money for free. I think he was a little convinced about this one.
Then came the issue of owning a home. He said he is from Mumbai so he owns a home, that a builder is about to buy and the worth of the house if in excess of a crore of rupees. I was happy to hear that. He also mentioned, "In Mumbai, the rich and the poor all enjoy, there are things for everyone to do." I asked I saw a lot of people sleeping on the streets when I got up early and walked out and he said that is true, at least the weather is not too cold.
While I was getting down he said, "Pray that my luck changes" and I promised that I would. I really do not pray but the gentleman is surely in my thoughts and I wish him well.