At Tintswalo Safari Lodge, three of us stayed at the Manor House. Manor House is about 5 minutes away from the main lodge by the safari jeep. We were always dropped to the lodge and we were severely discouraged from walking around on our own apart from the common areas in the main lodge. Manor House is a luxurious place with a private swimming pool. It is fenced off to keep the wild animals away.
One day while coming back from a safari I asked Erick if I could get by the pond near the Manor House and click the birds? He agreed. But he asked me to move into the fenced premises before he drove off to the main lodge. Later he came to pick us up for lunch.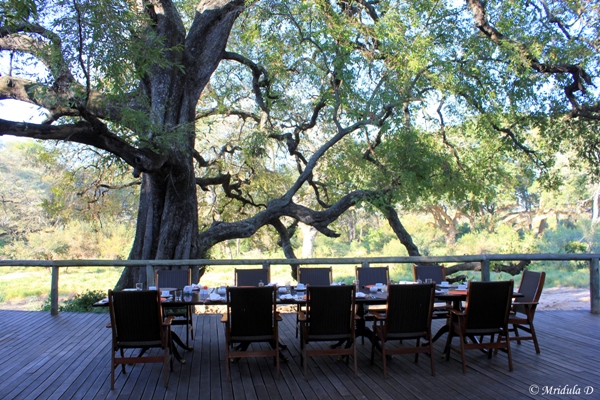 The Open Deck used for Meals, Tintswalo Safari Lodge, South Africa
After a good meal we were taken back to the Manor House as we had some free time. I asked again, "could I go by myself to the pond and click some bird pictures?" The answer was a polite but firm no. Erick said, "It was not safe at all as some animal might stray this way." I was a tad disappointed but I have never been reckless. So we decided to sit by the pool in a while.
Suddenly Asha called out load (she had the upper loft room) "Come here there is an elephant near my room." Shalini and I ran and enjoyed the view.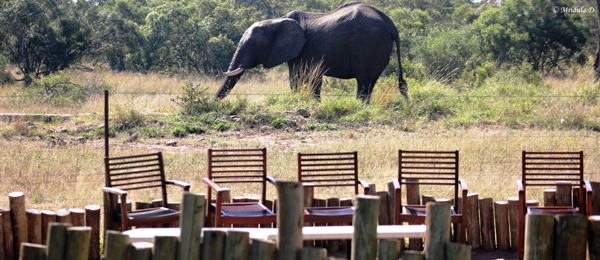 An Elephant near Manor House, Tintswalo Safari Lodge, South Africa
Then I went back to my room and in a whileI came out by the pool. The elephant was now calmly drinking water from my bird pond where I wanted to go alone! I am so happy that I am not reckless and I did not venture out on my own to do any photography near the waterhole, I after all wanted to photograph birds and not an elephant! I also asked at the lodge if elephants could destroy the electric fence and they said they could if they want to, so can lions. But they said they are used to the fence and generally leave it alone! Thank god for small mercies.