When I realized Cliff Jumping was on my itinerary in Boracay, Philippines too, I said I would decide to jump or not after looking at the cliff. I did it on the Magic Island. Within five minutes of reaching there I was standing at the edge of the platform, staring at the height below. I was ready to do Cliff Jumping in Boracay, Philippines. As I walked the narrow platform over the cliff, it looked incredibly high. Even though the height was clearly marked at 10 meters it felt like a long distance to the water below. I did cliff jumping before in Rishikesh, so that gave me some confidence.
At the Magic Island they have build platforms of various heights over the cliff. They are narrow planks protruding over the cliff. That way you are sure you will fall in the deep water below. The platforms start from 3 meters and the highest is 10 meters. My group members started to jump from the lower platforms first.
I knew for sure that I was going to jump only once. I cannot indulge in madness again and again. So I decided to do the cliff jump straight from 10 meters.
I gave my SLR to one of our tour guides, Chris, and my cell phone to Jun, who was the senior guide on the tour. I figured that between the two someone will get a picture.
As I walked to the platform's edge, I was scared. I still wanted to go ahead, I do get these fits of craziness. As I was almost on the edge Jun called out, "wait, I need to get your camera started again." I held the railing and waited for a go ahead from Jun. He called again saying he had my camera back!
This time I quickly walked to the edge, I didn't give myself much time to think! There was only one way to go, down. I knew from my previous experience that I had to keep my hands close to my body or it would hurt. It was over within seconds. As I surfaced, there was a collective shout of 'good job' from friends!
When I went back to them everyone told me I had to do it again as they could not get it on the camera! I replied, "I would not do it at any cost, not for a month at least!" They laughed and showed me the pictures.
And then Ciaran Blumenfeld of Momfluential showed me the slow motion video. I was overjoyed. I can't thank her enough for making that video. Thanks to her I can relive the moment again and again! My next thought was to share it with the family but in the same breath I knew they would not be thrilled.
When I posted the picture on FB, Seshadri (my husband) simply typed my nickname with a question mark! I told him it was indeed me.
My sister saw the post on Twitter and this was reaction
You are jumping from there? Hen? https://t.co/ln86MPCLri

— Alka Dwivedi (@alka_d) October 18, 2016
When I said yes, she replied galat baat (not good). I told her chup (to keep quiet). My father told me today, "You went in straight but you could get hurt if you went at an angel." My father never tells me not to do a thing, but it was his roundabout way of saying he was not thrilled at all.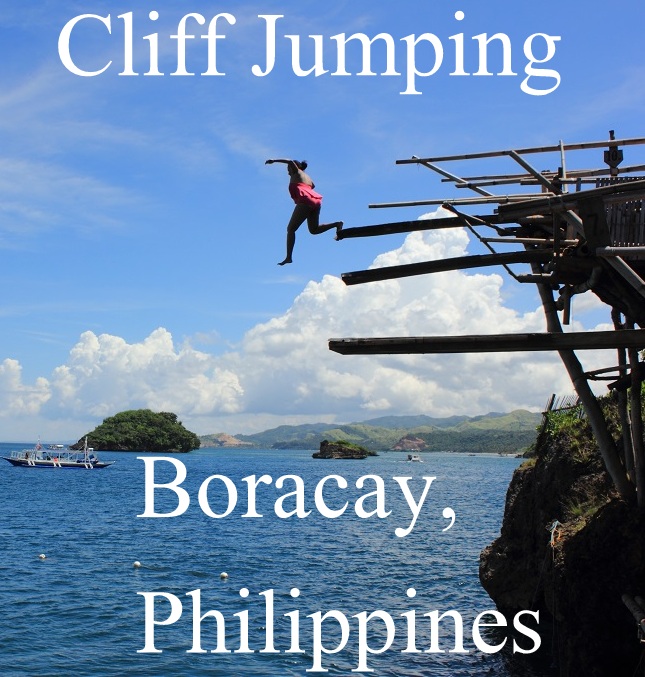 I have already done cliff jumping twice now, so I guess I might do it again! But then I will for sure not jump from something incredibly high. I do not go chasing adventures but when they come my way, I somehow end up engaging with them! You can read more about the cliff jumping activity with prices on this blog from Philippines.
And while I have a lot to write from Philippines, come Wednesday and I should be traveling again!
PS: I was in Philippines as a TBEX Speaker and Boracay was my post TBEX FAM Trip.