It is almost Christmas time and the atmosphere is festive all around me. I was invited a Christmas Banter at The Imperial Delhi. It was a pleasure to be a part of the festivities.
The event was organized at the San Gimignano Restaurant. As usual I felt a bit jittery because it was a food event. Now that never happens when I travel! I was greeted by Ruchi and Aparupa from the marketing team. Aparupa told me she subscribes to my blog! I replied, "that is a bit unnerving, because you just write what catches your fancy, not thinking about who is going to read it!" She protest that there was so need for me to be nervous!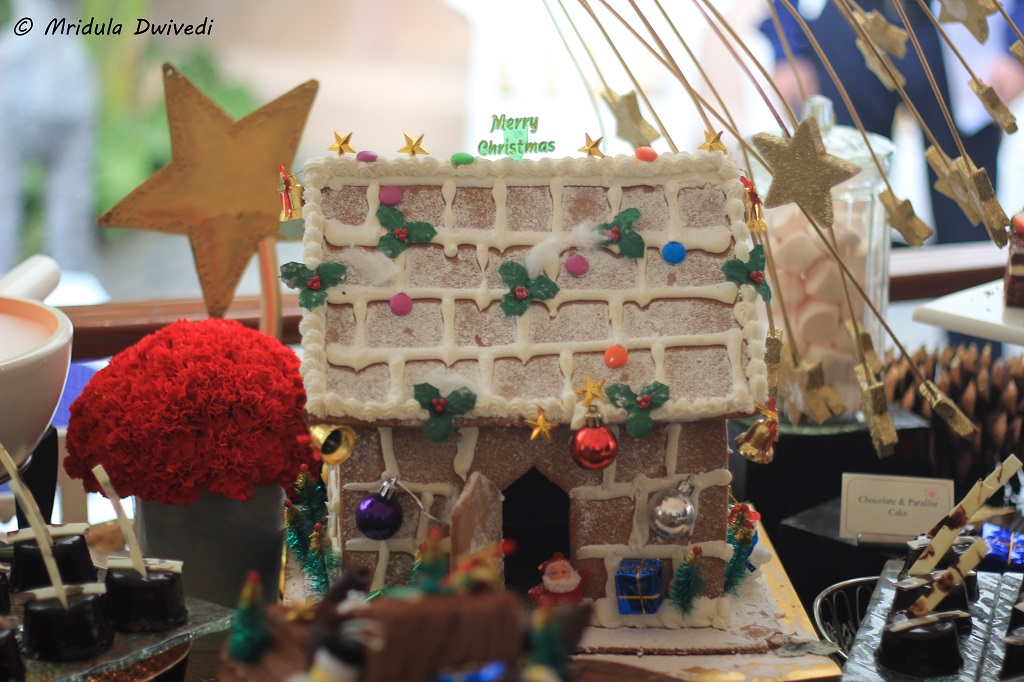 After about five minutes I was drawn in the festive atmosphere and I was happily munching away at the the large spread of Christmas goodies!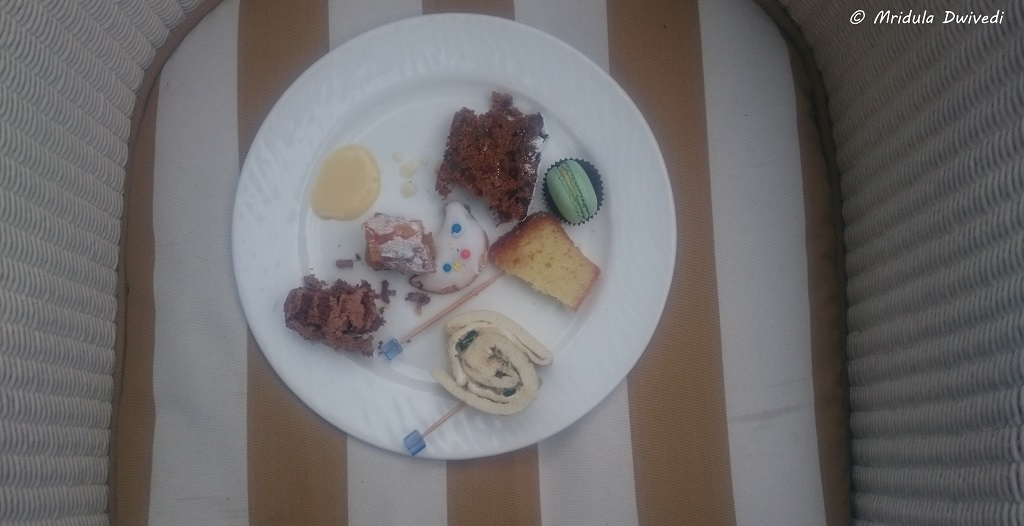 I actually showed my plate to Ruchi saying "there goes my one month worth of workout at least!" She told me I didn't need to workout but that is not true!
They held a Christmas quiz about food. I probably opened my mouth only once with a wrong answer!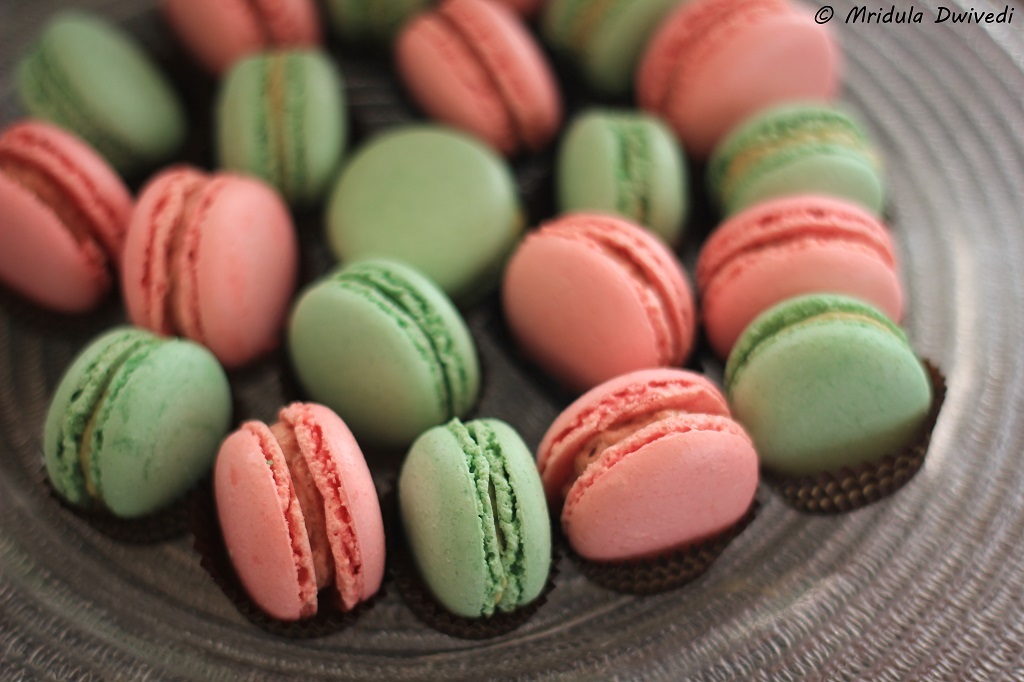 The spread had macaroons, Christmas pudding with brandy sauce, ratatouille tartlets, mincemeat pies, cheese fondue, monte cristo, hummus and cream cheese pinwheel sandwiches and much more. It was not possible even to taste everything. And I have not talked about the non-vegetarian options at all!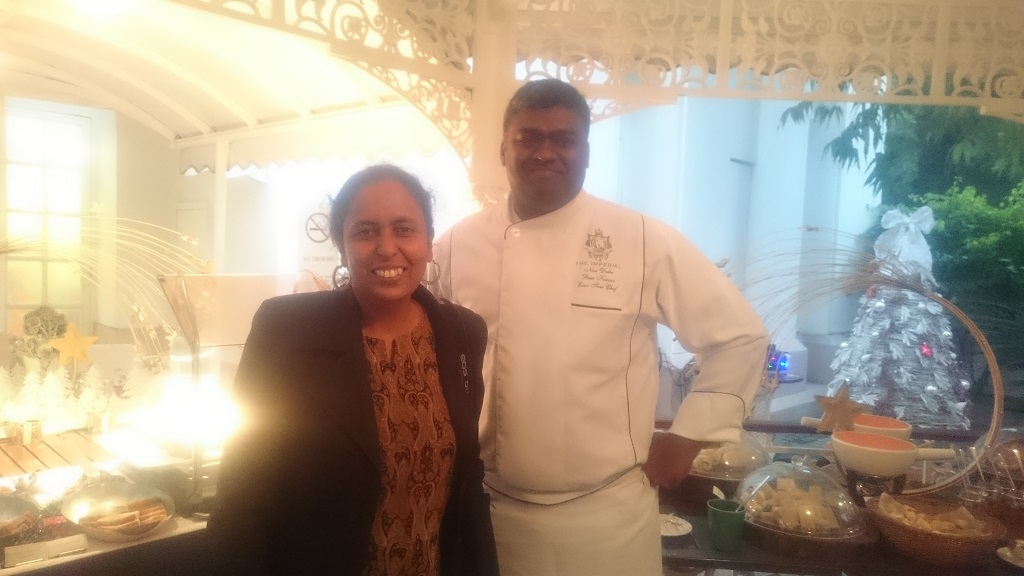 Chef Prem Kumar and his team demonstrated how to make mug cakes in microwave to all of us. I could not figure it out exactly then but when I came home I googled it!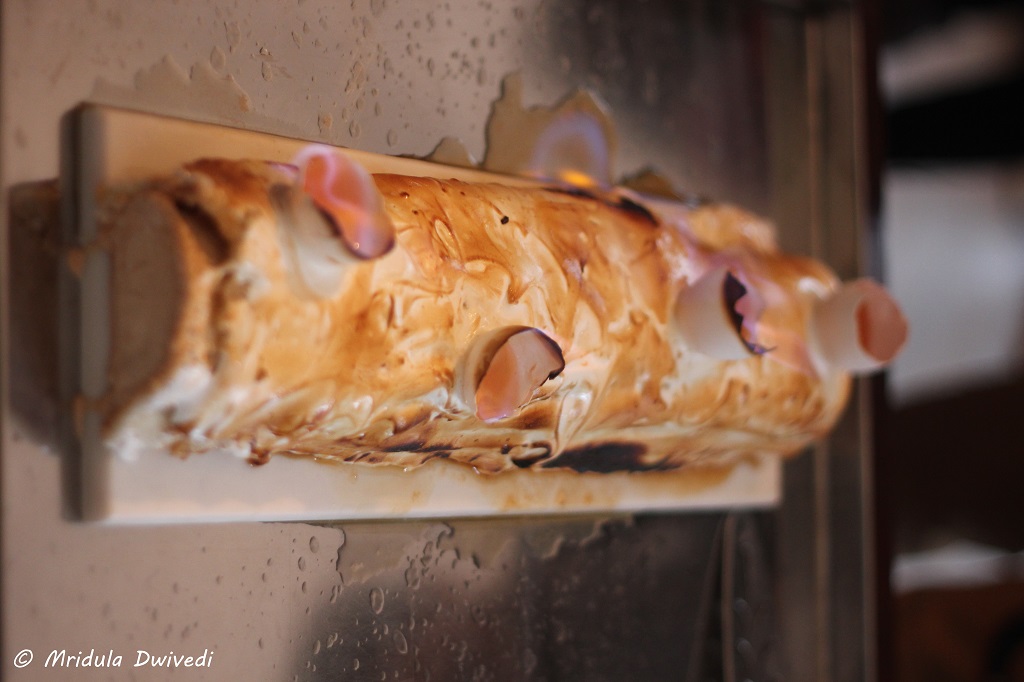 He then brought out a Baked Alaska! It is an ice-cream and cake dish. The egg shells had brandy in it and it was set on fire! That gave the dish a slightly burned outer shell. It tasted divine.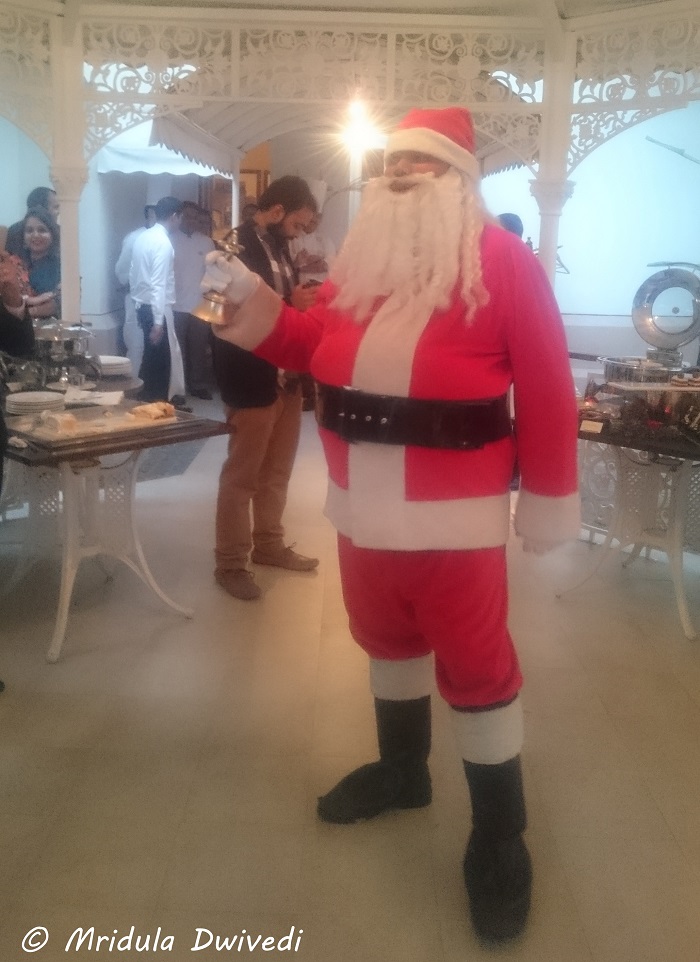 A while later Santa Claus made an appearance and gave away Christmas goodies, which was a gorgeous Gingerbread Hut! I was traveling back home by the metro and I feared for its safety. It was past six pm when I boarded a Gurgaon bound metro from Rajiv Chowk. Thankfully the metros going to Gurgaon in the evening are not that crowded.
The hut was the talk of the ladies coach. So many people asked me what was it and where did I get it from? One college going girl asked me if I was a blogger when I told her it was a gift from The Imperial! She said she followed bloggers on Instagram!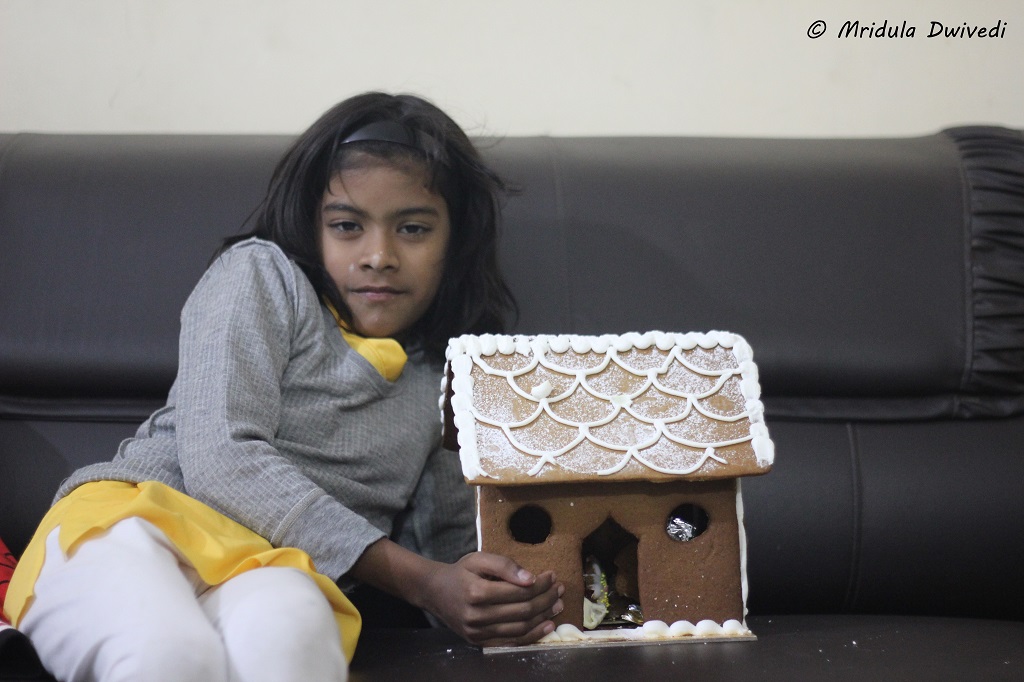 I found a massive traffic jam at IFFCO Chowk but that was to be expected. Chhavi was almost asleep when I reached but I showed her the hut. She pranced around it for 15 minutes, gave me a strict warning, not to break it and then went to sleep. I managed to get the hut home in one piece in the end.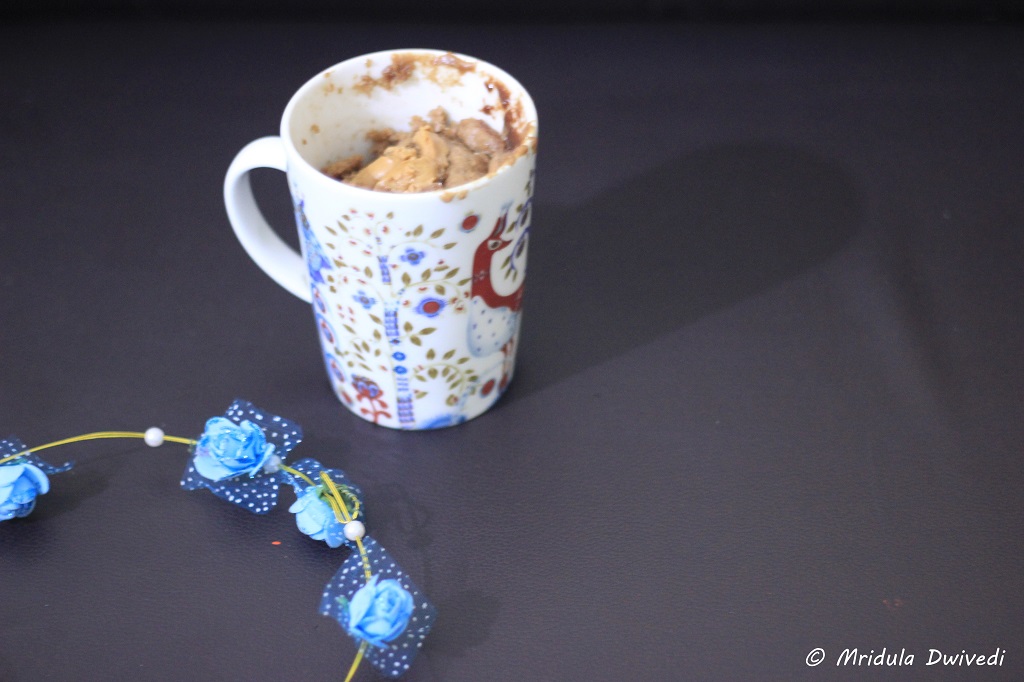 The next day inspired by the event, I followed a mug cake recipe at home. It has been a hit with everyone. And if I can make it, anyone can make it! It just requires a microwave. Chhavi demanded it again today! Maybe, the taste buds I lost to hostel food all those years back, they are getting revived with travel and good food in town!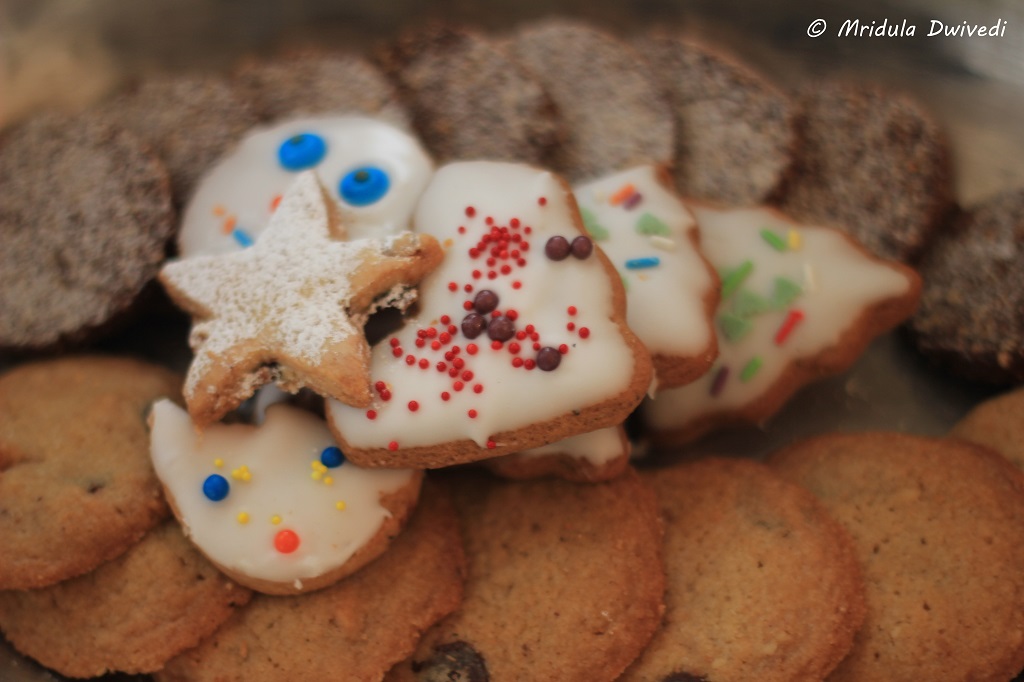 And here is to all of us, a Merry Christmas and the very best for 2016! May you have a bright festival season and lots of cheer!