I recently visited Fort Kochi on Travspire's invitation and what a trip it was! I had only two evenings at Fort Kochi and the first of it was devoted to watching a Kathakali dance performance. So I had only one evening for the Chinese Fishing Netsand I was sincerely longing for some drama in the sky.
Impatient that I am, I headed out at 4.30 in the evening when the sunset was at 6.48 or so. After walking along the coast for sometime, I started feeling tired. It was time to look for coffee and something sweet to eat. I had already devoured roasted peanuts from the roadside and had a tender coconut to drink and yet I was hungry. And then I wonder why my weight remains constant! And that I have started to appear a little roundish.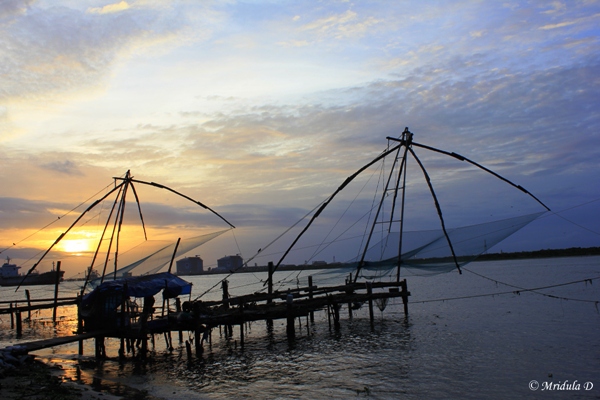 Chinese Fishing Nets, Fort Kochi
I reached Old Lighthouse Bristow Hotel while strolling aimlessly in one direction. At the gate I asked for their restaurant. In a few minutes I was comfortably seated. Two other tables were occupied close to me and one at the far end in the open air. The service was on the slower side but then I might have been in a rush to catch the sunset. It was a nice place to sit and watch the sea and the sunset. But you could not see the Chinese Fishing Nets from there. The sun would not wait for me, hence the rush. I asked for an apple pie with cream and South Indian coffee. The food arrived before sunset, it were excellent. While I was eating them it became completely overcast for a few minutes. Before that the glare was so hard that I took out my sunglasses. My heart sank at the prospects another grey sky at sunset. I had seen way too many in Nepal to last me a lifetime.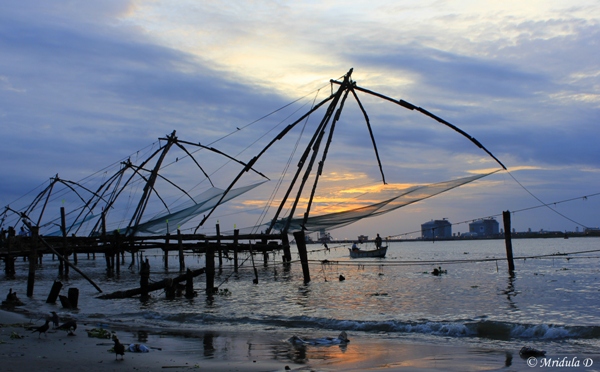 Chinese Fishing Nets, Fort Kochi, Kerala
But on 27th July the battle was won by the sun, I was happy that clouds cooperated in playing a secondary role. That meant that I had to finish my apple pie and coffee hurriedly and run back to the fishing nets. I wish I had a few more days to photograph them at sunset. The history of the nets is old it goes back to about probably 1350 AD. The Chinese connection is apparent from the name. But from which region of the world they actually originated is a bit doubtful.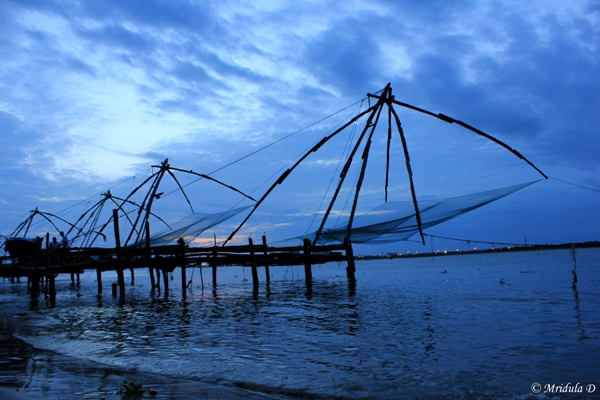 Chinese Fishing Nets, Locally Kknown as Cheena Vala, Fort Kochi, Kerala, India
Wikipedia suggests that they came to Kochi via Macau.
"It was earlier thought that the nets might have been introduced by the Chinese explorer Zheng He. Recent research shows that these were introduced by Portuguese Casado settlers from Macau."

I was invited by the owners of one such fishing net to walk alongside and have a look. I knew they would expect a tip but decided to go along in the end. The nets are operated by 5-6 fishermen together. The front of the net is dipped into the water to catch fish. It has a complex system of stones that work as pulley. So it is a group activity. The fishermen offer to cook the fish right there for you but it is a pity that I generally don't eat fish. By dusk I decided to walk back to my hotel and look forward to my trip to the backwaters the next day.