I have been to Bhuj a few times. So, when I was visiting in December 2019 I was looking beyond the usual tourist attractions in Bhuj. And I was not disappointed. I found two paces that I didn't see on all my previous trips. This post is about the historical site, Chhatedi. But you also have to look for Ramkund. I am crazy about stepwells and I managed to visit Ramkund too on this trip. My trip was sponsored by Gujarat Tourism.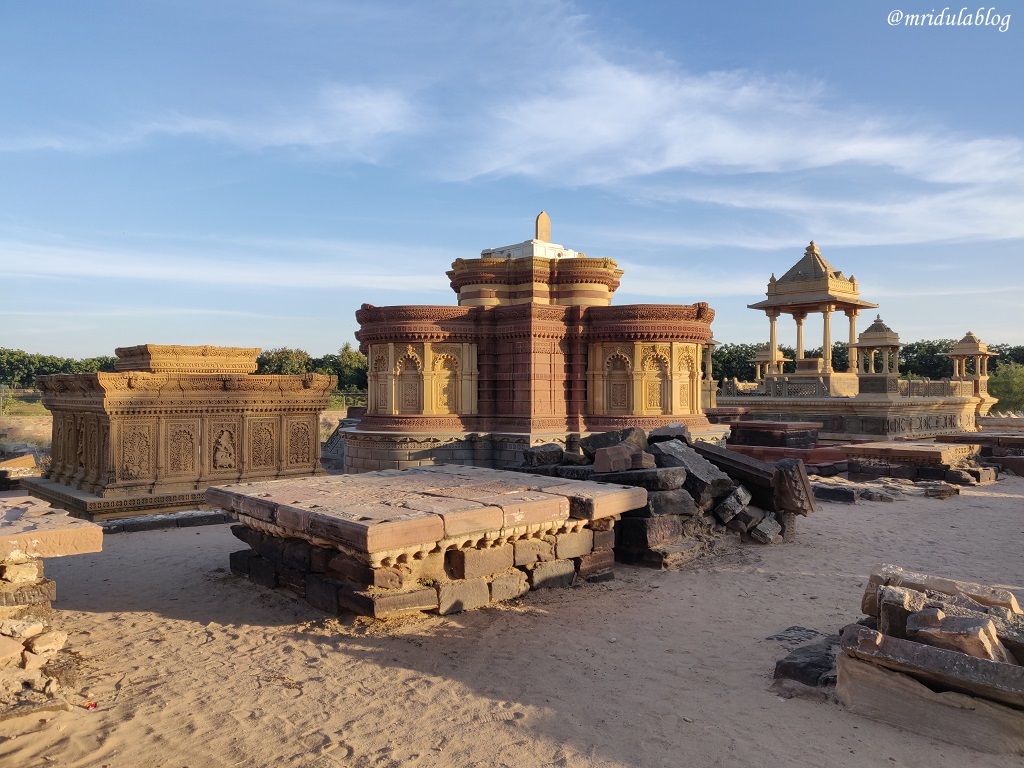 If Chhatedi was in any other country it would be marketed as a major tourist attraction. But not in India, maybe it is because we have too many historical sites or maybe it is because we don't value our history. But now you know about Chhatedi so do include it in your to do list for Bhuj. You will not be disappointed. Also, I was there at sunset and I highly recommend it.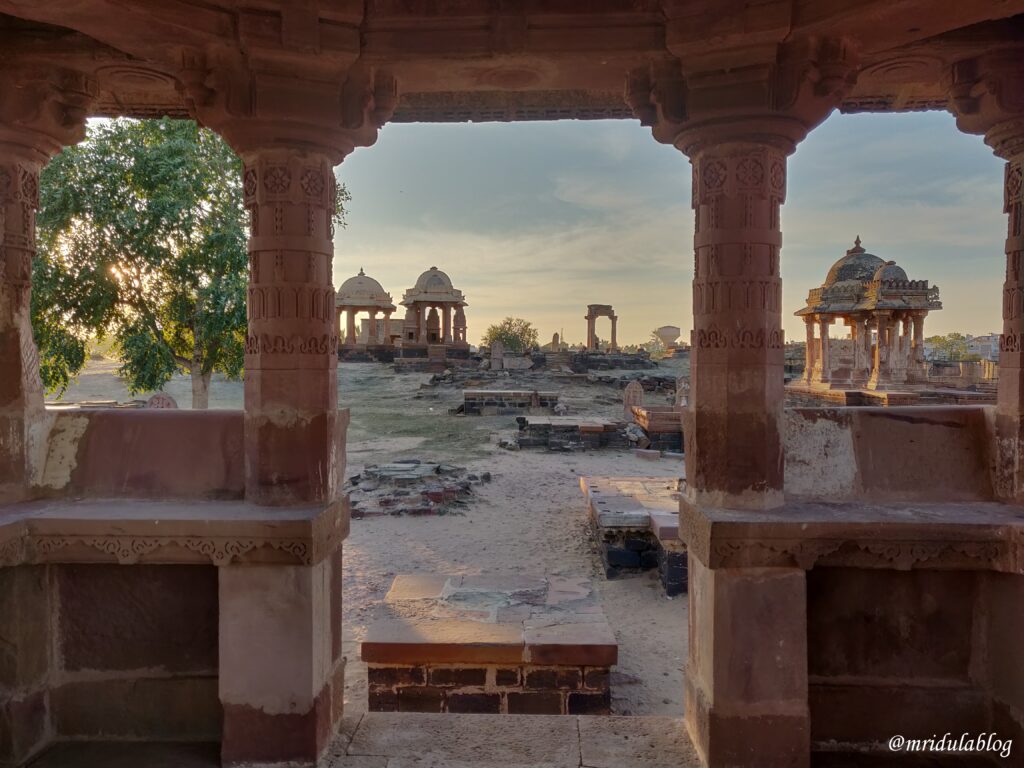 The word Chhatedi derives from Chhatri which means umbrella after the shape of the domes of the monument. Chhatris are popular all over Rajasthan and Gujarat. The Royal cenotaphs are usually associated with the resting places of the rulers of the region. Locals treat the structures with respect and they expect the same from the tourists. The Chhatedis at Bhuj were constructed by the Jadeja rules in 18th century.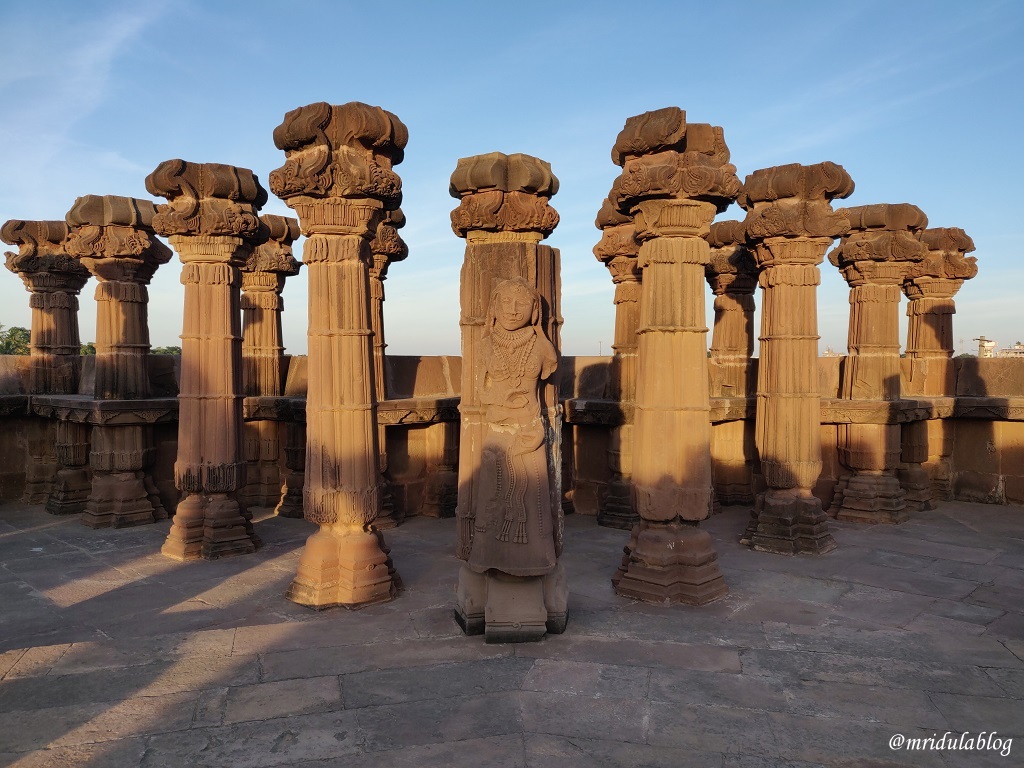 Not much was written about Chhatedi around the site. I saw one sign board and all my historical information comes from that source. The most ornate complex is called the Rao Lakha Chhatri. The architecture style is a mixture of Rajputana and Mughal styles. They are carved out of red sandstone.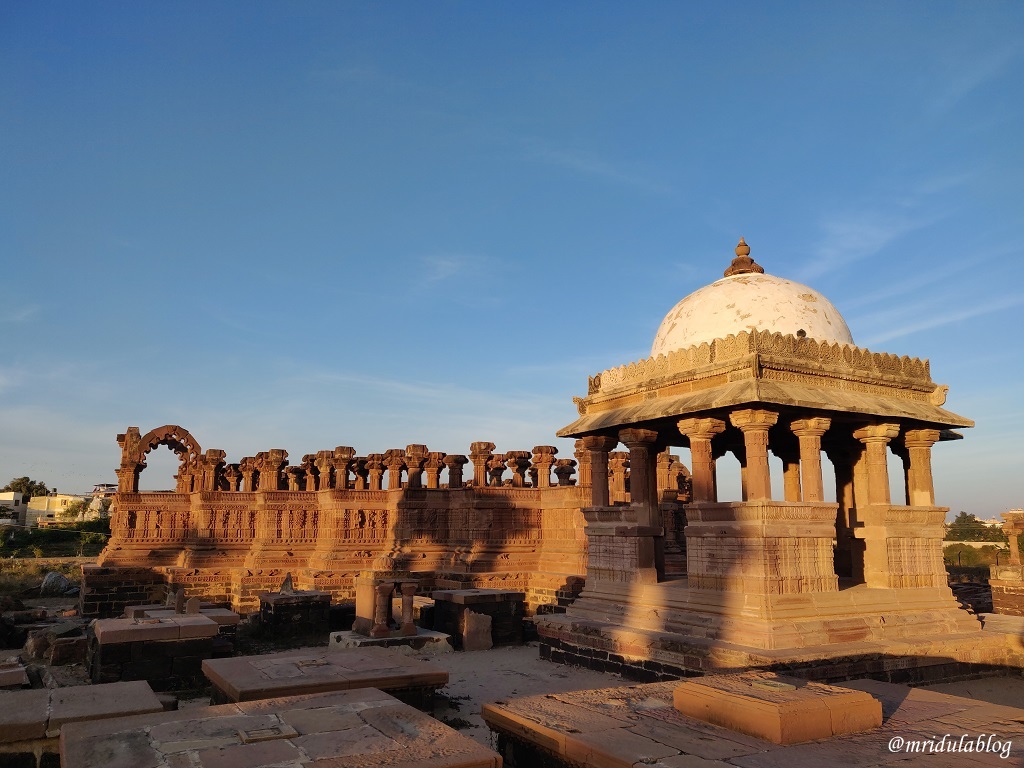 The Rao Lakha Chhatris are designed by Ram Singh Malam. A stone slab in the complex also suggests that 15 of the King's wives gave up their life at the funeral pyre of Rao Lakha. Many of the Chhatris were damaged in the 2001 earthquake at Bhuj.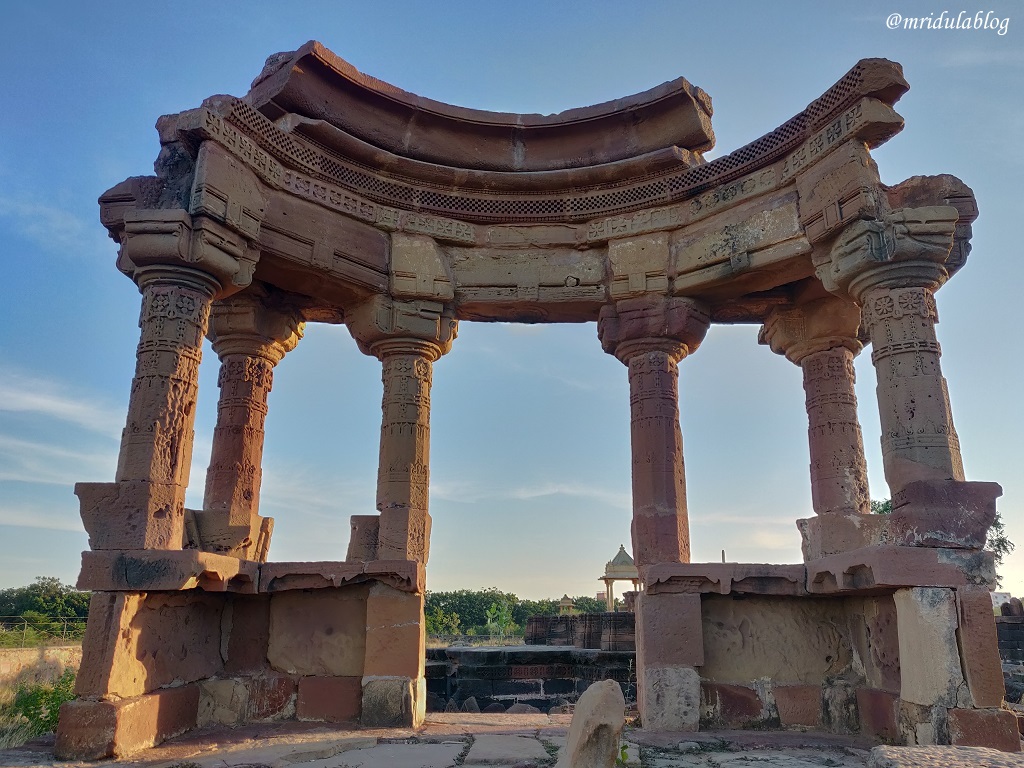 When we went, other than our group, there were only a few locals around. There was no entry fee but a caretaker was present. There are not many restrictions, but you are not supposed to climb over the actual cenotaphs, the rectangular structures on the ground. But otherwise we were free to walk around and explore.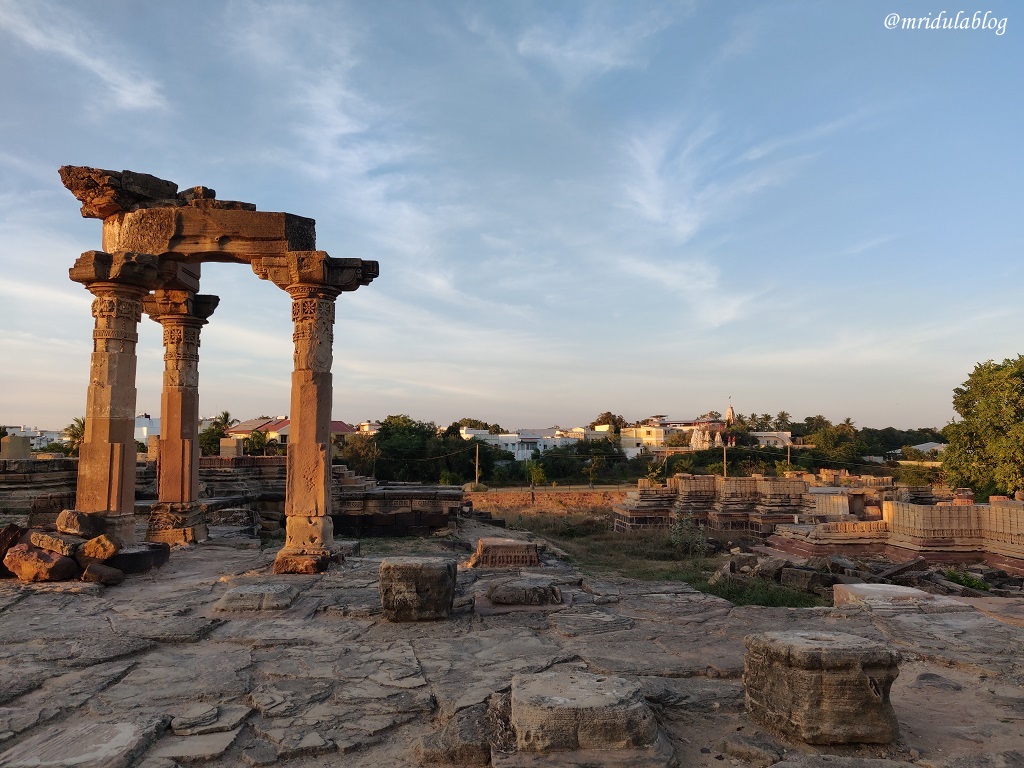 Personally, I enjoyed exploring the ruins at Chhatedi. It was quiet. The light was perfect for photography and we had time. I loved taking pictures at leisure. The ruins are striking and I hope my pictures give you an idea of how much I enjoyed my time there!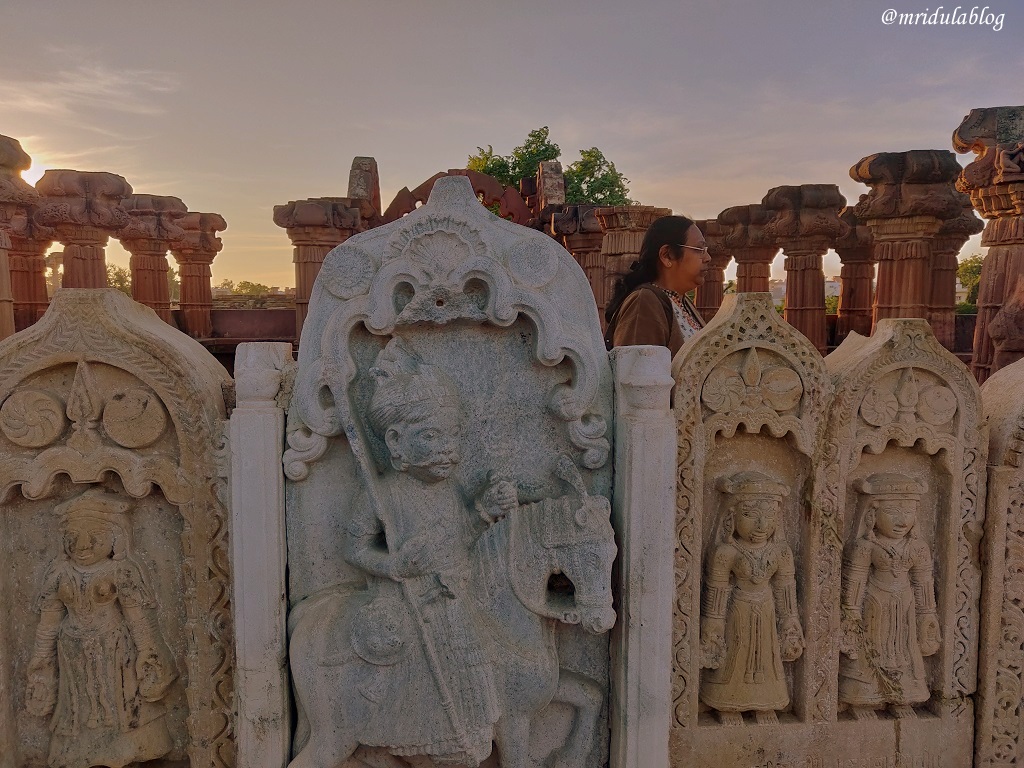 There are a lot of figures and images on the pillars around the Rao Lakha Chhatri. In the absence of historical information, I would just let my imagination run wild and construct stories about the human figures.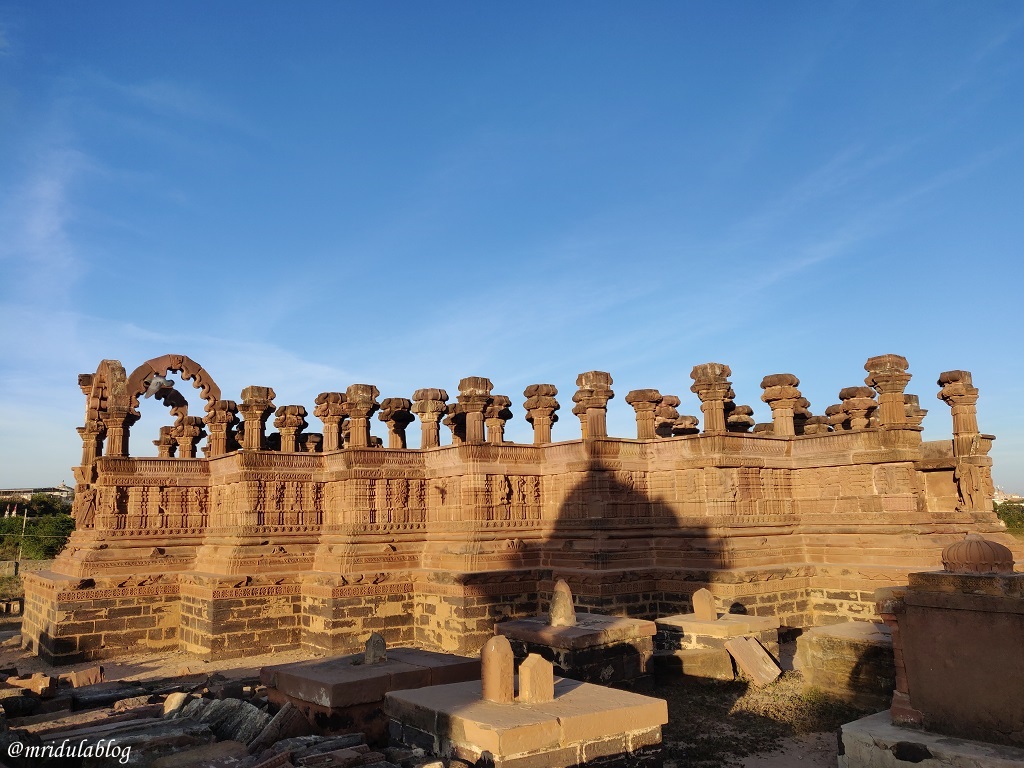 It is not difficult to reach Chhatedi. The local auto drives will know the way. I did not use Google Maps for this precise location but it the maps usually worked well in Bhuj. The street address of Chhatedi is 15, Town Hall Rd, Jubliee Colony, Banker's Colony, Bhuj for your reference.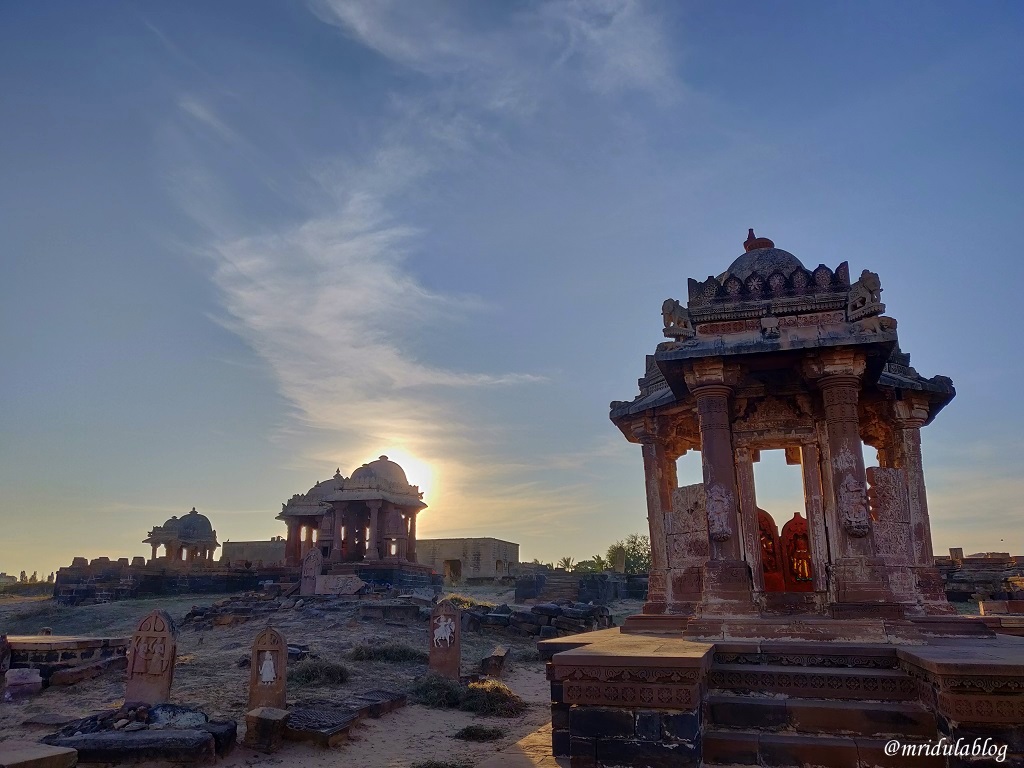 I highly recommend a visit to Chhatedi in Bhuj, more so if you can manage go around the sunset time. Not too many people visit it. You might like to stay for 2 hours if you wish to take a lot of pictures. Swami Narayan Temple is nearby and that too is a beauty to hold at the sunset.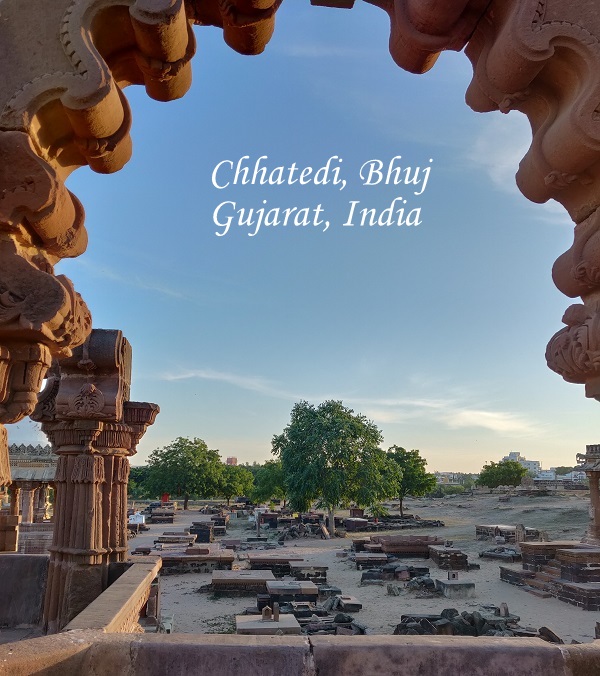 PS. My trip to Kutch was sponsored by Gujarat Tourism.