The journey from Leh to Pangong Lake was memorable for so many reasons, most of it for the discomfort! The roads were narrow, broken in places and waterfalls flowing on them at times! But the breathtaking views it had all around.
We took a shared jeep from Leh to bring the cost down. There were three of us and a group of men who had not told their wives they had gone to Leh! In a Tata Sumo if you sit on the back seat you get jogged around on the road. We would change seats with each-other so that everyone got there share of jogging around.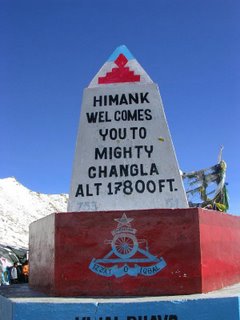 In order to visit The Pangong Lake, one has to cross the second highest motorable road in the world at 17, 800 feet. The experience is amazing, most of the time you are gasping for breath. Breathtaking views all around. I remember a couple with a very young child, barely a few months old. The baby was quite well wrapped, which was really good. I don't know what happened but the mother dropped the baby to the ground due to some sudden moment! And guess what, due to the various levels of cushioning clothes, nothing happened to the baby.
I was left wondering how the child would cope with the altitude? I think the baby did fine. The thin air at the higher altitude is certainly an issue for us adults. It is said that children raised in lower regions also don't cope well. But then there is so much mystery surrounding the high altitude sickness.
Changla had an military post of the Indian Army. The army men would chai to the tourists. After crossing the pass we went down again because it was easier to breathe again!