When I woke up 15 minutes before the alarm would go, at 5.45 am, I had a great temptation to just turn the other way and go back to sleep again. However, I made it to the metro, only to yawn continuously all through the journey. In spite of living in NCR for a long time, I have not frequented Chandni Chowk. So, when friends at Darter announced a Chandni Chowk Photowalk for today, I decided to join in. We met at Digamber Jain Temple and then leisurely walked through the streets of Chandni Chowk.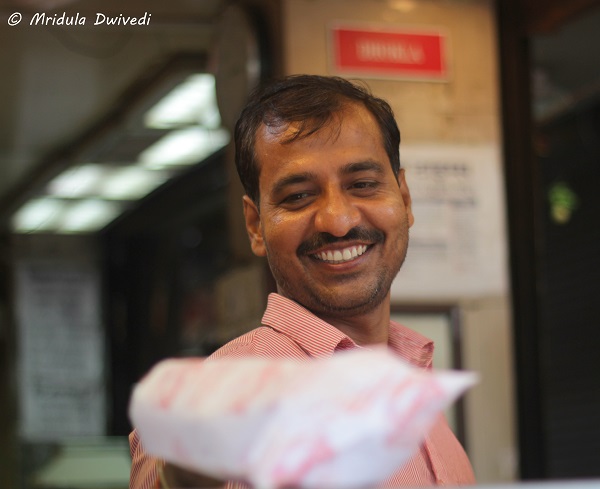 Some people in our group were very knowledgeable about the area, they knew which was the oldest shop (Ghantewala), they knew it recently got closed and they knew where you got good things to eat! While talking of such things we paused at this shop. We asked this beaming man if we could click pictures! He was quite alright with it.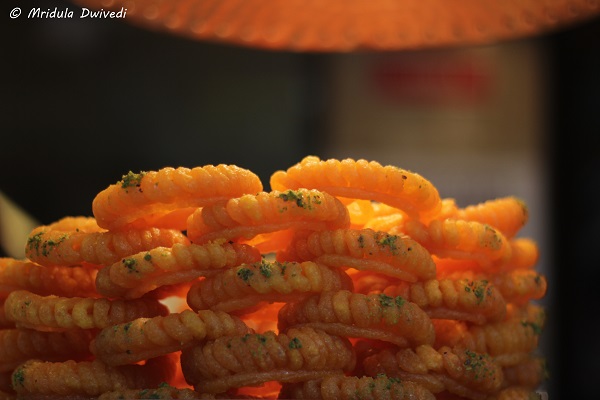 His shop had an amazing display of imartis! I wonder why I didn't buy any but I made up for it by buying jalebis later on!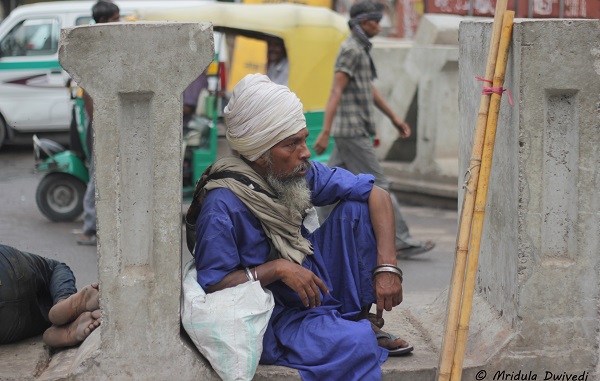 However, what hit me most was the number of people who were on the streets in the area! It was staggering. As soon as I got out of metro I saw a long queue which left me wondering. I thought it was a queue of daily wagers waiting to get work. As I walked more I realized it was a queue for free food! The whole scenario of homeless people makes me wonder what are we all doing as a nation?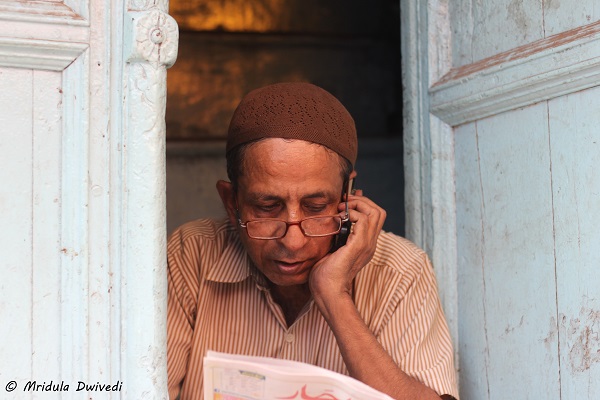 This quiet man was sitting on the steps of his home, I guess. All he wanted was to read his newspaper and talk on his cell phone. Instead he had a group of people with SLRs descend on him, each interested in clicking his picture. He was a pro, he ignored us all while we all aimed our cameras at him! Photowalks in Chandni Chowk seem to be a regular thing, he must be used to it!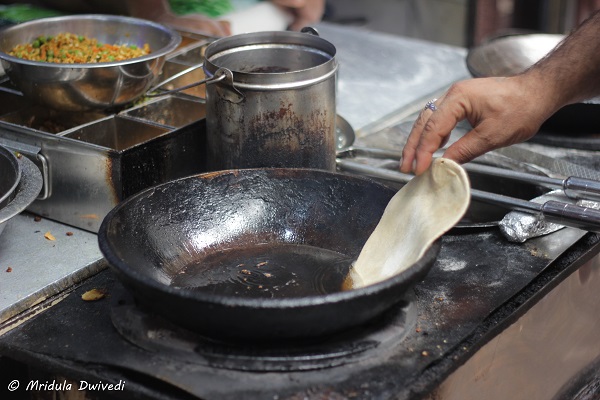 It was extremely humid today in the morning. All of us were sweating buckets. We were happy to sit down at a paratha shop and have breakfast at the famous Parathe Wali Gali. You can see that the parathas are deep fried but for one day it was fun eating them for breakfast!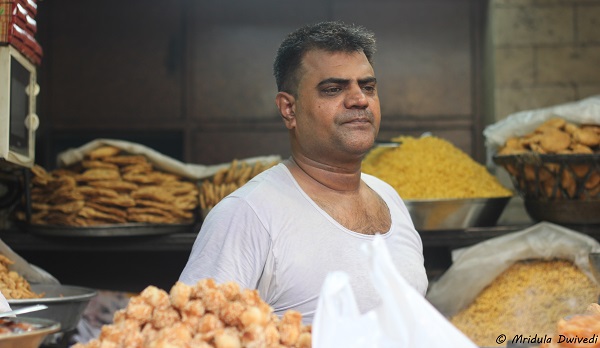 Our next food stop was this shop were I bought the jalebis. He told me to wait, he would give me hot ones. And hot they were when they came and delicious too! We also tried Nagori Halwa at his shop. If you have not tasted it, do give it a try the next time you are in Old Delhi!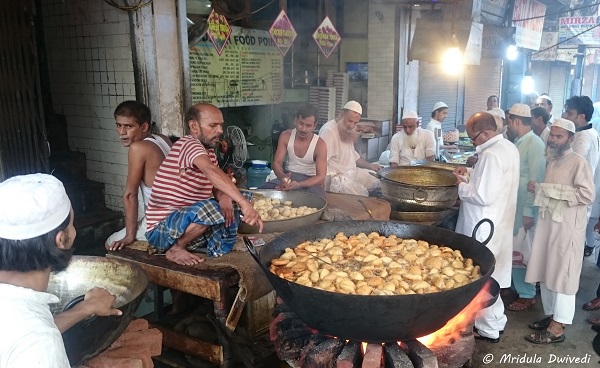 As it is Eid today we thought the area would be very crowded. But in the morning, it was not so! We came across this feast in the area. An elderly person came and asked one of us if we were freelancers! I am sure by next visit they would ask if we are bloggers or freelancers!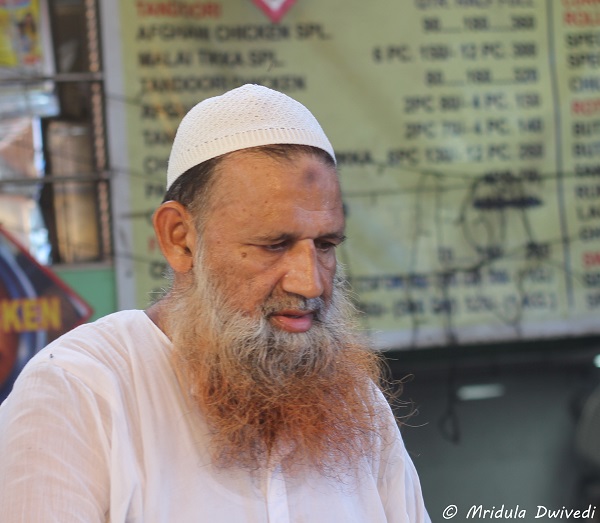 I loved the henna streaks on his beard. He was also quite tolerant of a bunch of people with cameras all pointing at him!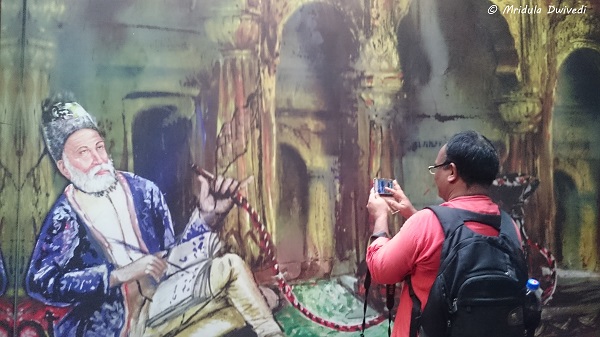 I wonder what the great poet would say if he could witness this scene? Our last official stop on this walk was Mirza Ghalib's Haveli. I for my life cannot appreciate poetry but I love this man's work, the little that I know!
I can however tell you what this fellow blogger with the smartphone says! He is a well known blogger and yet he always pleads with all of us not to tag him in his pictures! I was telling him he has no business being in online space if we can't tag his pictures! But till he comes around, I will let it be.
So this is a short glimpse of the Chandni Chowk Photo Walk with #DelhiDarter! I hope you enjoyed it too.