It was a nice sunny day. Our van almost got stuck on a narrow lanes of Mollet de Peralada when an elderly man came out and told our driver to back up and take another road. After that we arrived at the Celler La Vinyeta soon. I have visited a vineyard in Khao Yai, Thailand too and I quite like the experience.
Josep, who along with his wife Marta, owns the place greeted us upon arrival. There are no prizes for guessing that the welcome drink was wine from their own cellers! Their store is right next to the car park. We went in to take a look and to use the bathroom.
Then we donned our hats and went for a walk around the vineyard. The vineyard is an old one but all the crops were destroyed hundreds of years ago. The current vineyard was planted in 2002 and the wine production started in 2006 after they built the celler. At the start the village elders tried to warn Josep that it was a tough trade but they decided to go ahead anyway.
Josep was 23 years old when they invested in the vineyard. He and his wife were studying wine making at college and from there things took off. I asked him if he would do it all again, to which he said "I don't think so, I was not thinking of he risks then!"
Th vineyard has a patch of old olive trees, the oldest being 500 years old! Josep mentioned they had to plant newer trees as well, as the patch had too few tress. When he started the process for planting, the people from the village thought he was going to cut them down. They came again and asked him not to do so. They as kids used to play under the trees. Joesp assured them he was planting more, not cutting anything. He added with twinkling eyes "I think they used to do something else under the trees when they became adults! That is why they are so fond of them."
If you visit Catalonia you will hear about Tramuntana or the northern wind! Everyone dreads it except the winemakers. It does good to the grape crop and there is a ceremony to invite it to the region. But this year the Tramuntana has not obliged.
Josep showed us the hens of his farm as well. Later at lunch we ate fresh boiled eggs which tasted great. After the tour of the fields we still had sometime left to explore on our own. My colleague Taahira and I ventured to a field where I could see hay rolls, something I had seen in pictures only. Taahira took a lovely picture of mine in that field.
We leisurely walked back to our lunch on the vineyard. It was a perfect day to sit outdoors and enjoy food. Food is something that takes a lot of time in Spain. It was common to sit for 2 to 3 hours for lunch and dinner. Marta with her four month old daughter joined us for a brief while at lunch!
There was wine, boiled eggs, there was salad and vegetables for me. Then there was Pan Con Tomate. For dessert there was cheese and honey. It was a lovely lunch, in a beautiful setting. There were plenty of non vegetarian options too but I was not paying much attention to it.
After the lunch we went to the store to buy products. I brought back a bottle of white wine that I now enjoy at home. And I kick myself for not buying olive oil.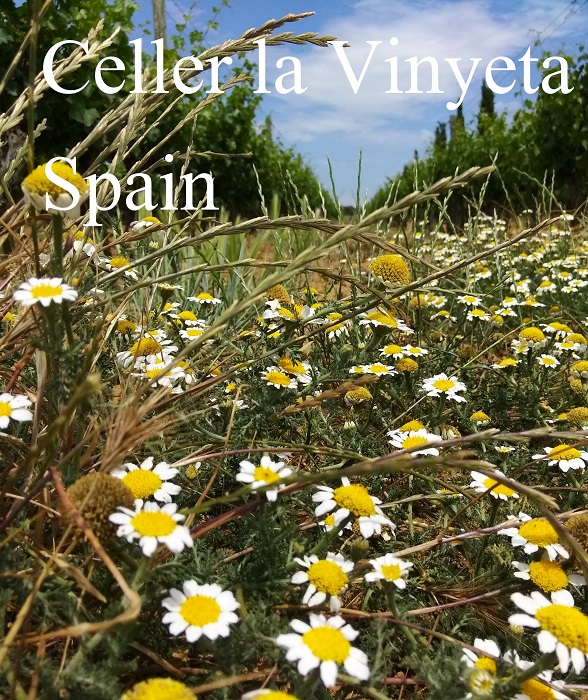 Whenever I think of Celler La Vinyeta, I smile. It reminds me of the lovely outdoors, the stories of the village with all the good food in the lap of the nature. I so hope to go back to Spain again someday.
PS. I was invited to Visit Catalonia by the Catalonia Tourism Board.