Bourke's Luck Potholes are part of the Blyde River Canyon. You will have to forgive me for initially not being too excited about them, after all I drive daily on pothole filled roads in my daily commute to work. But these were different type of potholes, completely different!
The potholes are named after Tom Bourke who predict presence of gold at this very place, though he found none eventually. I wonder what an era it would have been when you could go around the place looking for gold!
The potholes have been created by the meeting of rivers Treur and Blyde. Sand and stones along with the water current create these potholes through grinding and see how awesome they look! This is where potholes should be and not on the roads that I commute through daily!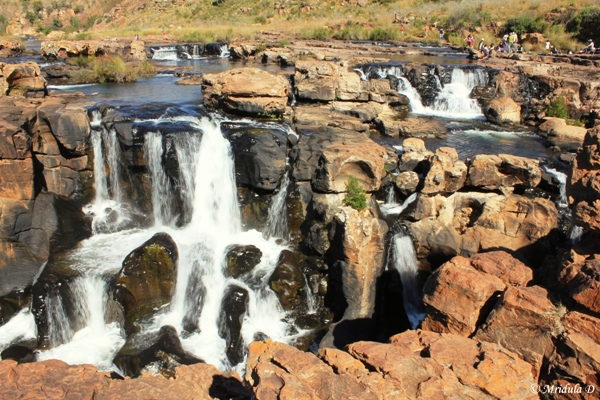 The Waterfall at the Bourke's Potholes, Panorama Route, South Africa
There is a waterfall next to the potholes and to click this waterfall I went right to the edge of the sign that said- no access beyond this point. But I am not reckless, I knew I was not taking any unnecessary risks. There were other places on this waterfall where one could get the feet wet. It was the start of the winter in South Africa in May and even though the nights were cold, the days were bright and sunny. A perfect day to get my feet wet and I that is what I exactly did.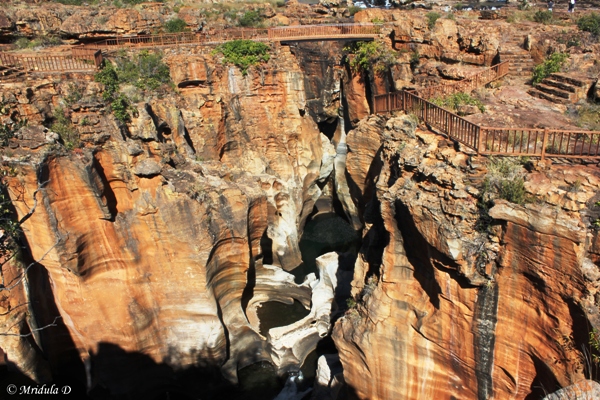 Bourke's Potholes, Panaroma Route, South Africa
While walking to it I saw a sign that indicated there was an wheelchair accessible path as well. The place is quite scenic and many in my group wanted to spend the whole day there! Alas that was not to be, so we headed out to explore more of the Panorama Route in South Africa.