We took a train from old Delhi railway station to Pathankot Decebmer 23, 2005. We reached Pathankot the next day 4 hours after the scheduled time. We stuffed Aloo-Parathas (Indian Stuffed Bread) in a hotel next to the bus stand and then took a bus to Chamba. We stayed in Chamba at the night. Next day we started for Bharmour. From Chamba, Bharmour is a 3-3.5 hour ride and for part of the way, we had these goats as co-passengers in the bus.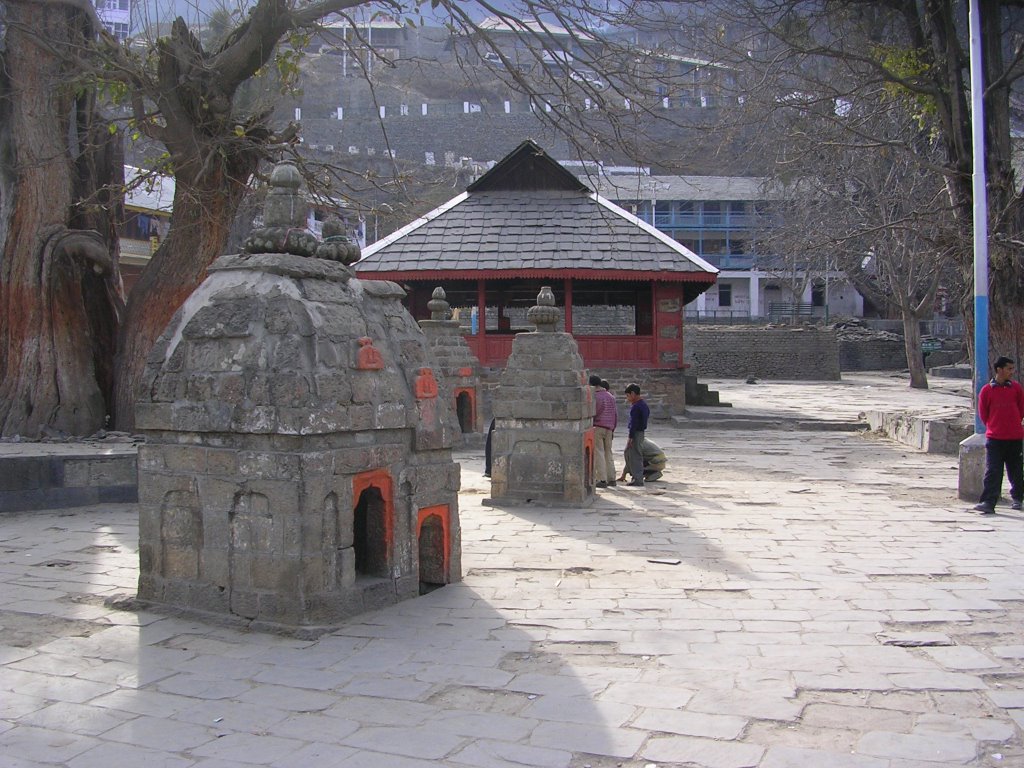 Bharmour is a sleepy village and quite cold in winter. When we got down from the bus, no one approached us and this lack of touts bewildered us completely. We took a road in search of a hotel and we arrived at a temple complex called Chaurasi Complex. A group of people guided us to a hotel (Rajdhani Hotel) that was locked. We dumped our luggage in a small room adjacent to a Dhaba (small food shop) and went to have tea. There at the tea shop we met the owner of Rajdhani Hotel by accident and he took us back and we were the only guests in the entire hotel.
Next day, we decided to walk for 12 kilometers and visit the next village Hadsar. Jeeps are available on this route but we still decided to walk as it provides better photo opportunities. The owner of the Rajdhani Hotel asked us to leave the excess baggage in the room and the keys to the room on a ledge! And he recommended another guesthouse in Hadsar. One of the first photographs I took was of this road side temple and prayer flags.
The way was a proper jeep road but with very little traffic. I had ample opportunity to use my camera. This tree on the edge also caught my attention.
Being December, it was freezing cold and I have proof below. But walking kept the cold at bay and the smell of pine all around kept the mood pleasant.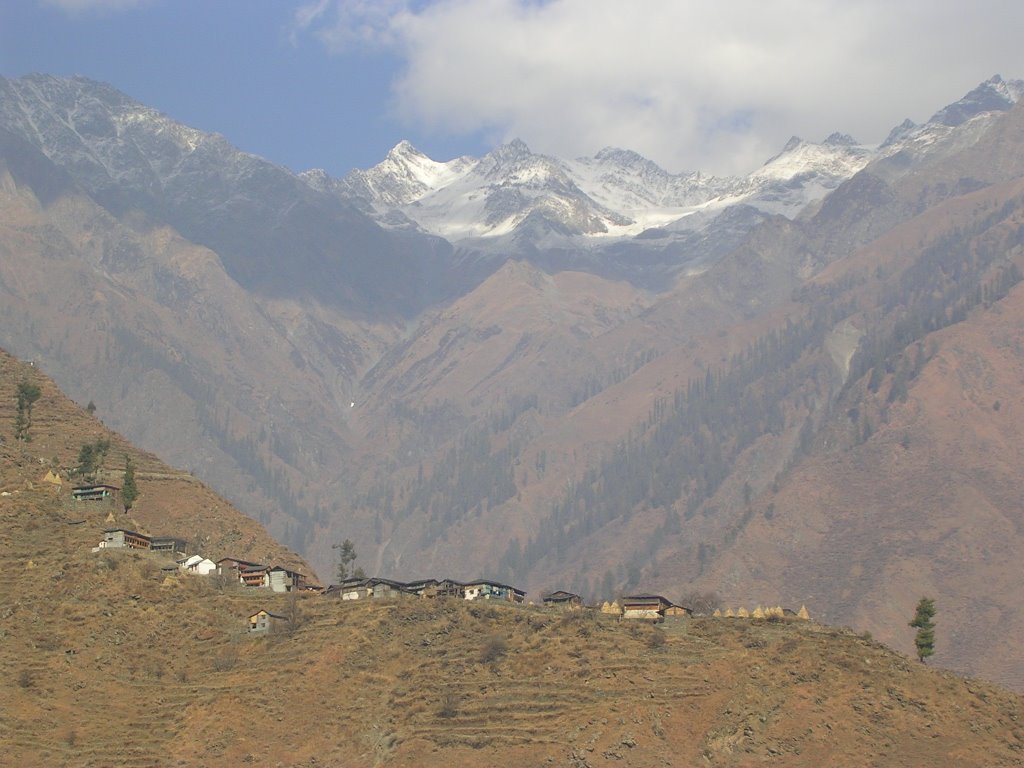 After walking for 10 kilometers I started feeling tired and was dragging by feet for the last two kilometers. The sight of Shanti Gueshouse at Hadsar was a welcome one. After having tea and a late lunch we started exploring the village and soon enough we landed near a stream.
Next day, we planned to climb up for 6 kilometers on the way to the pilgrimage route of Mani Mahesh. . People at the Shanti Guest House told us that after 6 kilometers, we would reach a village Dhanchow and beyond that the route would be lost in the snow. The weather was bad the next day and it looked as if it would snow. Still, we decided to go ahead. The trail is well marked so we were on our own. As we gradually gained height, more snow-capped peaks were visible.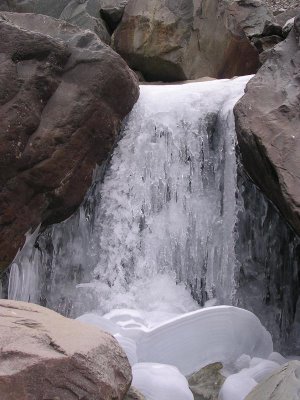 After five kilomerets, we reached a waterfall and parts of it had frozen solid. I had half a mind to return from here but there were many rocks free of snow and ice and we could push further. We finally went all the way to Dhanchow. The weather turned bad there and it started snowing lightly. We decided to run back quickly. The snow stopped falling after a while and the day cleared somewhat. We reached back safely and in good time.
I debated with H if we should walk back or take a jeep to Bharmour the next day. We finally decided to walk back 12 kilometres again.