We came back from our short trek in Himachal Pradesh yesterday. My neighbor Anita and her daughter Kashwi joined Chhavi and I on this adventure. As both the kids are less than ten we picked up an easy Himachal Pradesh trek. Ramakant ji have been our guide in Himachal Pradesh since many years. The added blessing is that we stay at his home in Jagatsukh! My legs ache from the walk downhill as I am writing this, sitting cozily at his home!
It was crazy to trek with two kids. When they would play together, it was a lot of fun but when they would start fighting … just don't ask! The good bit is that both the kids are willing to trek again! But I will start the trek stories when my legs stop aching, today is the sky watch!
An Aimless Walk in Jagatsukh, Himachal Pradesh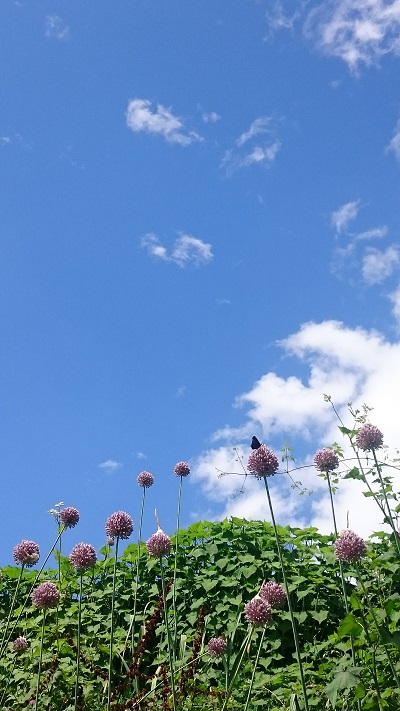 It is a blessing to walk around Jagatsukh with blazing blue skies! I was taking a stroll with Chhavi and Kartik, Ramakant ji's small son. There was no agenda but we ended up going to the stream. The kids got wet within no time. I lured them out with a promise to buy stuff from the local shop. They came back loaded with chocolates and other such things. I enjoy such walks!
A Beautiful View on the Himachal Pradesh Trek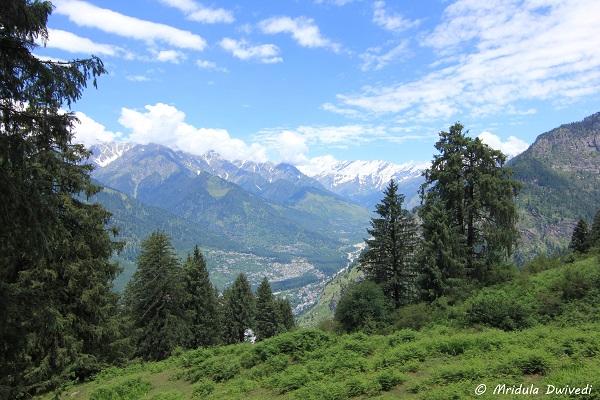 If you are fit I would strongly recommend that you trek once in your life! I have to say my frame of mind was quite different on this trek because we had two kids with us. Photography took a bit of a back seat. But even then it was easy to stop dead in my tracks and admire the spectacle that the nature presented!
We Got some Rain!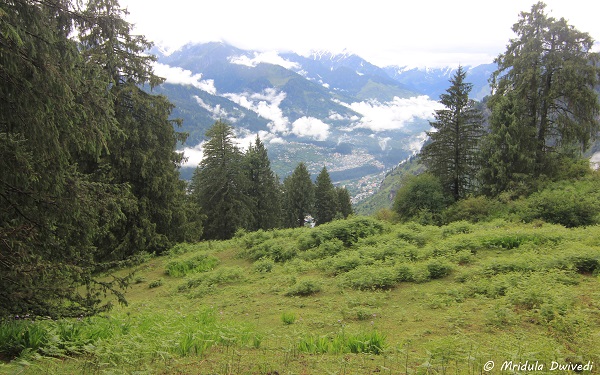 I like to twist the saying "in each life some rain must fall …" to "in each trek some rain must fall". Ours was no exception. I told the kids that rains help in building the character! It also paints the sky with fluffy white clouds!
An Evening Filled with Colors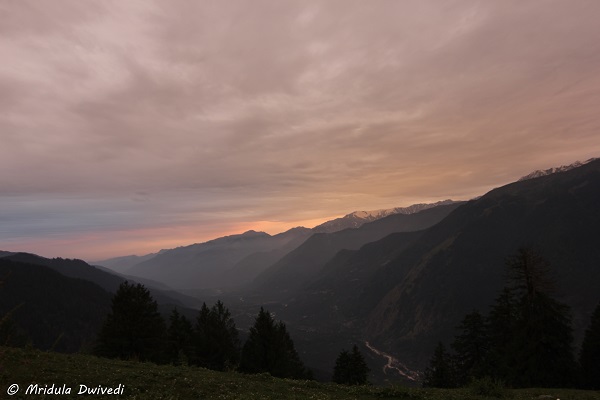 It was such a blessing to stand amidst the splendor of nature when it started painting the evening in its unique colors! And guess what? For miles around we were the only people in this area!
Trekking with Chhavi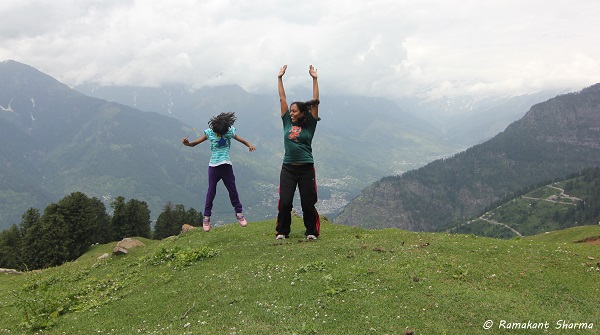 I will be lying if I say it is easy all the way to trek with Chhavi. She sulks, she refuses food, and she throws a thousand other tantrums. If you ask her to pose for a photograph she behaves as if she is doing the world a favor! Even for this photograph she jumped after we did it thrice! But when she does cartwheels, collects flowers and runs around, I am willing to put up with all her tantrums and go trekking together again!