Even though I am a mountain person I do like to take beach vacations as well. In South Sri Lanka we visited three beaches in all. We stayed at Unawatuna and did Mirissa and Matara as day trips. As I prepare to take the connecting flights back home tomorrow, I will leave with images from each of the beaches we visited.
As we stayed here we spent most of the time around Unawatuna. It is a lovely beach which was terribly affected in the tsunami of 2004. If you go to the restaurants they show pictures of the beach and the nearby areas after tsunami and what a horror they are! Tsunami stories are very common here. I saw pictures where buses were lying upside down. But enough about it. Today it is a beautiful beach again which does roaring business.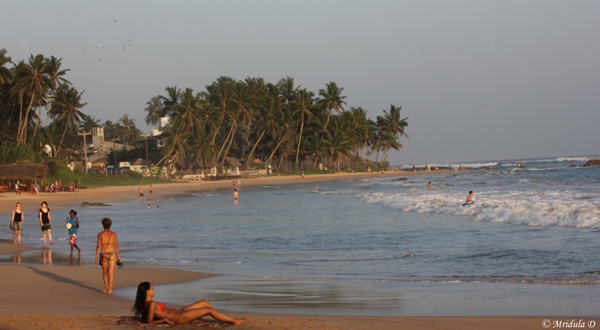 Mirissa Beach, Sri Lanka
Mirissa is about 30 km from Unawatuna and any tuktuk driver would drop you there. It is quieter beach than Unawatuna. It has one big hotel and rest smaller ones. There are plenty of shacks to eat and almost all of them have sunbeds where you can laze around. I tried reading a book but most of the times I failed. I was happier gazing at the sea than anything else. I saw many beginner surfers at Mirissa.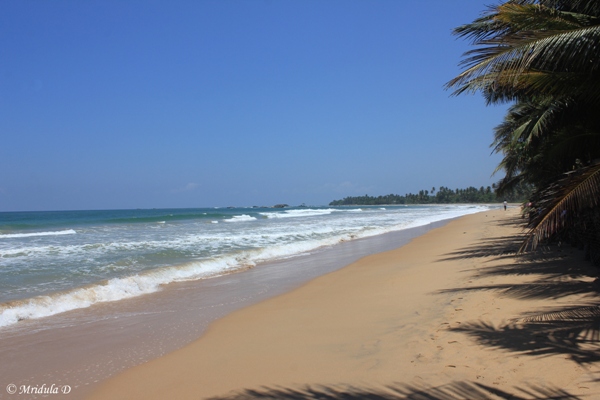 Matara Beach, Sri Lanka
Matara is a local beach about 40 km away from Unawatuna. It is a beautiful place. It has none of the shacks of Unawatuna and Mirissa. In fact it seems to be very popular with local couples We arrived here mid day and it was blazing hot. Given that there were no places to sit we soon gave up on it. In this picture you do not see the couple's as they are sitting in the shade of the coconut trees most often with an umbrella in the hand as well.
Tomorrow we head back. How I wish we had time to explore a few more beaches in Sri Lanka. After reaching I am almost immediately heading back to Guwahati and Shillong for work. But somewhere I will find time to tell you detailed stories from Sri Lanka.