Barog Railway Station is a beautiful spot on the Kalka Shimla toy train route. The toy train route is part of the UNESCO World Heritage. We learned that it is possible to rent a room on the railway station itself and stay there!
So my two nephews Dilip, Sunil (also known as Brat 1 and 2) and I headed out to Barog. We reached Kalka by the Kalka Mail. We then took the local toy train up to Barog.
At Barog we asked the station master for a room. He was utterly confused about us and asked me for an identity proof. Only after that he gave me Shivalik Cottage which is huge but not well maintained. For breakfast we had the famous cutlets of the Barog Railway Station.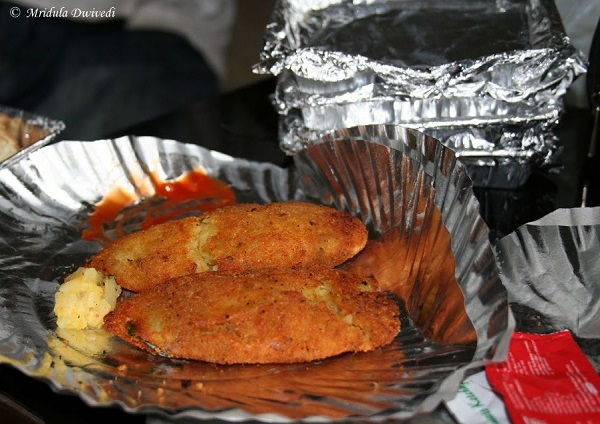 Cutlets at the Barog Railway Station
We happily stayed at the railway station for 3 nights. My nephews told me if I was not there they would have stayed at the platform itself!
The station looks like it came out of a picture postcard with its white and blue buildings and beautiful flowers. We could watch all the toy trains passing by.
In the evenings we would go walking up to the next station Solan. There were plenty of birds around the railway station. Food was at a nearby Dhaba.
There are many tunnels at the Kalka Shimla route. The Barog Tunnel is the longest (1144 meters/3752 feet) on the route. An English engineer by the name of Barog was in charge of its construction. However, the tunnel built by him is at a distance of 1 km. The two ends of that tunnel didn't meet. He was fined Rupee 1 (.02 cents or so) for this mistake and due to shame he committed suicide. The current tunnel was built by H.S. Harrington with the blessings from local hermit Malku between 1900 and 1903.
On the second day while Sunil was fast asleep, Dilip and I were walking around the station. We asked a station employee if there were any more trains coming? When he answered in the negative we told him we were going to cross the tunnel on foot.
So off we went inside the tunnel and soon it became dark. I switched on the light on my cell phone. Dilip with his super sensitive ears soon said to me, "Bua I can hear a train coming." I rubbished him initially but he persisted. I moved the light around and saw an arch right at our hand. We stood inside it. And sure enough a train crossed us!
Dilip vehemently refused to walk any further. So, we headed back and went to the tea shop at the railway station. Three other people started talking to us. One of them asked me, "so what happened ma'am?" And I repeated the above story to him!
He said the station master was extremely upset about our being inside the tunnel with a train arrival scheduled. The tea shop owner said we could let the train go by if we stood flat against the wall! The tourists were of the view that it would result in an accident! Dilip and I were in anyway no mood to check out which version is true! But then every small child in 5 km of Barog must have crossed that tunnel!
So next time if you wish to stay at a railway station you know that you have to go to Barog. But be very careful if you wish to cross the Barog tunnel!