Barapani or Umiam Lake in Shillong is a beautiful place. I got only a glimpse of Umiam Lake or which is also known as Barapani. Our taxi driver from Guwahati to Shillong told us that he would stop by it for a few minutes if we wanted to. We wanted to stop as soon as we spotted the water body but he told us that he would stop the car at a view point in front of this vast water body.
Our stop was for a few minutes as we had business in Shillong town. I could only take a few hurried shots of the Umiam Lake without the risk of being late. There were only a few other vehicles at this spot. It was not crowded at all but it was early in the day. After clicking the picture above, I quickly went looking for another spot so that I could get a view without the trees and I was partially successful.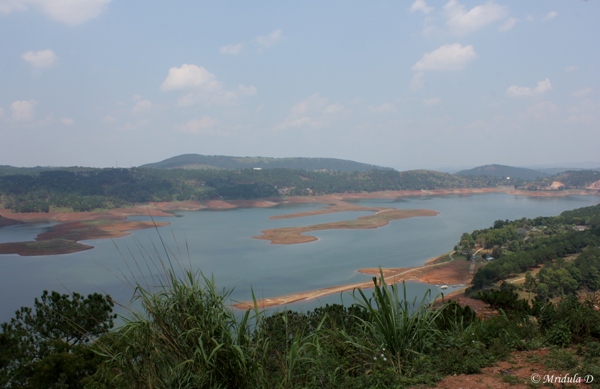 Umiam or Barapani, Shillong
After 10 minutes in all we were on our way. We saw a few boats and all of us expressed the wish to go for a boat ride if only we had time. For quite sometime I kept wondering how would it be if had all day to spend by the Umiam lake, to see the sunset from there. And that has been the dominant mood about this trip to Guwahati and Shillong. But then I should not complain too much as the trip was for work.
I can't make up my mind if I should be thankful that I got to at least visit Assam and Meghalaya or if I should be sad that I got to see so little of it. We had only Sunday when we had no work and we headed to Cherrapunji to make the most of it. But I feel that one day was just too little in the beautiful state.
I think I will end up choosing to be happy because I at least got a glimpse of two states in India that I had not visited earlier. And they are beautiful, Shillong a little more than Guwahati in my opinion.