When I heard about a possible visit to Baiguney with Club Mahindra I was excited. I had been with them to Coorg before and it was a wonderful experience. Over email exchanges I tried to figure out the idea behind conCLAY. All I could gather was that they wanted us to share some of our travel experiences and I decided to talk about Everest Base Camp trek, see how predictable I am these days!
A Flight to Bagdogra
I boarded an Air India flight to Bagdogra around 11.30 and it was a fine two hour flight except for the fact that Air India ran out of vegetarian lunches. They gave me fruits, sweet dish and bread and butter but I am not complaining. It has happened to me on a Virgin flight as well.
At Bagdogra we (Saurabh from Club Mahindra was flying with me from Delhi) were waiting for others coming from Kolkata to join us so we went to the Bagdogra Airport canteen. For an airport canteen it does brisk business. I met Vishal (and you have to check out his photography page) who had arrived even earlier and waiting for us. Eventually all the flights landed and we were headed to Baiguney.
Half an Avomine Ride
I can't take the mountain roads without an Avomine for my nausea. But this time on Seshadri's suggestion I took only half an Avomine and I fared much better. I was not badly zonked and I did not puke and I could keep my eyes open and see the beautiful scenery on the way. Baiguney is 100 plus kilometers from Bagdogra and at the very beginning of the drive there were tea gardens!
Food Feast
On arrival we were sorting out our rooms and I had Rakhee as my roommate. I was a bit worried about how I would fare as a roommate but I guess in the end we did just fine.  We had a high tea by the pool and Chef Gagan had done an awesome job of preparing chaat and tea for us.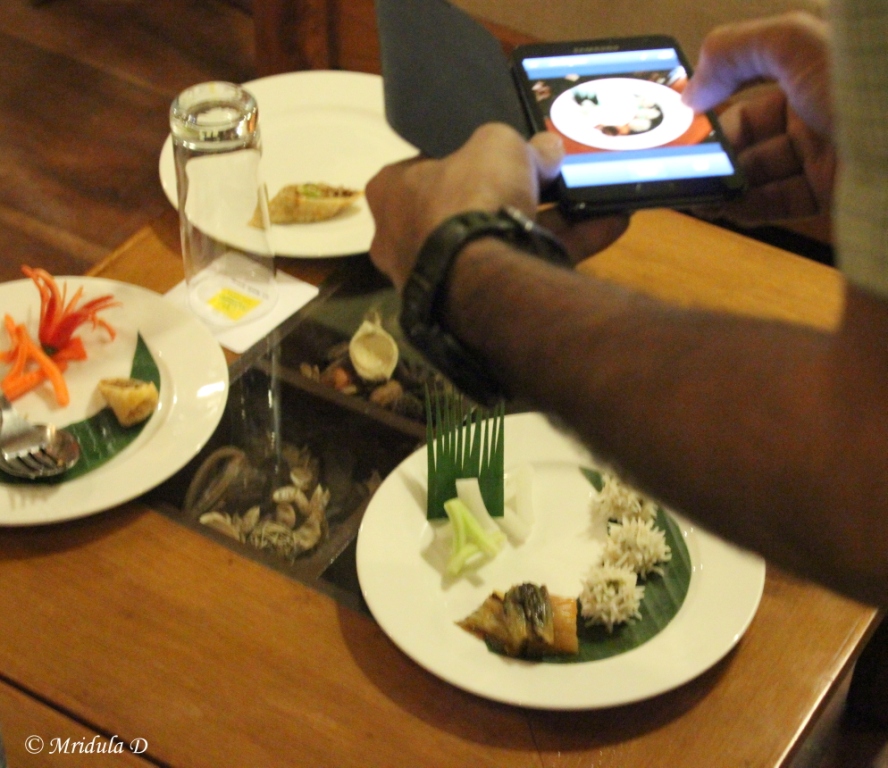 After this there was a dinner waiting for us too! Between tea and dinner I watched some Wimbledon on TV and then with Rakhee I watched Master Chef Australia for the first time in my life!
We decided to call it a day early enough after the dinner.
conCLAY
Next morning after breakfast we gathered in the conference room to share our experiences. There was some debate about who should go first but in the end we did it in the order our names were listed and that was alphabetical. So Arun went first and mesmerized us with his photographs from the Himalayas.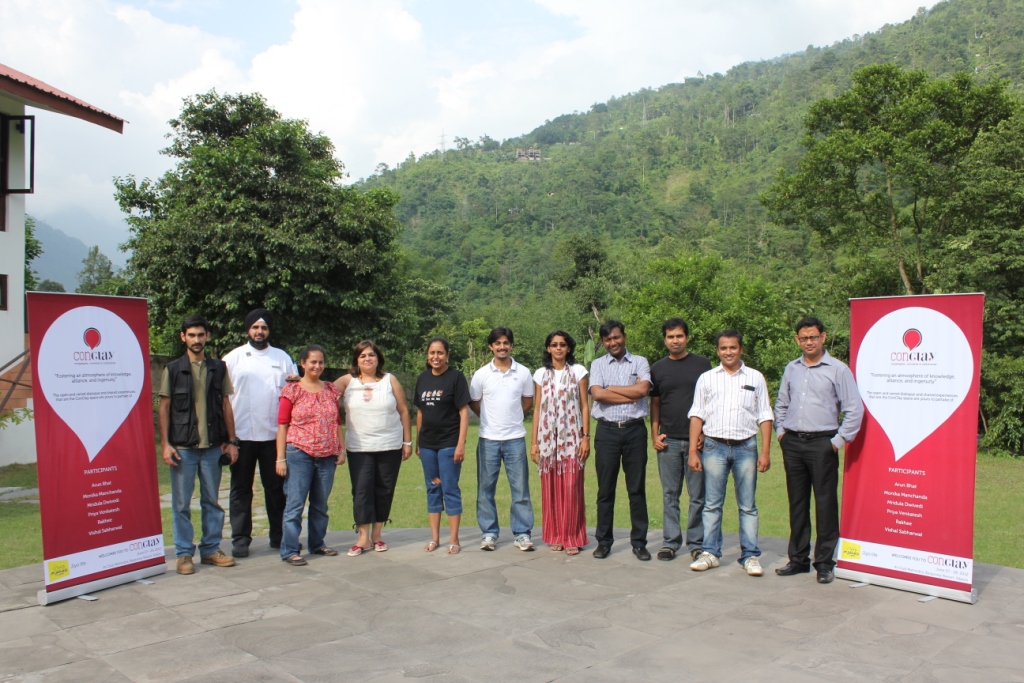 Next was Monika who gave a mouth watering talk (along with pictures) about her journey from IT world to home baking. Then it was my turn and I talked about the journey to the Everest Base Camp and how I enjoyed talking about it again! Rakhee then spoke about her backpacking experiences through India. It was followed by an amazing talk of her journey to Antarctica by Priya. Last to go was Vishal and he has such an amazing collection of photographs from North East. I mean you have to see his pictures to believe it!
I will be honest, when I saw the itinerary I thought why were they cooping me in a room for half a day when I was in the hills?
It was Raining Butterflies at Baiguney
But when I came out of the room I realized we would never interacted with each-other the way we did if we had not heard what we liked. In the end this was the best part of the trip.
A Short Trip to Solophok, Namchi
After tea we headed to Solophok a large temple complex at Namchi. It was completely covered in mist.  I was joking around that at this rate we would have to spend the night at Namchi but the fog did not grow any denser. I quite enjoyed the experience of walking through the temple complex in the mist.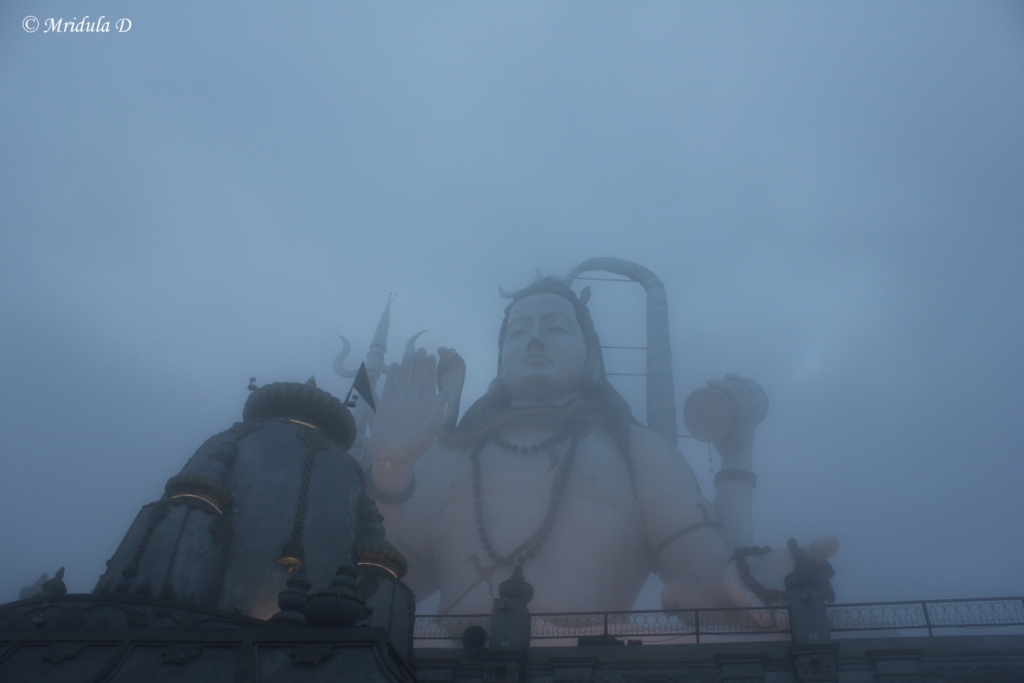 Back at the resort it was a continental dinner we had which was again awesome. We also chatted a lot about travel and it was quite late when we called it a day with a promise to get out by 5.00 am and go for a small hike.
A Long Day
Monika, Priya, Arun, Akshat (with Club Mahindra) and I got out at 5.00 am for a short drive to Chukung and after a point we walked up to a watch tower. It was once again misty otherwise I am told you get great views. I liked my misty view as well.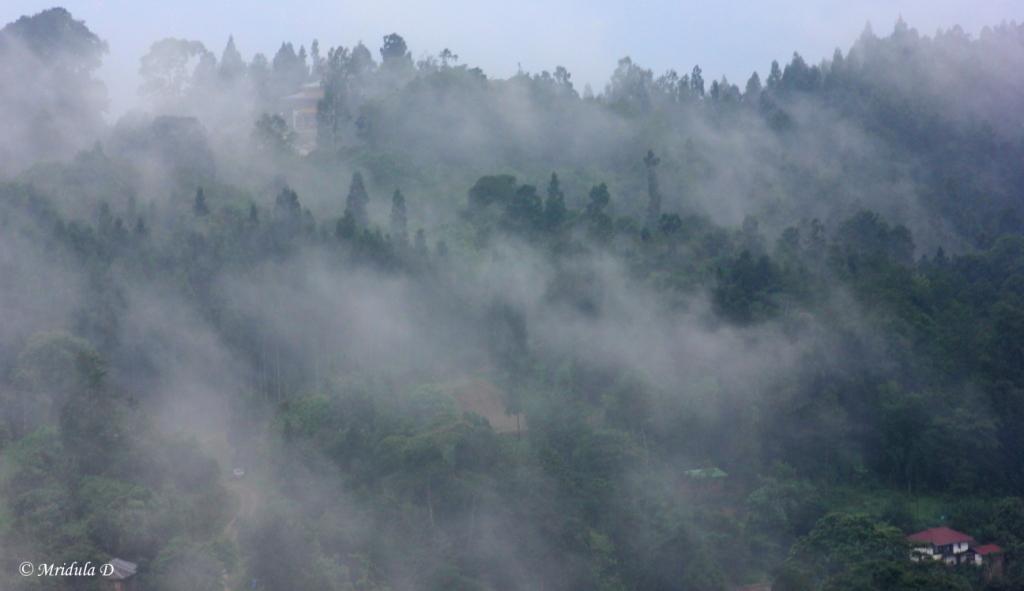 We went nuts over clicking pictures of mushrooms, flowers (got an orchid too) and almost everything else.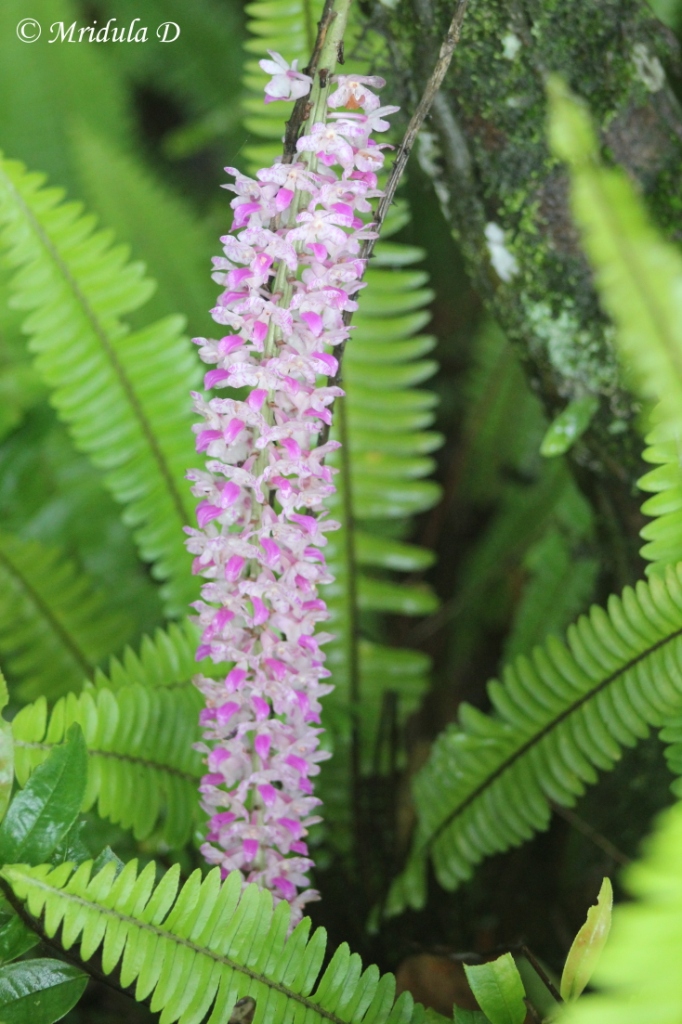 It was a very pleasant walk and we exited via a local monastery to a park.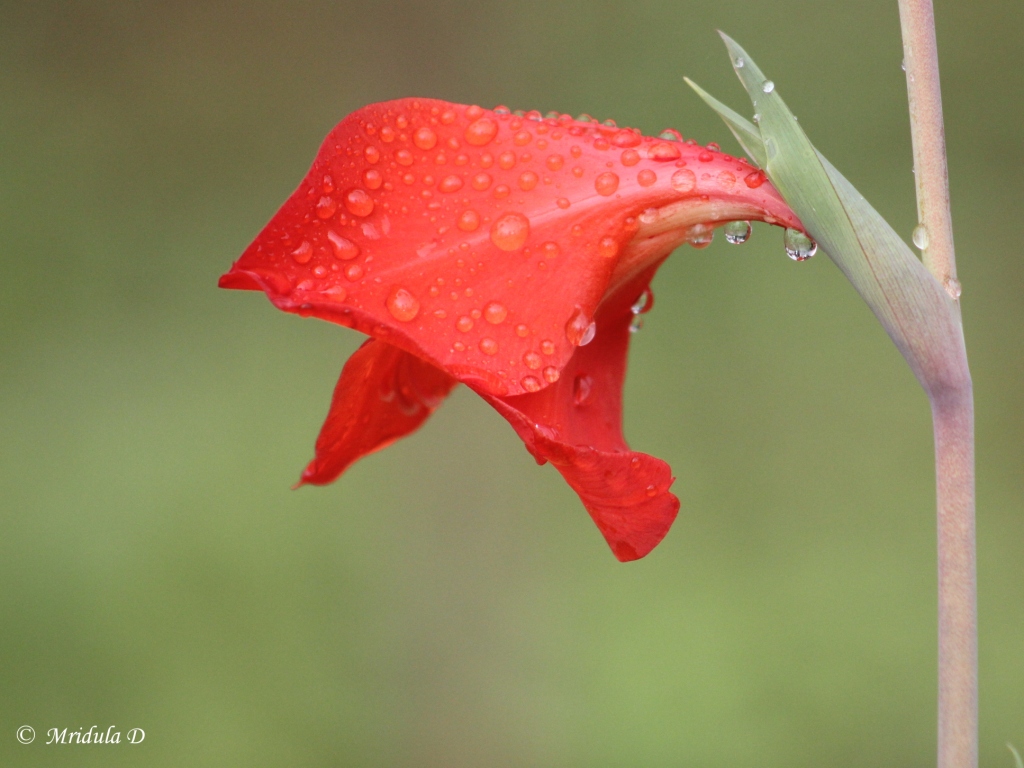 From the park I picked up a passion fruit and later tried to eat it at the hotel but I had picked up a semi-ripe one.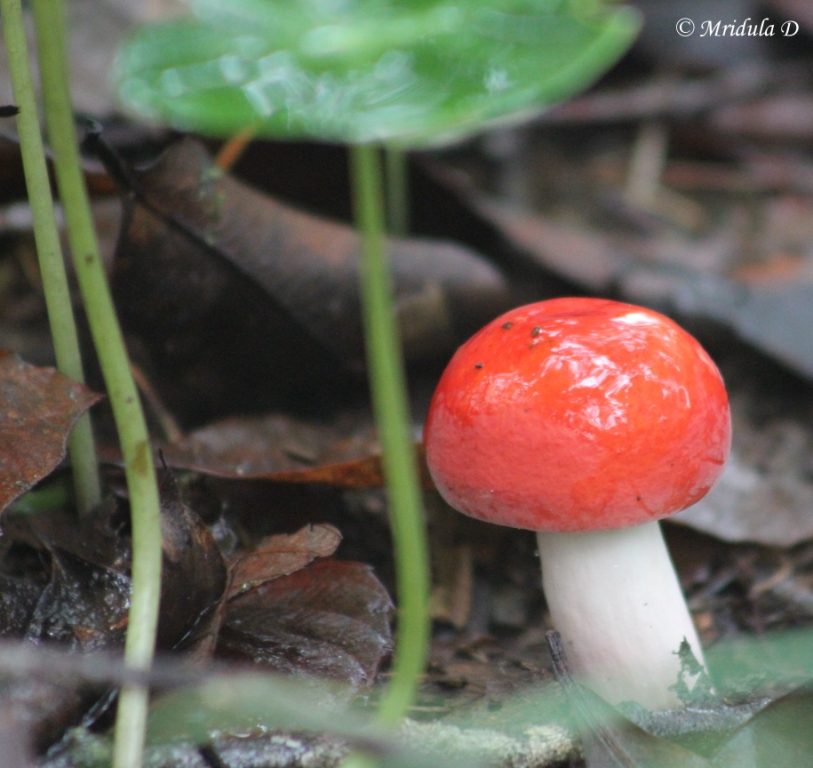 After breakfast we headed to Pelling. I have been to Pelling before in 2006 December and it was nice revisiting it. At Pelling we visited Pemayangtse Monastery and Sangay Waterfalls.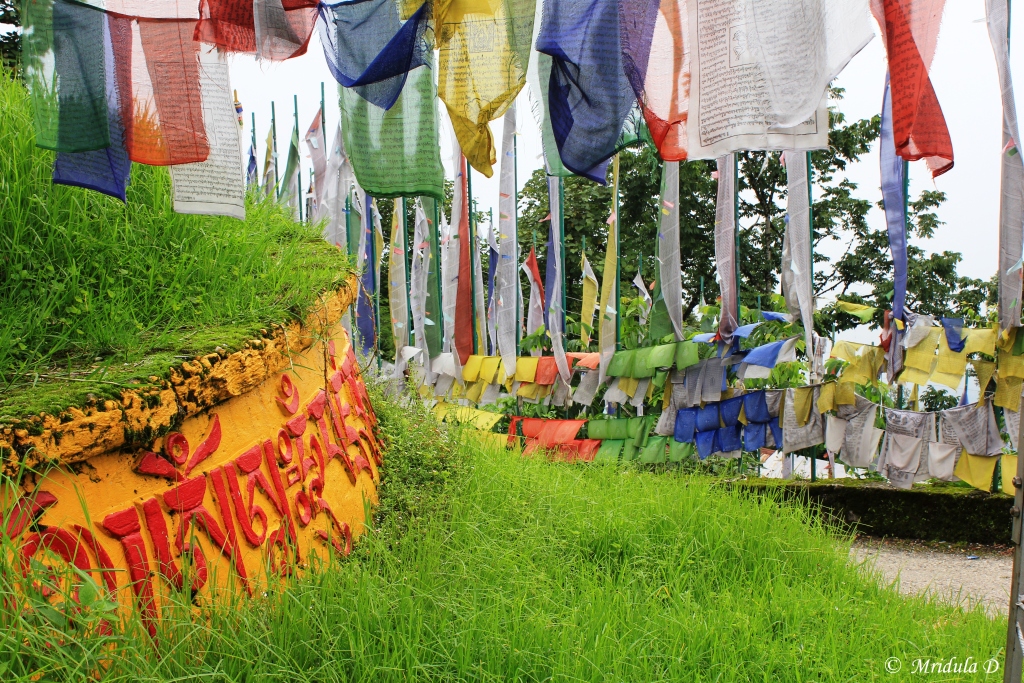 Both the places are lovely, I only wish we had more time. As Arun was photographing monks at the monastery, I too dared to click a picture.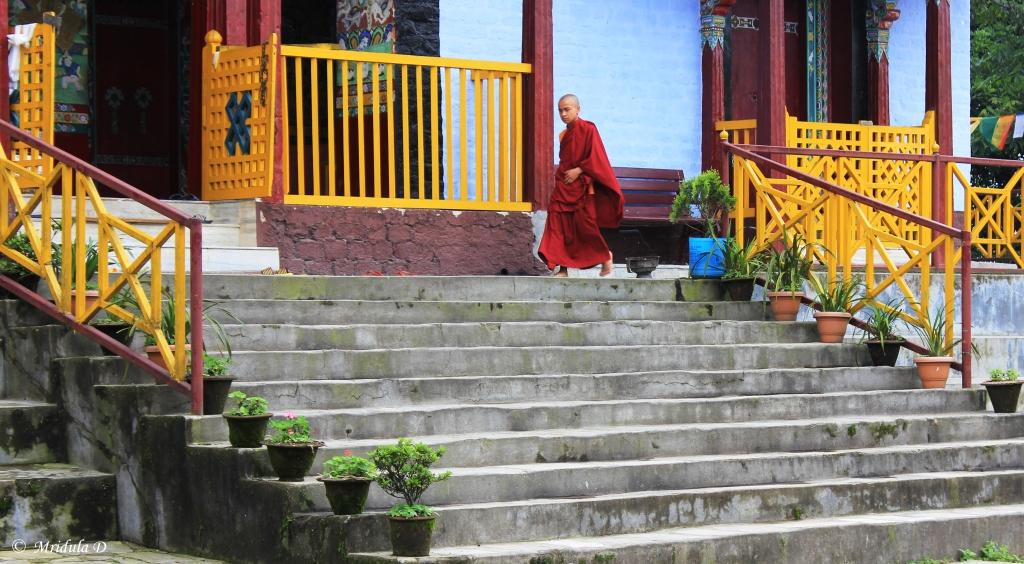 We came back looking for food at Peliing after the visit to the waterfalls. We found that in the off season most of the hotels didn't serve any! Monika persuaded a restaurant finally to give us Maggi and it tasted so good.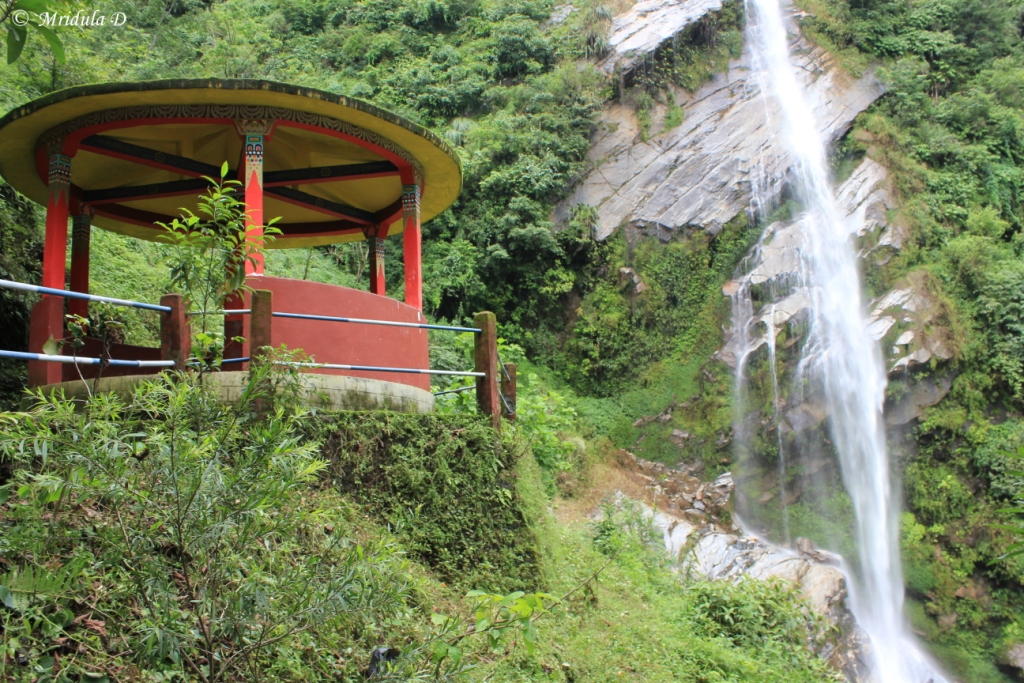 After the drive back to the repost we had a fabulous session of Karaoke with Arun Nair (of Club Mahindra) being the surprise package, he really sings well. He was joined by Monika, Rakhee, Saurabh and Akshat and with great reluctance we left for dinner. There was a cultural show put up the resort as well.
Bagdogra Again
The time just flied and we were headed to Bagdogra the next morning. 
We had a last snack together at the airport canteen and then proceeded to check in (which is somewhat of a struggle at that small airport).  I really have to thank Club Mahindra for conCLAY and for inviting me again to one of their properties.
PS. This post is for you Meena. I didn't dare to post more EBC while you were waiting for the Sikkim account.