Auli is a picture postcard kind of a place situated in Uttarakhand, India. I went there in the August of 2002, just after submitting my Ph.D. thesis and just before starting my first job that turned out to be an absolute horror. Rainy season, that is July and August are the worst time to visit a hill station in India but we wanted to take a break at that point anyway, so we went to Auli Uttarakhand.
One can reach Auli by going to Haridwar and from there taking a bus to Joshimath. The journey from Haridwar to Joshimath takes roughly 12 hours on twisting and bending roads, full of pot holes. We reached Joshimath at eight in the evening and it was raining lightly. I was dead tired and longing for food and rest. We checked into GMVN (Garhwal Viaks Mandal Nigam, a government run property) guest house where the room cost us Rupees 500 for the night. The next day we took the ropeway to Auli.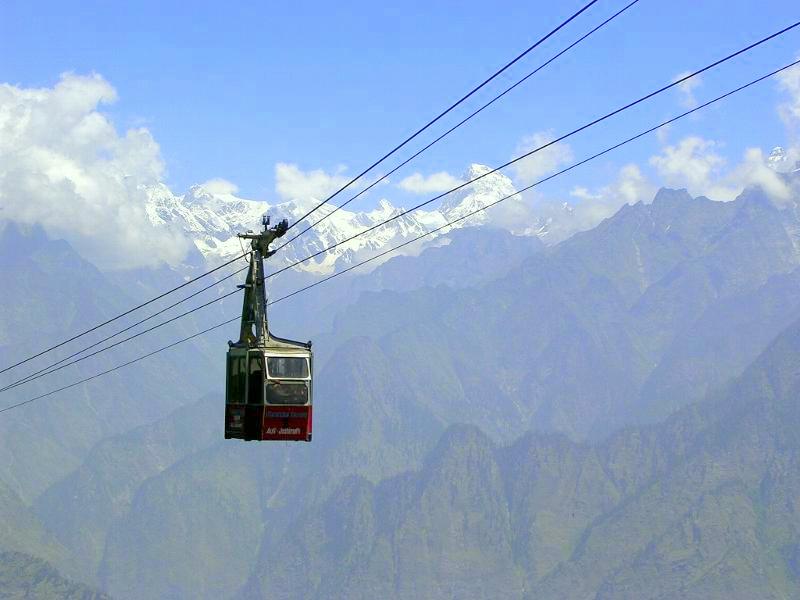 We again stayed at the GMVN guest house at Auli and it is one of the most horrible places I have ever stayed in. Nothing wrong with the surrounding as such, you can see from the picture above. But the rooms in the guest house gave such a terrible stench that it was a nightmare trying to fall asleep. We never stay indoors during the day, but still it was the most gloomy and badly maintained hotel room I ever slept in. There were not much option at Auli in 2002, just the GMVN property and one private resort which we thought to be expensive and never even inquired there.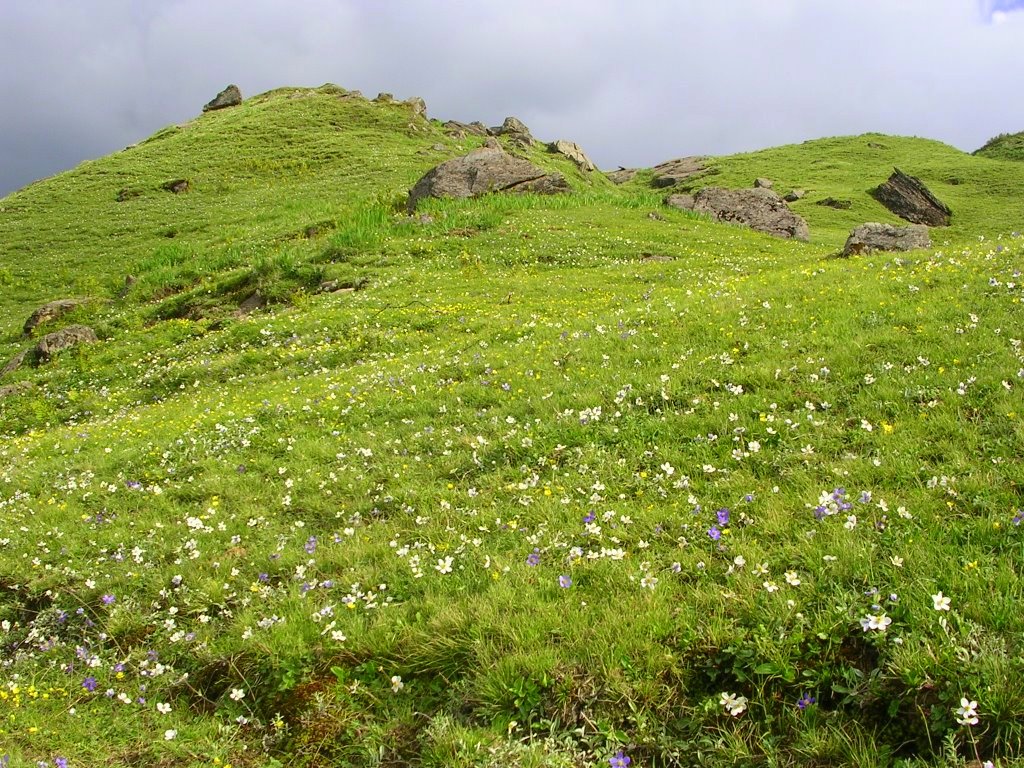 However, one can never find a fault with the place itself. The most remarkable thing we did was to take a 7 kilometer walk with a guide partially through a trek route. Before the beginning of the journey, I was really tired as I had just toiled to submit my thesis and left to my own I would have skipped the walk altogether. But my sane and sensible husband goes completely berserk in hill stations and no trip is complete without one of these walks. In the picture below you can see the meadows, called Gurson Baghyal which we walked through. We were told that the real view, the snow clapped mountains, were hidden behind the clouds. It rained for part of the way and we reached back to our hotel soaked and dead tired in the evening. I have to add one thing, the cook at the GMVN guesthouse was excellent and we did complete justice to the food that night.
The next few days were spent in roaming about aimlessly in Auli. One day we saw this perfect rainbow and generally walked through fields and flowers, sat on huge stones, my husband philosophical and I generally jumping around.
On another day we saw apple trees laden with ripe fruits and we also met too small girls who chatted with us. They used to go to school and were on their way to gather the cows before the evening fell.