Aranyaprathet is one of the Thailand-Cambodian Borders. The next day we were headed to Cambodia by road after crossing the border. When I got down at Aranyaprathet's Ban Khlong Luek Border Market (also known as Rong Kluea) I had just woken up from a nap in the van. For the while I looked at the place with bleary eyes. Initially it looked a bit empty and forlorn. But first looks, particularly on bleary eyes can be really deceptive.
The market is actually very colorful and has some eye popping displays, like pink eggs! I mean pink eggs for heaven's sake! The entire street where they sell vegetables and meat is a riot of colors.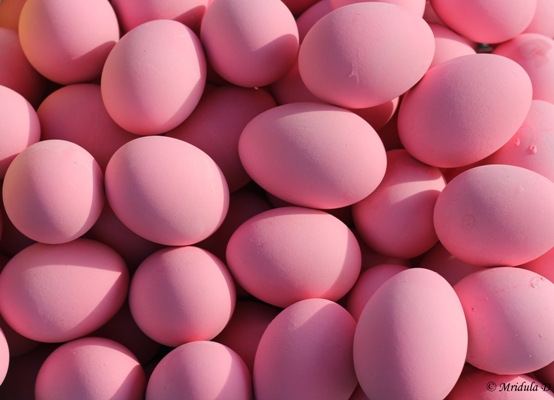 Pink Eggs, Rong Kluea Border Market, Thailand
How can you feel sleepy after seeing pink eggs being sold in the market from a corner shop? I was wide awake and clicking after I saw them. What are they, why are they pink? Here are some folks discussing the phenomenon of the pink eggs in Thailand and here is someone cooking them too! From inside they are black, I had them for breakfast after coming back from Cambodia at Dusit Thai, my hotel in Bangkok.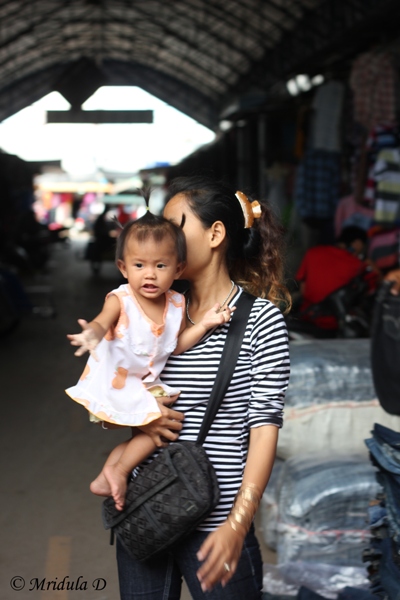 A Girl with Her Mother around Their Shop at Rong Kluea Border Market, Thailand
The place also sells clothes. I bought two pretty skirts for my daughter and niece. I strolled around the market for a couple of hours. It is a great place to do street photography as well. The shopkeepers have their kids around, who play near their shops. I loved the three tails the mother made for this little kid's hair. Now if only Chhavi would let me do that. She likes her hair running wild and loose and any attempts at pins and hairband succeed only for about 10 minutes!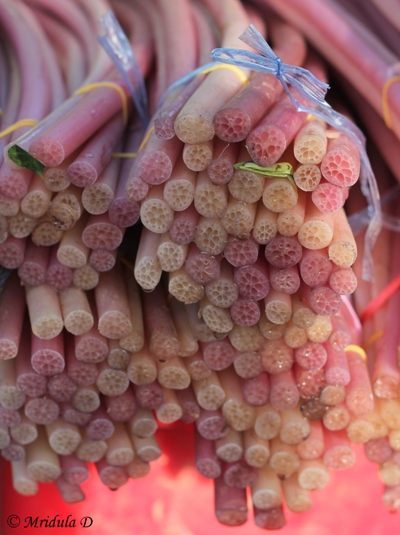 Lotus Stem for Sale, Rong Kluea Border Market, Thailand
Talking of colors, there were these delicately colored lotus stem for sale. The market has a large non-vegetarian section, no not really a section but intermingling of both veg and non-veg products. So, if you are a vegetarian (like me) and uncomfortable with display of raw meat, you have been warned. The first time I went to this section, I ran away after a few minutes. However I came back again and clicked whatever I wanted and ignored what I could not stand.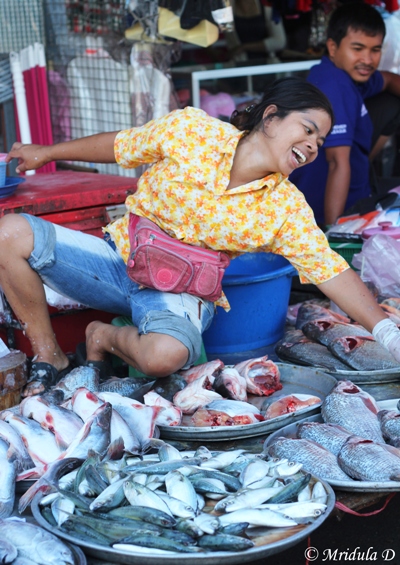 That Beautiful Smile, Rong Kluea Border Market, Thailand
I am quite afraid of clicking people for the fear of offending them. However, so much was happening at this market that no one paid any attention to me or my camera. That was good for me, I could click a few pictures without really being nervous. When I saw her beaming smile on my camera display later, I realized why people get so addicted to street photography!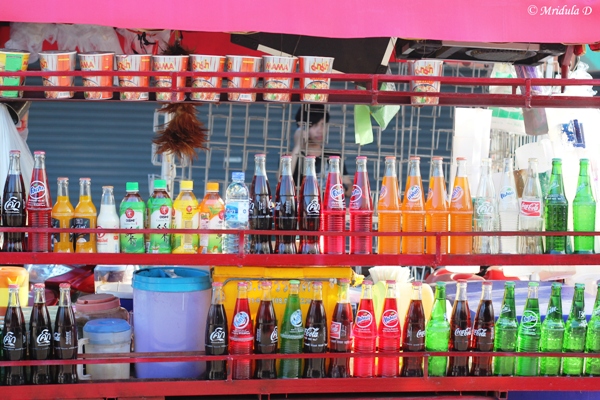 To Quench Your Thirst, Rong Kluea Border Market, Thailand
The weather was quite humid (like most of Southeast Asia) and these colorful bottles were quite inviting. I am not a big fan of soft drinks so I did give them a miss. I was content by bring home just the picture.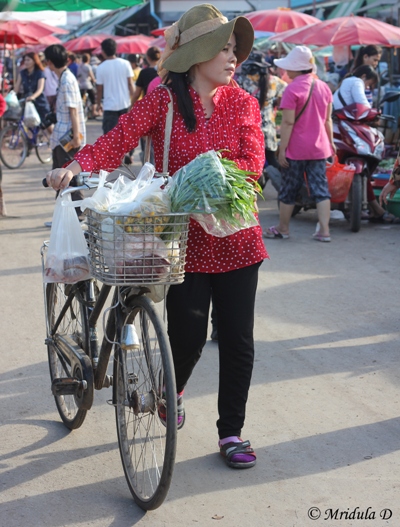 Out Shopping, Rong Kluea Border Market, Thailand
At this market I realized one thing about street photography. If you stand in a corner with your camera and let the world go by, they hardly take any notice of you! I was not very far away from the people I was photographing, but as they were moving and I was stationary in a corner they hardly paid any attention to me. Gives me hope for trying out more street photography. And for the record I was using a 50mm prime lens.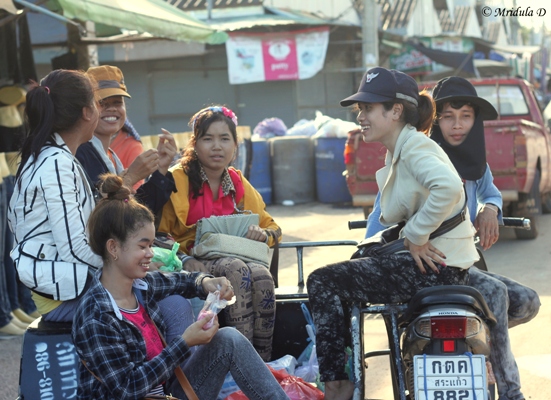 Chilling Out, Rong Kluea Border Market, Thailand
These young girls were aware that I was clicking their picture. They said something in their language which sounded like- here comes another stupid tourist! But they did giggle and tolerated me and my camera!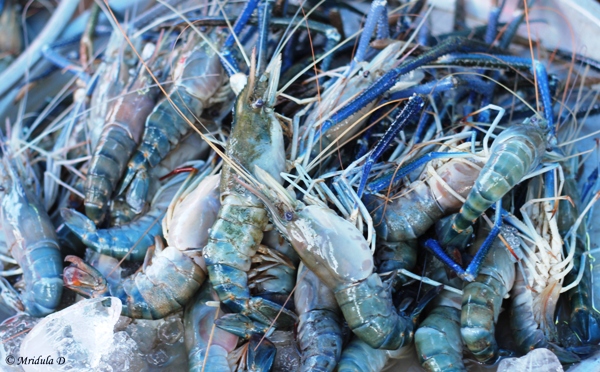 Shrimps for Sale, Rong Kluea Border Market, Thailand
The best I could do with non-veg was this lot of shrimp (I hope they are shrimps) and unlike the eggs I have no clue why these are blue. They just looked pretty to me. I still run away at the sight of red meat and I think it will take me a long time overcome that aversion, if I can ever do that!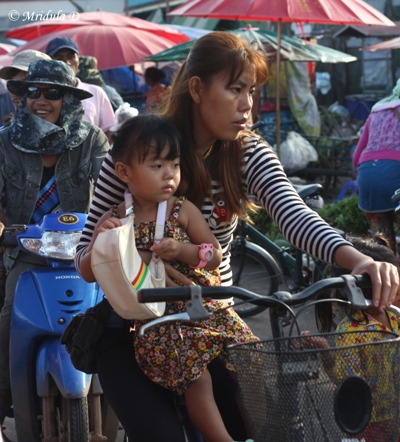 I Have My Own Purse Too, Rong Kluea Border Market, Thailand
As the sun started casting long shadows it was time to head to the hotel. I came in bleary eyed but I left quite wide eyed with memory of bright colors, colorful outfits and beaming faces. I will always remember Rong Kluea Border Market as the first place where I got comfortable with street photography.