If the weather would have cooperated with us we would have on the other side of the Throng La pass by now. But after the snow at Letdar we decided to walk back. I was looking forward to reach Chame because my cell phone would work there. I was looking forward to all the calls I could make.
For a change it was not raining hard when I started walking after breakfast. But raining it was. The mist looked beautiful but I knew what it was hiding.
By now we were fairly sure that there were no jeeps at Chame and we would have to walk further. I was quite philosohpical about it, anyway I had no other options. If there were no jeeps or motorcycles then you walk, it was as simple as that. But while walking back I did view the road with slightly different feelings. After all, the people who live there, should walking be the only option for them? I was not so sure anymore that road was a bad option. After all I was forced to walk back in their shoes for three days and I quickly saw sense behind the road.
We had another minor adventure while getting out of Humde. Once again a stream was raging on what used to be the road. There was a narrow wooden plank across it. Hari asked if I would like to wade through but I told him I would cross by the plank. I gave my bag to a local gentleman on the other side who continuously cautioned me to go slowly. I inched across the plank, he gave me his hand for the last few steps. And suddenly I was on the other side. The local person remarked that he had not seen so much rains at Manang in last 40 years! He could not remember any other time when it rained for 4 days in a row.
I stopped for tea at Pissang around 9.00 am. I had only walked for two hours and I was already feeling tired. From here till Chame, which I reached at 2.00 pm I sustained myself by thinking of all the phone calls I would get to make! And even then it was a tough going.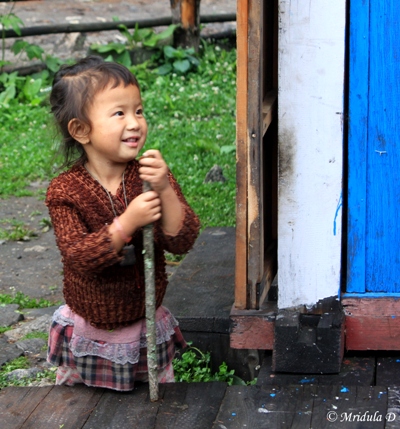 A Child at a Lodge, Annapurna Circuit Trek, Nepal
At Chame we had lunch at the same spot where we stayed while going up. I asked for Daal Bhaat and promptly started calling home. It was then I got to know about the Uttarakhand tragedy. It was 19th June and I had no inkling as there was no TV nothing higher up. So back home everyone was worried about me and the weather conditions in Nepal too. They were quite relieved to hear that we were safe and just facing rains and nothing more.
After lunch we started walking once again. I met a local woman who was gathering data for her Ph.D. in Buddhism from Manang and nearby areas. We walked together for the rest of the journey. The rain had stopped by now and what a relief it was.
We met a small girl (in the picture above) at Dhanchok where we stopped for tea. I asked her if she went to school and she said yes and pointed in one direction. She looked too small so I asked her mother as well. She laughed and said no was not going to school yet! She also liked to use the stick as a sword and expected me to fight with my walking pole. I did not do much fighting but it was fun.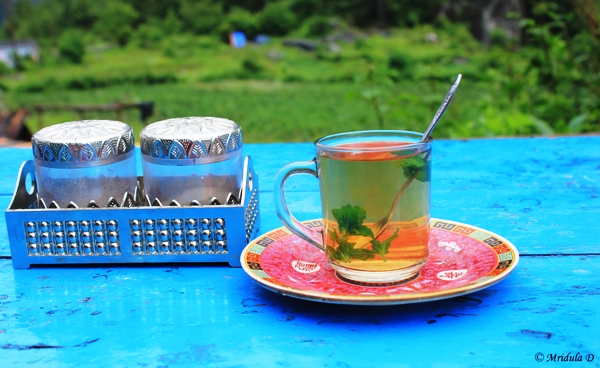 Mint Tea on the Way, Annapurna Circuit Trek, Nepal
Tea keeps me going throughout the day but it becomes absolutely essential for me on a trek. A cup of tea break gives my legs a much needed breather and revives me as well. I like chai actually but on these routes they use milk powder so I switch to mint and ginger tea. I put my feet up and enjoyed my tea. We were still some distance away from Timang and that is how far we were going to go, we could not reach Danaque.
Refreshed after tea we started again only to find a waterfall on the road a short distance ahead. This time there was no doubt, I was going to take off my shoes and wade through with Hari's help. The water was not deep but it was so so cold. I crossed it giggling, laughing and cursing, all at the same time! Putting on my shoes again I told Hari and the lady walking with us that I would slowly move ahead. I think in less than half an hour I was at Timang.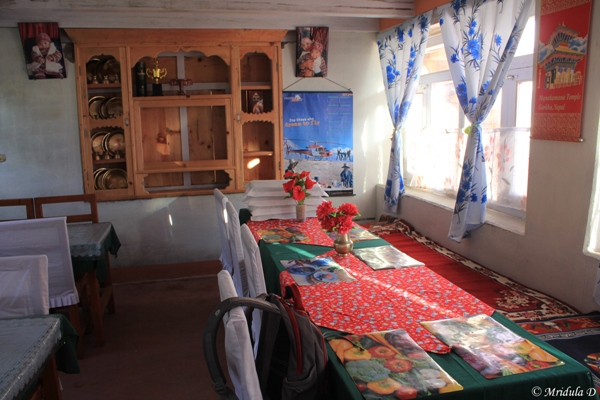 The Lodge at Timang, Annapurna Circuit Trek, Nepal
The lodge at Timang was spotlessly clean. It was such a luxury to go and crash in such a room. All the lodges at the route were clean barring the ones in bigger cities like Beshishahar and Pokhara. When I came to the dining room for my tea Hari told me that there were jeeps from Chamche in all probability. That was good news. We decided to start at 6.00 am the next morning after a 5.40 breakfast. In city if someone tries to wake me up at 5.00 am they risk grievous bodily harm but on the treks I am a different person.
I met a young girl and her godmother from Canada in the dining hall. The godmother was 59 and still trekking. There is hope for me too then. They were also on the same plan the next day. They asked me, "is not a little unusual for an Indian women to trek?" I told them it was not unusual to trek maybe it was a little unusual to trek solo. But as my daughter is small my husband and I take turns to do bigger treks. And it is his turn to trek in August!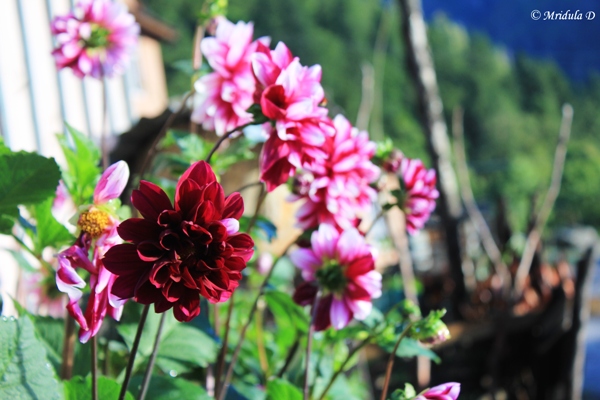 Dahlia Flowers at the Lodge, Timang, Annapurna Circuit Trek, Nepal
After dinner all I could think was of the possibility of finding a jeep at Chamche. Chamche was beyond Dharapani but before Jagat. It was a long way ahead but there was no other option but to try to reach the place. The reward would be reaching Beshishahar the same day and enjoying at Pokhara the next day.
I must have walked for 8-9 hours to reach Timang from Humde. On other days, I have reached London from Dehli in 9 hours or so!
Read another day's account from my Annapurna Circuit Trek in Nepal
Annapurna Circuit Trek- Reaching Sangey, Day 1- Sangey to Dharapani, Nepal
Annapurna Circuit Trek, Day 2- Dharapani to Chame
Annapurna Circuit Trek, Nepal- Day 3 Chame to Pisang
Annapurna Circuit Trek, Nepal- Day 4 Pisang to Manang
Annapurna Circuit Trek, Nepal- Day 5 Rest and Acclimatization Day at Manang
Annapurna Circuit Trek, Nepal- Day 6 Manang to Letdar
Annapurna Circuit Trek, Nepal- Day 7 The Snowfall at Letdar
Annapurna Circuit Trek, Nepal- The Retreat, Day 8 Letdar to Humde
Annapurna Circuit Trek, Nepal- Day 10 The Retreat, Timang to Chamche