As it was raining when I went to sleep, I wondered if walking from Manang to Letdar would be in pouring rain. When I got up I could hear the rain before I could see it. But when you have to go you have to go! So I got out and went about having an early breakfast and started out in rain.
As we started walking out of Manang I came across this no motorcycle notice. As of now it was raining mildly so I still kept my camera out. My rucksack was not waterproof so everything was packed inside polythene (I brought back everything and they will be reused). It worked as I would have one dry change of dress when I would reach the next stop.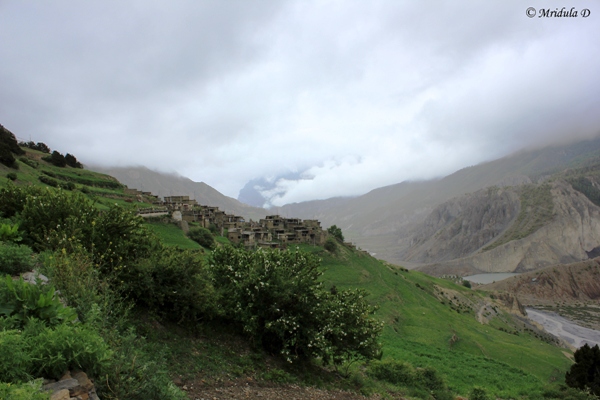 Manang, Nepal
For a while it rained mildly and I clicked a few pictures. I got to see the Gangpurna Lake in the distance once again as we climbed up to Upper Manang. However I was already inside my Gandlaf without magic cloak (raincoat actually, have to post a icture) and handling the camera was not easy. Still what is a trek without clicking pictures, so I went on.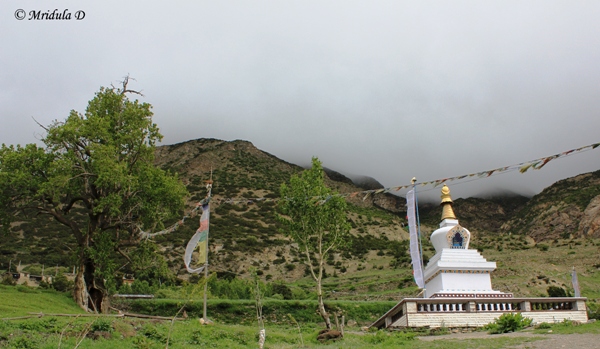 Upper Manang, Nepal
However by the time I reached this stupa it was raining so much that I had to put my camera in my backpack! I have already given a watery grave to my previous SLR at Havelock, I do not wish to repeat that performance ever!
If you have ever trekked in the rain for the whole day you know how miserable it feels. If you have not trekked in the rain for the whole day you are lucky, I hope you never get to experience it. One hour, two hour of rain is a different matter but whole day in rain, I can do without it. But not so on this trek.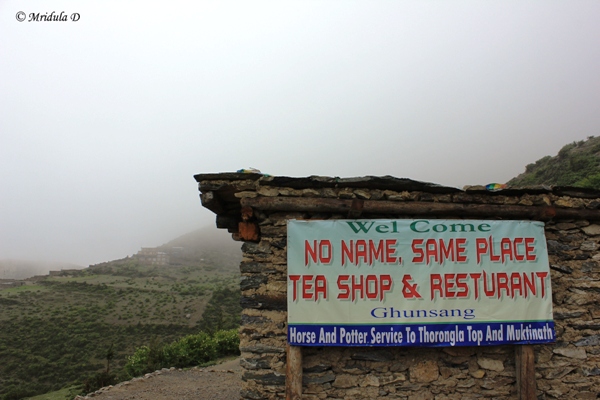 No Name, Same Place Tea Shop, Ghunsang, Nepal
Thus walking in rain we reached to the 'No Name, Same Place Tea Shop' where we stopped for tea. It was a welcome break and an opportunity to get out of the rain and the cloak. I also took out my camera and took a picture of the shop with the unique name. This was the last picture I took on this particular walk. It rained so much that my camera never came out after this. Oh! and there is no Harry Potter anywhere, they mean to say horse and porter service available.
After tea we reluctantly got out of the shop as it was still raining. After a while my water proof shoes were soaking wet because rain would trickle from the socks above my ankle. After an hour and half we stopped for lunch. By now rain had found a way to get into my clothes too. Luckily the lodge owners had put an an angithi below the dining table and it drew everyone around like a magnet. We tried unsuccessfully to dry our socks. Outside it rained unabated.
Soon lunch was over as well but the rain continued and so did we. At one point it was raining so hard that we stood beneath a yellow barsati (plastic hanging out to form a shelter). After another hour or so I reached Letdar and managed to get out of my wet clothes. I was now at an altitude of 4200 meters as well and it was cold now. There was mist all around. And due to some reason the lodge at Letdar didn't had a proper fire. It rained when I had tea and it still rained when I came down for dinner. I sincerely hoped that it would stop the next day. I did not wish to walk in rain for the whole day again. Little did I know what was in store for me actually! I fell asleep to the sound of rain as well!
And if you are tired of reading about nothing but rain imagine how I tired I must have been after walking in it.
Read another day's account from my Annapurna Circuit Trek in Nepal
Annapurna Circuit Trek- Reaching Sangey, Day 1- Sangey to Dharapani, Nepal
Annapurna Circuit Trek, Day 2- Dharapani to Chame
Annapurna Circuit Trek, Nepal- Day 3 Chame to Pisang
Annapurna Circuit Trek, Nepal- Day 4 Pisang to Manang
Annapurna Circuit Trek, Nepal- Day 5 Rest and Acclimatization Day at Manang
Annapurna Circuit Trek, Nepal- Day 7 The Snowfall at Letdar
Annapurna Circuit Trek, Nepal- The Retreat, Day 8 Letdar to Humde
Annapurna Circuit Trek, Nepal- The Retreat, Day 9 Humde to Timang
Annapurna Circuit Trek, Nepal- Day 10 The Retreat, Timang to Chamche