This was one of the few walks when I didn't die on the route. I came to Chame more or less in one piece. And this was one place where my Ncell phone connection worked. Ncell worked very well on the Everest Base Camp Trek but not so on Annapurna Circuit Trek. In fact, Chame was the only place (starting from Sangey, not counting bigger cities like Pokhara, Kathmandu, Beshishehar) where it worked. It was supposed to work at Mukteshwer too but I never reached there to test the theory.
After a good rest at the Green Park Lodge at Dharapani I emerged refreshed. The lodges have a communal dining area. My room was on the first floor in the left upper corner of the picture. Two young men from US, Eric and Justin were also trekking on the same dates and as our guides always stayed at the same lodge, by the end of the trek we added each-other on Facebook. Both guys were super fit and would almost run on the trek! I would meet them a few hours later at the next lodge!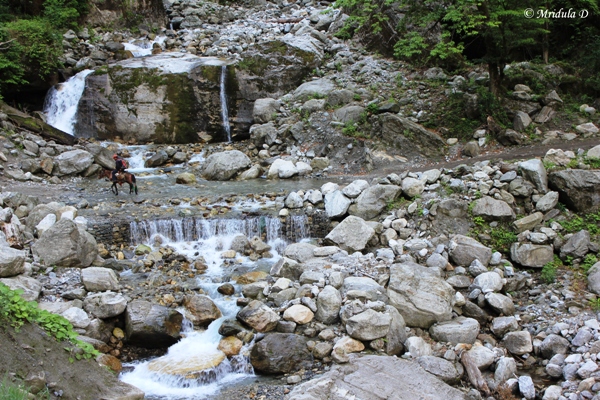 Crossing the Road, Dharapani to Chame, Annapurna Circuit Trek, Nepal
While walking there are always a few stretches where a fountain or a stream decides to flow on the road. Dharapani to Chame also had one such stretch. I saw this horseman to cross it at ease. Usually instead of hopping from stone to stone I take off my shoes and wade through. However, here I thought the water was less than ankle deep and I decided to just walk through it in my new waterproof shoes. My shoes have good waterproofing but the water was more than ankle deep! So I ended up with very wet shoes but luckily I had my sneakers as well. Now that was the only luxury I allowed myself as I had a guide cum porter.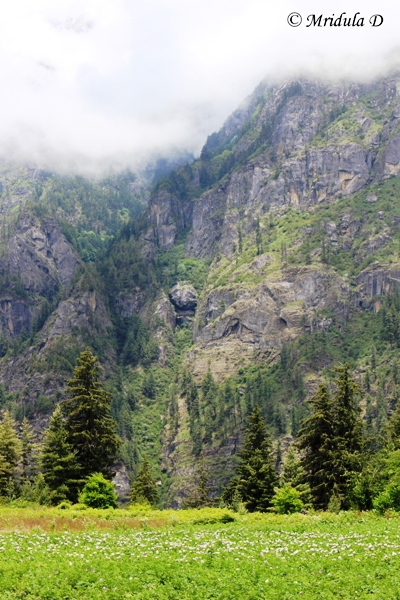 Flowers and Mountains, Annapurna Circuit Trek, Nepal
Soon the wet shoes were forgotten, they now were tied to my small backpack and would dangle around my elbows. After two hours of beautiful but cloud filled scenary, we stopped for tea. Eric and Justin were also there so it was a merry bunch. Rain gods were kind on this day, there were only clouds, no actual rain and it remained that way till I reached Chame.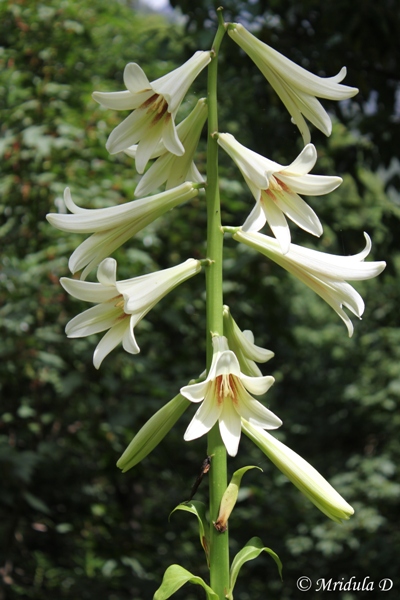 Giant Himalayan Lily, Annapurna Circuit Trek, Nepal
A little after the tea was over I spotted these Giant Himalayan Lilies (and that is the actual name too). I had to stop and click a picture. I remember I sat down to click this one, so on day 2 as well I was capable of bending. By now, I told Hari, my guide, to go ahead and come what may, I walk at one pace- slow. That is all I am capable of. So he was walking a little ahead of me and both of us were happy.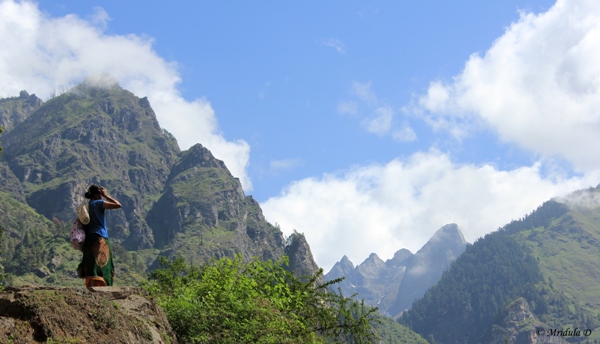 A Local Woman Walking from Dharapani, Annapurna Circuit Trek, Nepal
I was a little behind this woman who was on her way to someplace. Even she paused from time to time while climbing uphill. As for the views my guide told me we could see Manaslu, the eighth highest mountain in the world. I did see it for a while but the picture is blank as the sun was right above it. If I had known that was the only view I would get of Manaslu, I would have tried harder to capture it.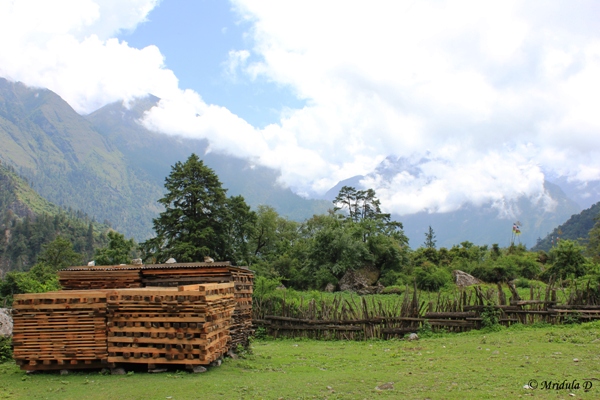 Walking from Dharapani to Chame, Annapurna Circuit Trek, Nepal
I was having a good time walking at my own pace. This was one rare day when I was not too tired. I was still looking forward to lunch. The apple pancake that I had for breakfast had long back faded into nothing.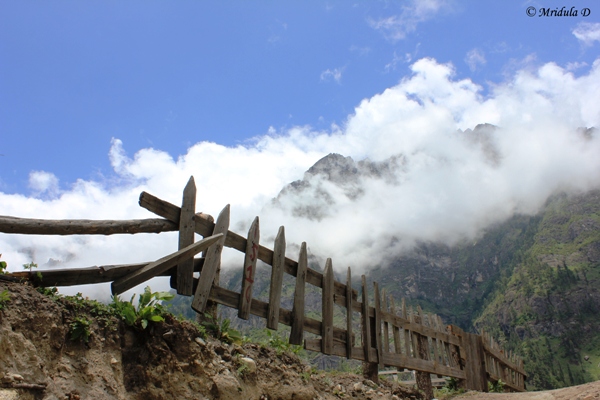 Beautiful Trail, Dharapani to Chame, Annapurna Circuit Trek, Nepal
Lunch was not far away from this spot. We stopped at Thanchuk to have lunch. As this was the lean season the lodge owners were away and our guides cooked for us! I had Daal-Bhaat again but Justin and Erick were eating more exotic things. After food I was willing to walk again for a while. By now I would my thoughts wandered for the 100th about this trek being a very tiring and expensive lesson about trekking in monsoon. I hoped it might change the next day!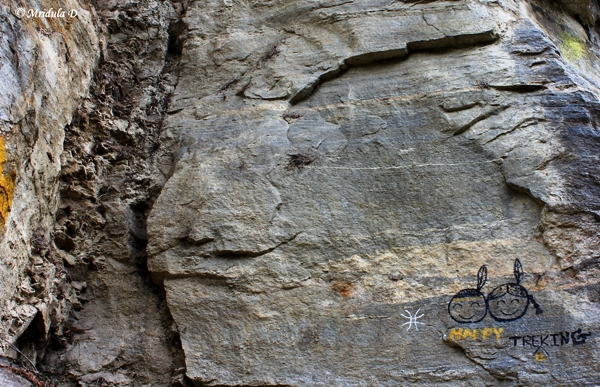 Happy Trekking!
After lunch, looking for scenic spots, flowers, butterflies and birds I was making some progress. At one point, I put down my small backpack to take out the water bottle. There was an elderly gentleman about 15 steps ahead of me. Out of nowhere came a man without any shirt and startled me a little. He however, only asked for water. In his mouth were green leaves half chewed, I wonder what they were. After drinking water he walked ahead of me and I was sure he was drunk. Then he went behind me and after a few minutes he disappeared altogether from my view. Later when I told this incident to Hari, we decided that he will not let me go out of his vision and this is what he did till he left me safely at Pokhara. I was sharply reminded of the fate of Debbie Maveau who was trekking in the Langtang region in 2011.
I reached Chame without any other significant incident. Only my rucksack came apart and we went to the market to buy a new one. All my stuff was now to be transferred to another rucksack which was smaller than my original. Thankfully everything went in except my sleeping bag. That could be tucked on the outside and we were happy.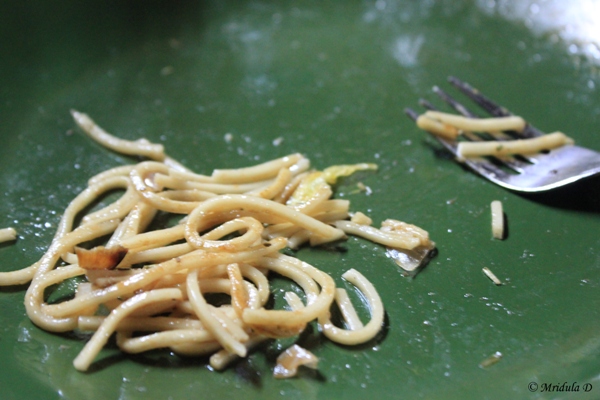 Noodles for Dinner, Shangri-La Guest Hourse, Chame, Nepal
I sat for an early dinner of noodles after consuming a pot of ginger tea. Even though it is more expensive, I find it easier to drink tea rather than water to maintain the water balance. The noodles went in a flash, they were so good and I was so hungry. While I tried to get up after dinner, I made an ugly face and the person sitting opposite remarked, "Pain?" I laughed and said yes. He replied, "I know the feeling, I have been walking since from morning from Jagat." My jaws dropped, Jagat was closer to Sangey, for me it was a two day walk which he did in one day!
Hotel Shangri-La at Chame has attached bathroom and those who trek know what a luxury it is! After calling a lot of people (remember this was the only place where my cell phone worked) and telling them I was still alive (no such flippant updates to my father though) I thought I would be able to walk for one more day. The next day I was walking from Chame to Pissang.
Read another day's account from Annapurna Circuit Trek in Nepal
Annapurna Circuit Trek, Nepal- Reaching Sangey, Sangey to Dharapani
Annapurna Circuit Trek, Nepal- Day 3 Chame to Pisang
Annapurna Circuit Trek, Nepal- Day 4 Pisang to Manang
Annapurna Circuit Trek, Nepal- Day 5 Rest and Acclimatization Day at Manang