I get all a flutter when I am invited to food events. For my life, I can't get that whiff of cinnamon in the dish nor can I taste the delicate flavor of pine nuts! I also do not pretend otherwise. But when Singapore Airlines invited me for their event Shahi Thali I decided to go. The meal has been designed by Master Chef Sanjeev Kapoor.
Both the cab driver and I were a little lost about the location of TajSATS near the IGI complex. Google Maps came to our rescue. When the cab driver realized that we were going to a catering service which provided meals on the planes he asked me, "madam khana kya bahut acha hota hai kya?" (Madan is the food very good on flights?) I was truly torn about how to answer it. I told him, "nahin tikh sa hi hota hai." (No it is just about alright). The map took us to the venue without any hiccups and I walked in half an hour before the event!
I was met by Gerald Tan, manager for Northern Indian, Singapore Airline at the entrance. He quickly ushered me in and handed me over to the organizing team. I sat down patiently and started playing with my mobile. But Gerald came back asking if I would like a drink. And he returned yet again saying I could come in and have a chat with Sanjeev Kapoor. Angeline Khoo Vice president in-flight services and Hermann Freidanck, manager inflight services were also there.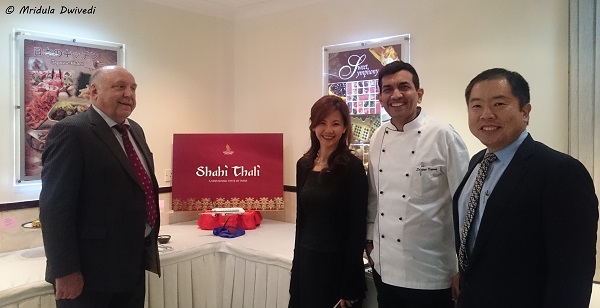 If I was nervous at the start of the event, my stomach became full of butterflies at the thought of interacting with the celebrated chef alone! I will be honest, the first few minutes went in a haze. Sanjeev started talking about the cuisine and I realized after a few minutes that I could actually get away without speaking much!
And then slowly the haze subsided and I started getting interested. Sanjeev was talking about taste buds not being the same at 30,000 feet. Now why did it never occur to me? Then somewhere down the line, Hermann added, "we are a transportation company and yet we are supposed to be a flying restaurant as well". In fact there were so many interesting quotes flying about that I can present a list of new things that I learned!
For airlines weight is everything, they have to be very conscious of weight.
In an A380 a full flight means 500 people or so. Imagine a restaurant with 500 covers flying in the air, that is what they become!
The number of steps involved in serving are important. Because it can't be 10X60 for even first class. They need to cut down on steps!
The food has to be frozen according to the airline regulations and then heated again, they have to take that into account while doing the recipes.
Everywhere else in the world, bread is a starter. Roti is a bread and yet it is not a starter, so how do they serve it?
When you fly back, the caterer of Shahi Thali is from Singapore or wherever you are flying back from. That probably accounts for the difference in taste?
They serve the same Shahi Thali in all segments, the difference is there are 4 side dishes in the first, 3 in business and 2 in economy.
Crockery has to look good but it cannot weigh a lot, so how do you balance that?
The food goes into the ovens on the plane in different containers and gets poured into the dishes to be served in.
There is very little space for the crew to stand and do all these activities. So, if there are many steps involved in serving, it will be frustrating for the crew and the flyers will get impatient as it will take more time!
I remember telling Angeline that the next time I sit in a plane I will try to be more appreciative of the food.
Sanjeev once mentioned that airline food is one of those things that people like to kick. And I told Hermann at one point, you were talking about being a transportation company but people expect you to be an entertainment company too! He said one of the worst experiences is to have a flight where the entertainment system went down! Sanjeev mentioned that his daughter would refuse to fly a few airlines because she didn't like the entertainment system!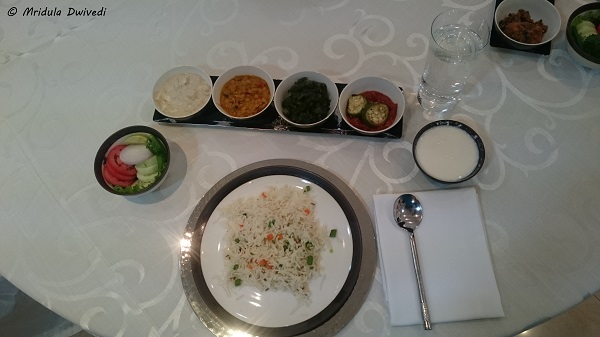 You can see that by now I had lost all my fear of the event. Other members of the media were around and I was happily participating in the conversation. So let me talk about the actual food now, the Shahi Thali. The main course of the Shahi Thali (as served in the first class) is what we got to taste. As I am a vegetarian I can only talk about that.
It has Shahi paneer, bharwan torai mussallam, sukhi palak methi matar and tadka daal with sofiyani pulao and a choice of roti/paratha. I have to say I never tasted a torai (snake gourd) dish as tasty as this. But my hot favorites were the Shahi paneer and rice!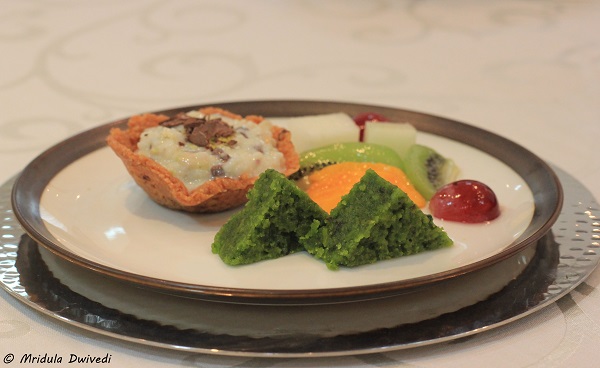 The mango lassi was delicious too. The dessert platter had chocolate chip kheer, pistachio burfi and fruits. I was not too sure how I would find the chocolate in the Kheer.
By the main course I was so at ease that I could ask the chef what a particular dish was, he would also happily tell me. I have to say Sanjeev Kapoor is very easy to talk to and has a great sense of humor.
I told him, "I was not sure how I would like chocolate in my kheer but it is actually quite good." Another member of the media said chocolates go with everything. So the chef in good humor said, "pakode mein daal kar dekho!" (try putting it in pakoras).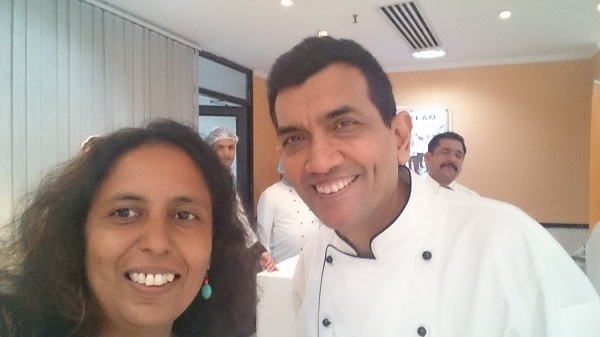 When I came home and showed Chhavi my selfie with the chef she was quite impressed! When she was even smaller I would scold her for watching too many cartoons. She would then tell me, "mom let us watch Food Food." And me who can literally set the kitchen on fire if I try to cook, would agree. She could not believe it that the TV 'Chef Uncle' was standing next to her mother!
She proudly went around telling her friends that the box of chocolate that mom got home was given by the 'Chef Uncle' (it was a souvenir from the Singapore Airline) and all her friends wanted some!
Now I wish every food event was this easy to attend! I find some of the people who are knowledge about food so intimidating that I wish to run away and hide. But here was a master chef, none less than Sanjeev Kapoor, who could put me so much at ease that I would ask all my silly questions without any hesitation! And as I promised to Angeline I would be more sympathetic to airline food in future.