I knew of Agrasen Ki Baoli for quite sometime now. Sometimes I made elaborate plans to go there. But I never succeeded till yesterday! And when I went, I was not even carrying my camera, I used my cell phone to take pictures!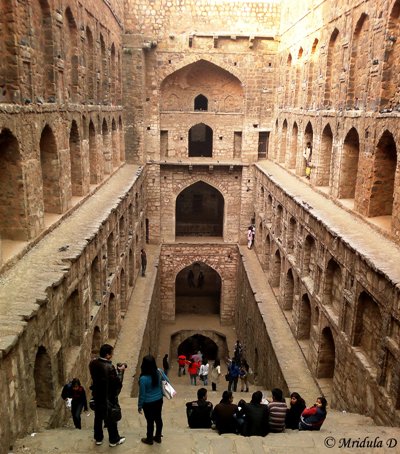 Agrasen Ki Baoli, New Delhi
About its history I am quoting from Wikipedia–
Although there are no known historical records to prove who built Agrasen ki Baoli, it is believed that it was originally built by the legendary king Agrasen during the Mahabharat epic era and rebuilt in the 14th century by the Agrawal community which traces its origin to Maharaja Agrasen.
This description corresponds with the ASI inscription stone outside the monument. I had actually gone to meet my old friend from school and while we were having coffee at CP, she asked if there was a historical monument around. And I (or rather the auto driver) took her to Agrasen Ki Baoli.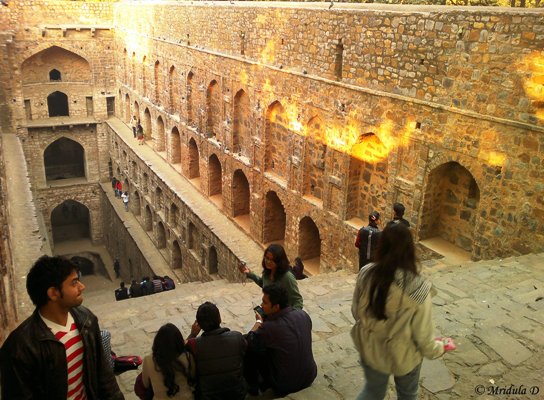 College Students at Agrasen Ki Baoli
In the present times it seems to be a popular hangout with college students! I could spot only a few tourists but many SLRs. I could see a lot of chairs piled high in a corner but no operation cafe on this day.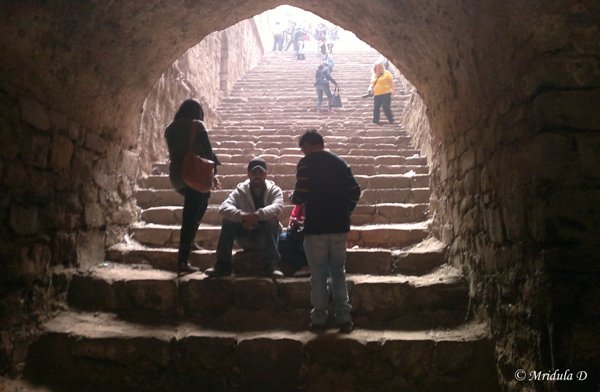 Agrasen Ki Baoli
We walked to the bottom of the step well but saw no water. There were stairs going further down but two people were sitting there and when we asked them what was there, they discouraged us to go any further. I am sure they didn't want to move from there perch.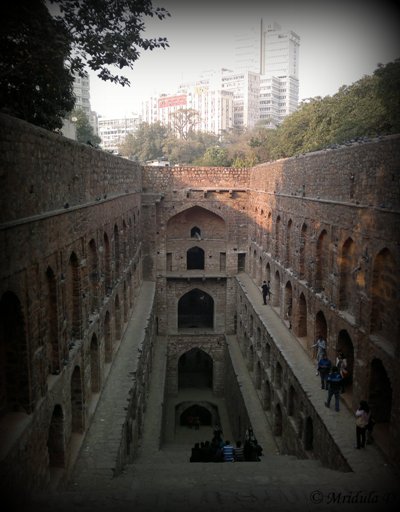 Ancient and Modern at Agrasen Ki Baoli, New Delhi
I was quite amazed at the view that the top of the steps presented. I could see the modern buildings of CP as well as this fascinating monument at the same time! I hope the next time I end there I would have my main camera as well.
PS. If you want to go, the nearest metro station is Barahkhamba Road. The auto guy will charge you 20-30 rupees from there.