The wildlife experience at the Manyeleti Game Reserve with the Tintswalo Safari Lodge has been beyond expectations, if you need a proof look below. We were that close to the lion. And contrary to what it looks like, this was not a roar, it was a yawn! I wonder why I told you that!
Some of my encounters with the wild life in South Africa have been so close I actually shot with the normal (18-55 mm) lens rather than the 75-300. However the above picture has been shot by the 75-300 and you can see I almost chopped off the nose of the lion. Our jeep was right next to the two sleeping lions, we were so close that we could hear them breathe. This one just lifted its head once or twice and then went back to sleep completely unconcerned about two jeeps full of human beings gawking at it at such a close range. We were told if the lions have a full stomach all they care for is sleep! These two were living proofs of it.
The guides were clearly bored with the two sleeping lions but we tourists were so excited. So what if they were sleeping and there was hardly any action, they were lions and I rarely get to see them!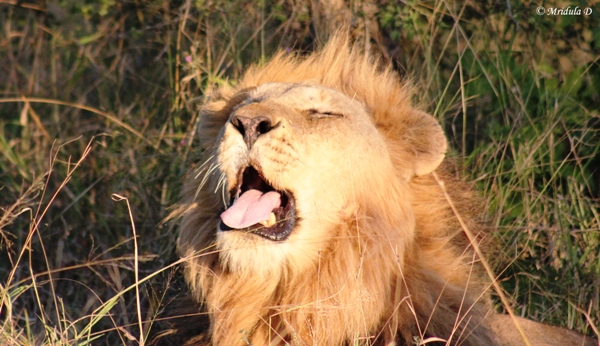 A Sleepy African Lion at the Manyletei Game Reserve, South Africa
Folks I have no internet in my room and I am typing this from the lobby and my colleagues are waiting for dinner. So have to go. Two more days in South Africa but the safaris have come to an end. I have to say you can never go back home the same person after visiting South Africa! I hope I will go back to South Africa again.