#AbHarWishHogiPoori with Flipkart video is such a cute one. To me the gardening bit holds the maximum appeal. However, that set me thinking about a wish I would like to fulfill.
But before I can tell that to you I have to tell you a story. I have two nephews Brat 1 and Brat 2 (Dilip and Sunil) and they stayed with my husband and I for their schooling. The younger one was in class 7th and the elder one in 11th. Both of them now work! The younger one, Brat 2, used to be smaller than me in height. Both on them are now more than 6 foot tall! How time flies.

They both trekked with us for the first time in their life. Brat 1 is still game about trekking with me but the younger one will move only if I am going to Sri Lanka or Maldives!
Both of them have awesome sense of humor. Both of them play sports, Brat 1 basketball and Brat 2 football. We used to watch all our favorite tournaments on TV together. World Cup Football used to be a special occasion. Euro matches were family affairs. Of course they have to support different teams and fight over it. I am the one in the family who likes to watch tennis. Brat 1 and I support Nadal and Brat 2 Federer. And our mock fights were the flavor of the games! We would fight over anything and everything.
My father (who is their grandfather) watches cricket. Brat 2 would be after his life that he likes to watch match fixing! However, when football got caught in the fixing scandals, it was my father's turn to tease him. But being the grandfather he would do it only halfheartedly.
But the most easy to tease person in my family is my elder sister. Even my daughter can bully her. My nephews are experts at it.
But they graduated out of college and started working. Regular late nights were not possible by them. Then the elder one moved out to a different part of the city due to his work.
We made a WhatsApp group called family. Initially my sister, my nephews and I were there. What we earlier used to do in person, we would now do virtually, tease each-other.
Then Brat 1 gifted my father a smart phone. Even though my father is 70 plus, he is now in the family WhatsApp group. As everyone needs to know where I am when I am traveling, it was an easy way to broadcast to the whole kunba what I was up to!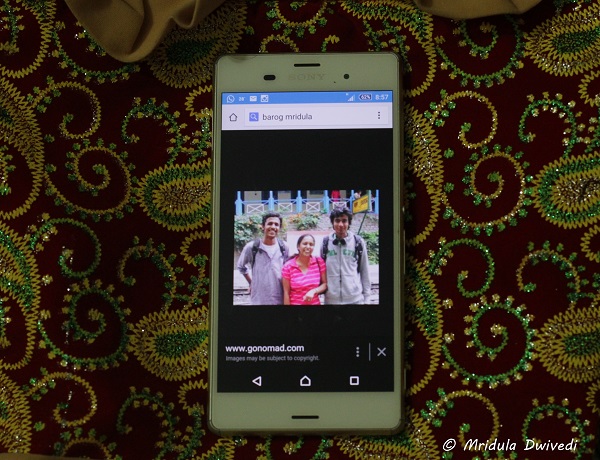 But then Brat 1's smart phone conked on him. He is now using a non-smart phone. The family group feels a little empty without him. I am thinking of gifting him a XperiaZ3. There are many reasons why. The phone is waterproof. Even if he soaks it along with his jeans in a bucket, the phone will survive. It has an awesome camera too, and the lad is talented with photography. I am after is his life to get active on Instagram. With this new phone he will have no excuse.
But the greatest reason to gift it to him would be because he would have a smart phone again and my family group would be complete once more! It is not the same without you Brat1.
I have ordered expensive items before on Flipkart, my Tokina 11-16 lens being the most expensive purchase till date.So I won't hesitate ordering a smart phone as well. It takes out the hassle of going out in this monsoon weather when traffic jams are the norm. So #AbHarWishHogiPoori with Flipkart.