When I got an invitation to dine out at The Oriental Blossom at Optus Sarovar Premiere, Gurgaon I was happy for two reasons. First is that I love Chinese food and second this place was in Gurgaon and I could drive there myself. And for a change I arrived at the destination without getting lost. The hotel has valet parking.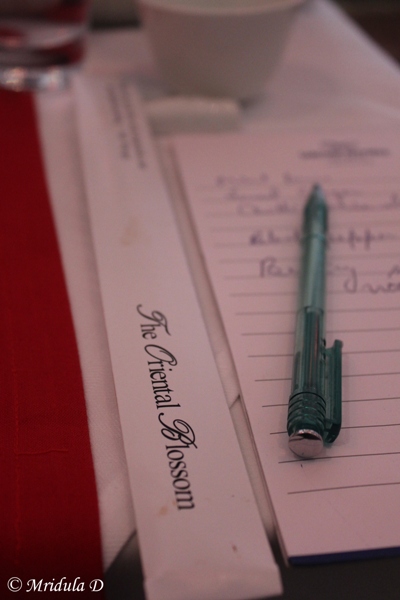 The restaurant entry is just after the main entrance and it can be located easily. I was greeted by the staff and quickly seated. I was shown both the drinks menu and the food menu and given enough time to decide. All my questions related to food were handled with courtesy. I asked for their Italian wine and corn and water chestnut dumplings as starters. The server then suggested if I would like to try out the crispy vegetables in hot pot sauce too? I said, "but how much food a single person can eat?" And he replied, "just taste and we will give you small portions." So I agreed.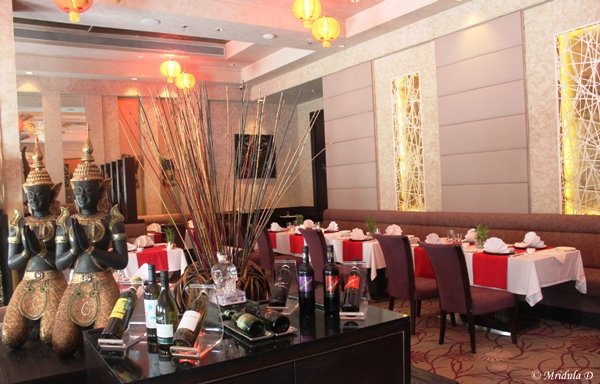 I am not good with spicy food but I found the crispy vegetables quite good, they were spicy but not the tongue burning variety. The dips for the starters were three- made of mint leaves, sweet ginger and chili coriander. After that came my corn and water chestnut dumplings and they were an absolute delight. If you like a bit of sweet in your food you will like these dumplings a lot.
I was soon joined by Nitin Kapoor the food and beverage manager and he explained that in their newly launched menu they concentrate on the cuisines from four regions of China- Schezwan, Shanghai, Cantonese and Beijing. He also introduced me to the master chef Prasenjit Majumder and the kind chef took some time out to chat with me. One of the very predictable questions that I asked him was  if he watched Masterchef Australia and he said he never got time!
I went for Beijing style glass noodle soup that was full of vegetables including lovely looking and tasting cherry tomatoes. There a chopsticks on every table but I gave it a miss. They also thoughtfully serve the dishes in bowls so that if someone wants to try out the chopsticks they would have an easier time.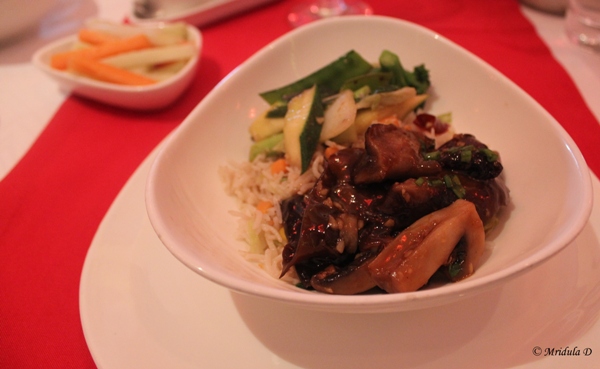 I had vegetable fried rice with crunchy onions and golden corn as my main course. I had stir fried mushroom and stir fried greens as the side dishes. No I didn't wish to order two dishes but it was the same offer, just taste it. I am very fond of mushrooms so I was absolutely sold on the dish. Then I offered to taste a fish dish as well. So I was given sole fish with preserved chili sauce. I tried two pieces and it tasted quite fresh and mild. I liked the dish. I also tried tofu with soya sauce and that too was great. I was asked for a refill of wine which I declined, for me a glass is enough for months! I did inquire whether they served beer or not and they said yes. I may take out a few friends out there next time.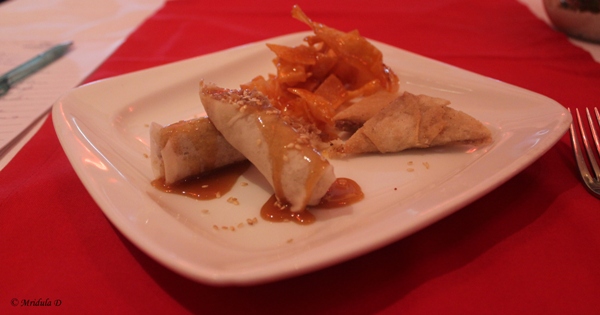 I have a big sweet tooth so I asked for coconut blossom as my dessert. And I was presented with a little bit of a lot. I got my coconut blossom but with date and raisin pancake and honey toasted noodles! I have tried noodles sweet dish before but it was my first taste of coconut blossom and date and raisin pancake and I have to say they were fabulous. If I have to choose again I will choose to eat a lot of coconut blossoms. But then I am partial to coconuts. I also got a cute card related to my Chinese sign and a fortune cookie too.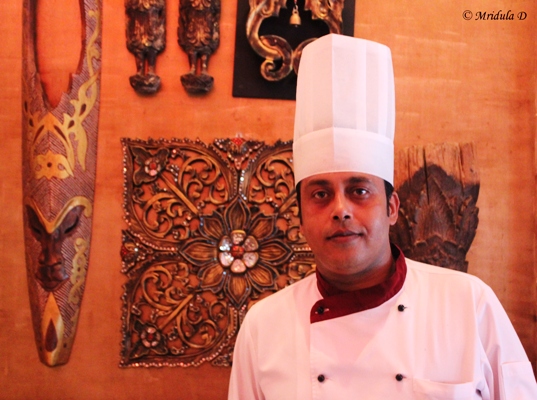 And finally here is the man who is responsible for the magic- the master chef Prasenjit Majumder. When I told Prasenjit that I would need to go for a longer run today he said all of it was made using very little butter. But I now have realized the secret of the hosts who present food shows. A lot of them put on weight and who will not even if you just taste a little bit of so many things?