I have visited Thailand 9 times by now. I am quite at home in the country. I went back to Thailand in September 2017 with Getaway Goddess to Koh Samui. I did a day trip to Koh Nang Yuan from Koh Samui. While Koh Samui is beautiful in its own right, Koh Nang Yuan is stunning!
I was under the impression that we were visiting Koh Tao and Koh Nang Yuan but we snorkeled at one spot, which must be in Koh Tao. But we touched land only at Koh Nang Yuan. I am not complaining, I am just stating it as a fact. All the stops were so beautiful, even the jetty at Koh Nang Yuan!
In Thailand, in fact in many other countries too, snorkeling means they will give you the mask, you go and snorkel. If you don't know how to swim, it is a bit tricky. They do a bit of hand holding for you near the boat if you are a non swimmer. I am lucky I learned swimming when I was in primary school. By now in calm water I snorkel without a life jacket, like at this spot.
The spot was rich in coral and fish. However, I am at that stage where I can tell you I saw pretty things, I have no idea what is what when it comes to marine life.
After snorkeling we boarded the speed boat again and in a short while we reached Koh Nang Yuan. It was our lunch spot too. The jetty and its surrounding were so impressive that I was reluctant to move. After lunch, our guide told us the direction to the view point and the meeting point. We were to meet again after 2 hours. So, that is all the time I had to explore Nang Yuan.
The way to the view point is uphill but well paved. The day I walked up, it was hot. I was sweating within no time. To reach to this spot, the last bit requires a bit of scrambling over boulders. But it was crowded when I went, and people were willing to give you a hand! Speed boats (like mine) come for a day trip and the place gets crowded. However, there is one hotel here and I can only imagine how it will feel once the speed boats are gone!
After getting the customary picture done, I took out the zoom lens. And this is what it yielded. I have been to Thailand so many times, I know there beaches are beautiful but Koh Nang Yuan is the most exotic I have ever been to in Thailand!
Here is how the beach looks from above through a zoom lens. It looked inviting for a dip, I was looking forward to get into the water after the hot climb. Going down was easier! And there was water to get into!
I had the snorkeling mask still with me. I had my GoPro too. They make for a good combination underwater. This was right off the beach at Koh Nang Yuan! But I was almost at the end of my allocated two hours in the paradise!
#Snorkeling at Koh Nang Yuan #thailand pic.twitter.com/2GoE0yTePL

— Mridula Dwivedi (@mridulablog) October 30, 2017
I certainly wish to back and explore more of the region. I would like to start at Koh Samui, go to Koh Tao and then to Koh Nang Yuan and then head back home! Let's see if I can pull it off someday!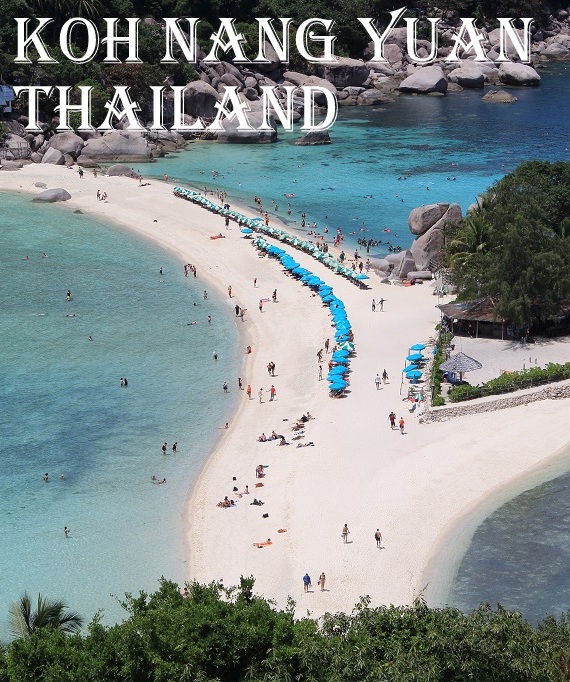 Till then I will be happy that I at least caught the glimpse of Koh Nang Yuan! While I certainly expected Koh Samui and the surrounding areas to be beautiful, I did not expect it to be this beautiful!