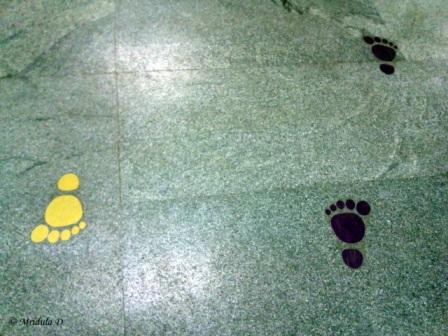 I recently used the violet line of the Delhi Metro twice. I changed from the Yellow line at the Central Secretariat and noticed these cute footprints. For a direction challenged person (in more ways than one maybe) like me they make perfect sense. Don't think, just follow the footprints and viola you are at the correct platform. I often change at Rajiv Chowk too but somehow I have not noticed the footprints there. I am wondering if I missed them somehow?
But I wonder what is it with violet line, it is the busiest metro route at any time of the day I have ever encountered. One panic and there could be a stampede, the crowds were so much. Even in the ladies only coach  as well.
And I finally bought a smart card for the metro after I came to know that whatever money you put in is valid for one year. It was a great decision, no more token queues for me which can be really long and not really a queue at many places.