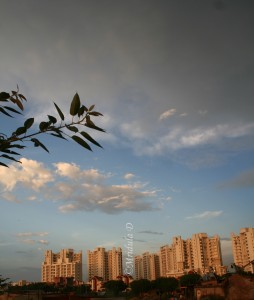 It takes me one hour fifteen minutes to reach home from my work on a good day. I realized yesterday that it can take four and a half hours on a bad day.
I can take three possible routes, I will call them A, B and C. A is the most convenient but they have dug up the road to put in the giant pipes for drainage that they forgot to put while they were making the roads. So there are 6-7 feet deep ghadda (holes) on the side of the Road A. After the recent rains they are completely filled with water and the road is, well, there is no road there are just potholes on which you can take a roller coaster ride. I can still take this route but I face a lot of traffic congestion on certain stretches.
So these days I am forced to take route B or C. Yesterday, I took route B and was about 8 km away from my home when the traffic policeman told me that if I can avoid I should take another route, the traffic had been standing still for quite sometime. So I decided to take Route C. In making this decision I merrily forgot that route B and C are connected. If people from route C cannot exit to route B there would be a ripple effect on Route C as well. I can do a lot of literature review and find gaps in the analysis to write research papers but here I was, happily heading to Route C quite oblivious of what was lying ahead.
After making some progress to Route C I realized things  were not good here as well. I talked to Sesha and he said ditch everything and come back via Route A. I told him I am so close by to Route C, I will give it a try.
And then it started. Or rather I should say stopped. I would not bore you with the minute details of what happened for the next 3 hours. The traffic remained still for most of those 3 hours. I managed to drive into a ditch again, but due to my past experience I quickly asked people around for help and got my light weight Maruti 800 out of the ditch in a few minutes.
I have worked in the Route C area for 4 years and yet due to my wonderful sense of direction after a while in I managed to take a few completely wrong turns and suddenly found myself out on NH 8 again! That probably was a blessing. But for a few moments when I realized that I was lost at night and till I found that I still landed up in a familiar area, were panic filled.  I then decided to take Route A after all and reached home at 9.50 pm. I had left work at 5.30! When Chhavi finally saw me straight away jumped into my lap saying "mummy mummy." And in next half an hour she went to sleep too.
Today in the morning it again took me 2 hours to complete the journey that takes an hour in the morning. I left office early today. I don't think I have the nerves to withstand another four and a half (or even two) hours of traffic today.
And to think of it that just a day before I was clicking the picture I posted above in Gurgaon and thought that the light was so good that even high rises look decent. But even then I knew it was a deceptive clam that my lens captured.