Apologies for misidentifying this Juvenile Shikra as a Hawk initially. The resident expert at Indiamike says it it a Shikra then Shikra it has to be!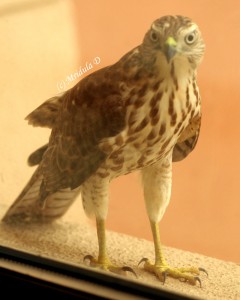 Look Where I have landed!
One of my colleagues called me yesterday to show me this. The Shikra and we were safe, protected by two layers of glass.
Both my colleague and I went click click for quite some time!
Seems to be asking, if I close my eyes, will you go away?
I have many more pictures of this Shikra but I think I will stop here.