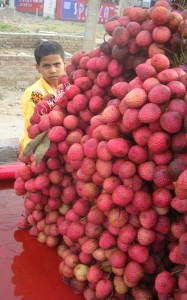 Truth be told, I saw this heap of Litchi on my way back from work in the evening. It is a 31km long commute on the Indian roads. Those of you who live here, you know what I am talking about. Those of you who don't you have to see it to believe it!
And yet, I liked the heap so much that I decided that I am going to park my car and go and buy some, so that I can click a few pictures. Now I have to say I quite dislike attracting attention to myself, so I try to click my pictures quickly. So, I asked for the price of the Litchi even though it was immaterial, I quite soon started taking pictures.  I only gave half an eye to the kind of Litchis he was putting on the weighing scale.
And as soon as I clicking pictures this small child peeped out from his hiding place, I wonder if the seller was his elder brother. I just loved the way he is looking curiously and I quickly took the picture.
And about that drawing attention part, a few weeks back I was clicking pictures of birds with my SLR around a small lake in Bangalore. That lake is adjacent to a residential area where we stay with family. I was quite engrossed in clicking for a few minutes thinking I am all alone. When I turned back someone was patiently waiting and asked me, "Are you with a TV crew." Now that is what I mean when I say I do not like drawing attention to myself.