Everyone should visit Lahaul and Spiti once in their lifetimes. It was my third third trip to the region. I went in 2007 when we trekked through the region and then more recently to Chandratal in 2014. I say that one trip per year to Spiti is a must! I hope you will enjoy my postcards from Lahaul and Spiti
Near Rohtang Pass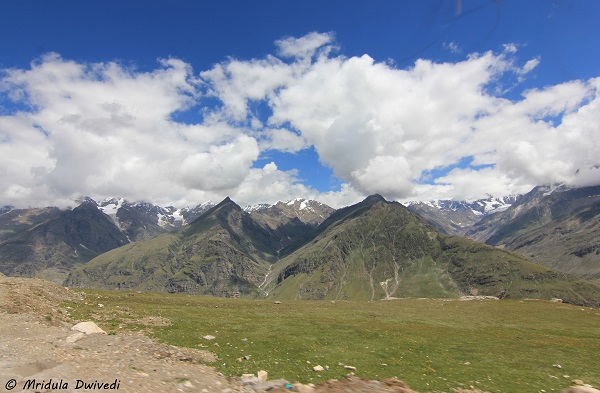 I have gone beyond Rohtang Pass only when I ventured into Ladakh or Spiti. It has never been a destination on its own for me. It used to be a pain with so many vehicles and traffic jams. The recent curb by NGT on the number of vehicles has certainly eased the situation.
The Road to Spiti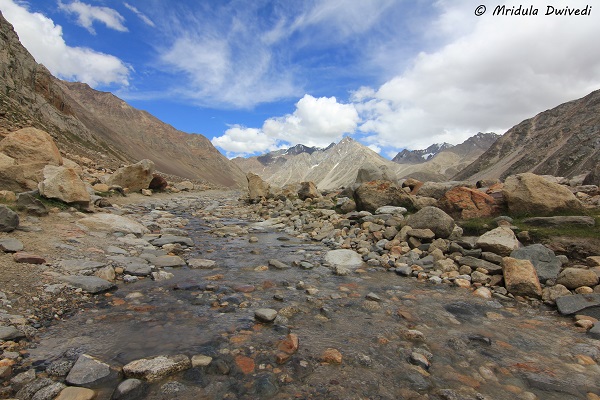 The road to Lahaul and Spiti is very beautiful, but at times there is hardly any road! I asked the driver, Ranbir ji, to break for a second while we were crossing this water pond! This is part of the road to Spiti!
The Bridge at Batal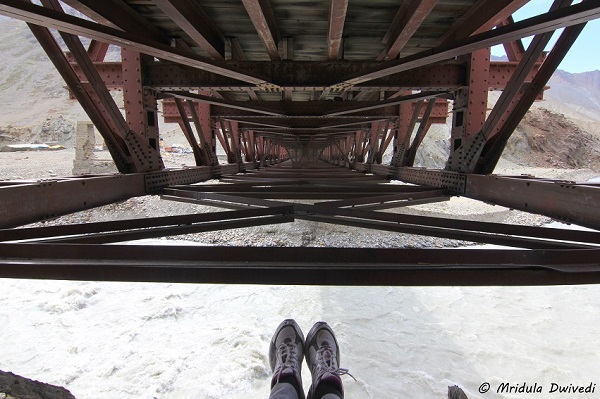 Last year my nephew and I went to Chandratal. My nephew, the original brat, Brat 1 took a similar shot. I had to wait for one year to do a repeat performance but I got my shot too. It looks more dangerous that it actually was. But I would still recommend extreme caution if you wish to try this!
Women at Chandra Dhaba, Batal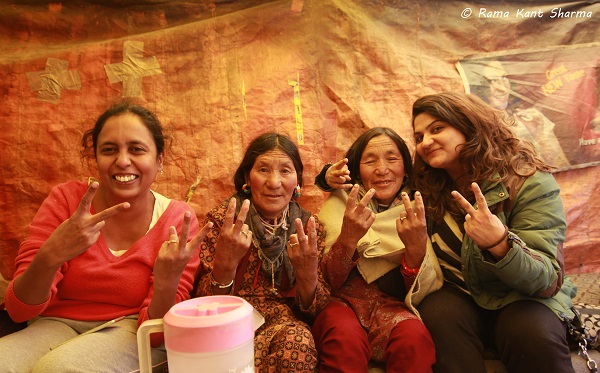 It is always a pleasure to reach Chandra Dhaba at Batal because that means lunch and meeting the legendary Chacha and Chachi of the Chandra Dhaba. Their son Tenzing is no running a camp at Chandratal.  In this picture we city slickers posed with the beauties of region!
Lift to Chandratal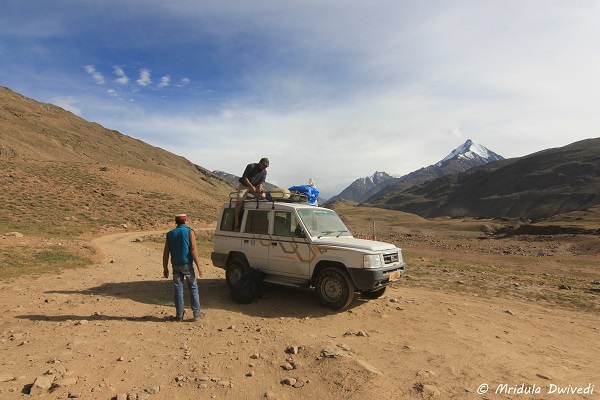 There are many public vehicles plying on the Manali-Batal-Kaza route. Chandratal is a detour from Batal. If you do not have your own vehicle be prepared to reach in whichever way you can. This gentleman from Mumbai took a lift at the roof of our jeep. Ranbir was not too thrilled about it but he agreed as the Chacha and Chachi asked him to take the gentleman along!
The Tents at Chandratal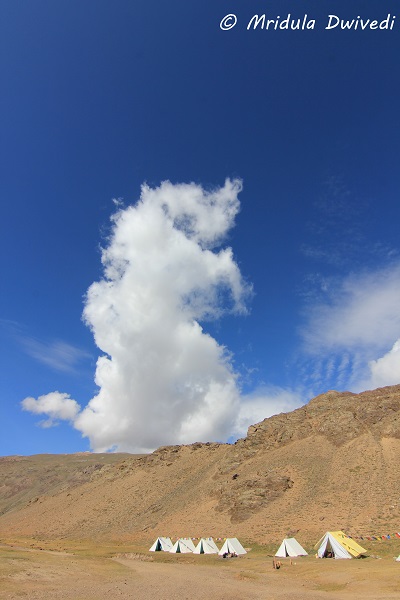 This year the tents have been pushed back further from the lake but I am not complaining. I want the lake to be there for Chhavi and her children too! And the blue you see in the sky is the Spiti Blue, no filter has been used in any of these pictures! Almost all the pictures here are straight from the camera!
The Horses near Chandratal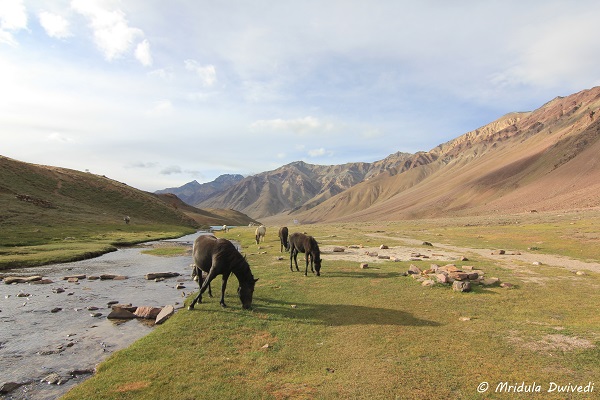 The vehicles go quite close to Chandratal but after a point they have to be parked. The walk to the lake is equally beautiful. The horses were enjoying their grass.
Looking away from Chandratal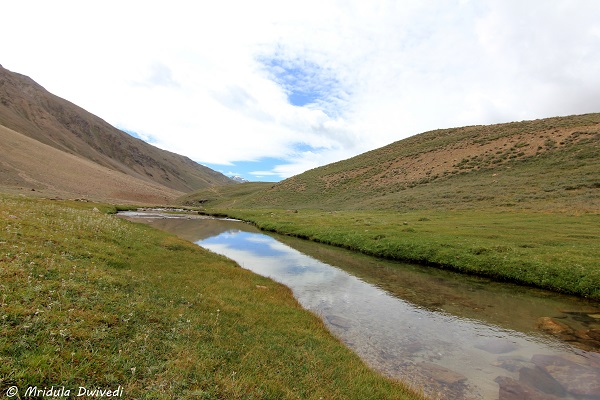 I was not too happy about the cloud cover in the sky. I wanted the blazing blue skies that I see in other pictures. But the rain gods were not listening to me yet!
The Beauty called Chandratal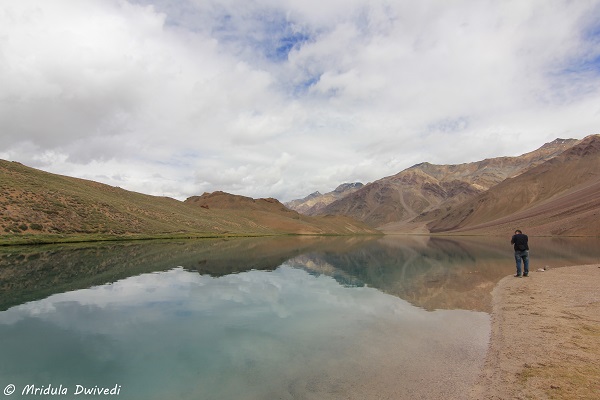 I know I should be grateful for standing at such an awesome place! But I wanted the typical Spiti Blue! Clouds denied me that for a second year in a row!
Crossing Kunzul La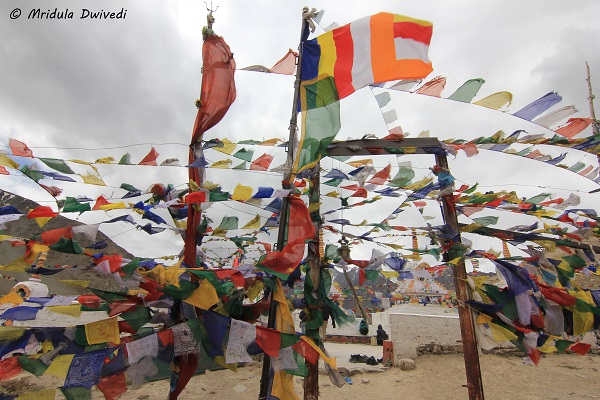 Last year I ventured only up to Chandratal but this year I was headed further into Spiti. This was a last minute personal trip that I did with my trusted guide Ramakant Sharma. There is much more to the trip that these initial pictures! I am so happy that I could do this trip!