So, at Manali I set the alarm clock to 3.45 and soon fell asleep. It felt as if the alarm went almost the next moment. I got up first, gulped Avomine (anti-nausea medicine for motion sickness on hill roads) and let the others sleep while I captured the wash room. Soon, it was the turn of the others to gulp Avomine and get ready. That was the start to our Manali to Kaza journey.
The lazy bones made it 4.30 by the time we left. We walked to the bus stand and located the Kaza bus and found ourself three seats. We were given the start time of 5.00 am but the bus moved at 5.30, though at that hour 5 or 5.30 hardly makes any difference. I wake up like a dead fish in the mornings.
I was wide awake till we stopped for tea at Rohtang Pass around 7.30 in the morning. At that hour the place was empty but otherwise it is known for attracting huge crowds. Had a nice cup of tea in the chilly weather and soon the driver gave his customary honk to let us know that he was about to start again. By now the Avomine was taking its effect and I was getting zonked. Yet I remember opening my eyes at Gramphu and I was stuck by its beauty. But I was too sleepy to take out the camera and take a picture on the moving bus.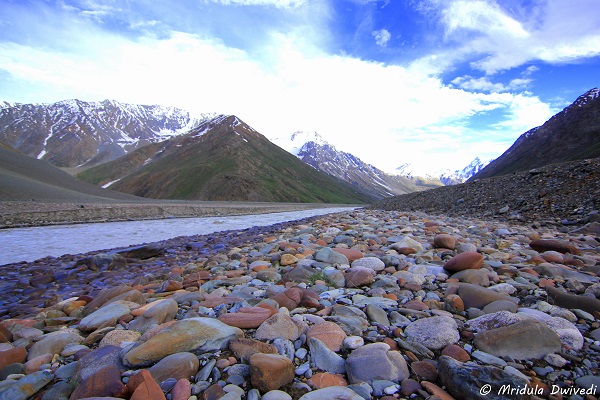 The only time I properly opened my eyes on this was to eat food at Batal. The rice and rajma tasted heavenly and the tea after it was just what I needed. However, once again the bus started moving and I became aware of myself at Losar, another beautiful village and another stop for tea, some hours later.
I also remember Kunzun-La vaguely and I took a hazy picture too. I became quite awake at Rangrik, and that is quite close to Kaza. Sesha told us that at some point a well built (probably intoxicated too) man boarded the bus and refused to pay his fare and made quite a ruckus. He says, after looking at the man's built the conductor and the driver let the ticket issue pass. Well, I slept through all this.
Finally, around 4.00 in the evening nearly 11 hours after we boarded the bus, we were at Kaza. We saw two hotels quote close to the bus stand and checked in at the first one (Delley Hotel) and it was quite OK. We always promise ourselves that we will explore a lot of hotels before we check in. But the reality that almost always we check into the first acceptable option because we have no energy left.
Later, we went for a cup of coffee and soon had food and once again called it a day.
Other related posts-