I have now been on a houseboat, canoe and kayak in the Kerala's backwaters. While all are fun ways to explore the backwaters, each has its own set of advantages and disadvantages. In this post I am going to compare all the three modes of exploring the backwaters in the God's Own Country. Even though the experiences happened over two trips, I was exploring the Vembanad Lake on all the three excursions. So, the experiences are of the same region and comparable. So Kayak, Canoe or a Houseboat, that is the question!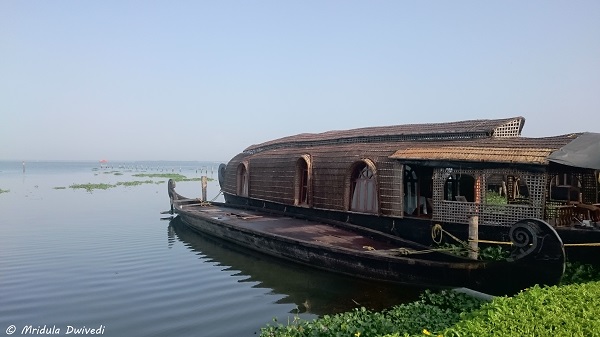 What you will like most of course depends on your own preferences. If you wish for luxury, houseboat is what will suit your needs. After all you can get a houseboat which has air-conditioned bedrooms and dining areas. As there is a kitchen too, getting tea on the holiday is easy. However due to the size houseboats can go only in wide water channels.

A canoe is somewhere mid way between a houseboat and kayak. It gives you some comfort and it takes you into narrower water lanes. Some may say it is neither here nor there! But if you want to be more adventurous without going all the way, canoe is a good option. It certainly takes you closer to the villages in the backwaters.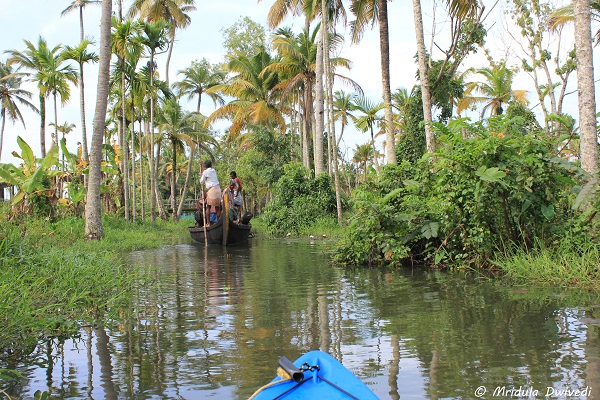 If you want to go on an adventure kayaking is what you will enjoy. You are just this high from the water and you can touch it anytime you want. You can see our kayak was going close behind a local boat. Such intimate experiences are not possible in the bigger vessels. You also get plenty of exercise while kayaking.
 So here is the table mapping my experiences of it all kayak, canoe and houseboat. Take your pick, or in fact do indulge in all.
[table id=1 /]