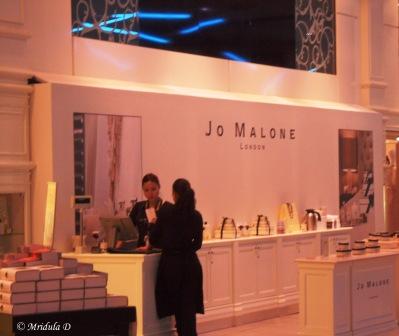 I am one of those travelers who likes to get inside an airport hours before her flight. And my Manchester Dubai flight was no exception. So I was roaming around the duty free (which is a relatively small area when compared with Dubai) and doing what I usually do, clicking pictures.
I had two rather heavy carry on luggage (OK one was a shoulder bag and the other supposedly my handbag but it was huge by my usual standards but both within weight limits) and I was a bit tired lugging them around and balancing my camera too. My bus journey to the airport was also not so good. I have motion sickness that usually manifests itself only on mountain roads but this trip was an exception, I was slightly dizzy and had a vomiting sensation.
So I sat down on one of the chairs for a while in front of the Jo Malone shop you see in the picture above. A young lady approached me and asked if I would like to have a hand massage, it won't take more than 10 minutes. She added that no purchase was required. That made me a little uneasy as if it was implied that a purchase was required actually but I decided to take her at face value.
So there I was chatting with her and my hands were being lathered in nice smelling lotions. I still remembered that it was a Lime Basil & Mandarin preparation and it was quite nice. The young girl and I got into a chat too. She was originally from Gujarat (second generation or maybe third) ad she still visits India. I told her that I was an academician from India. True to her words she did not take more than 10 minutes and did not suggest even in the least that I buy something. I told her that I would blog about the experience as I quite liked it.
After reaching home I checked the price of the lotion and realized that it was quite expensive. More so when I earn in Indian rupees and really do not care one way or the other about cosmetics. But if you like fragrances I  think you might enjoy some of their products. I also quite liked the idea that you target travelers at an airport because they may have some time to kill and also many of them could be the right target market. If not they may actually end up blogging for you out of their own free will!