I did a trip to Lahaul and Spiti in August 2015. When I posted some pictures of Chandratal Lake, people asked me how to go there, was there a resort nearby, etc. In this post I try to answer some questions related to How to reach Chandratal Lake? This is when I assume you are not driving your own vehicle.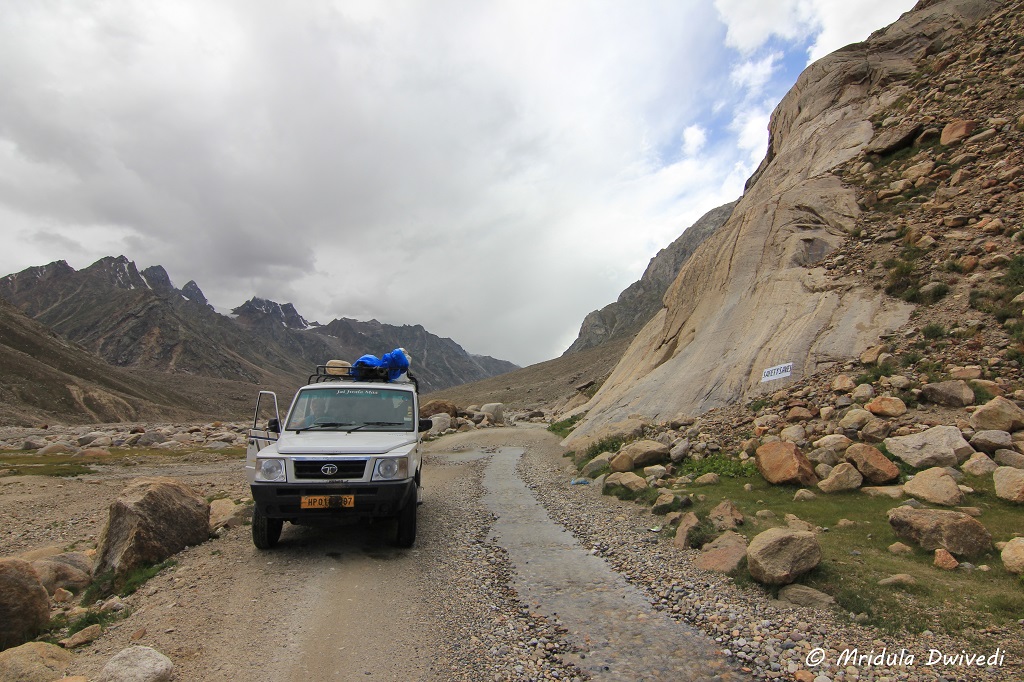 The nearest large town near Chandratal is Manali. The easiest but the most costly way to reach is to hire a Tata Sumo from Manali and reach Chandratal. The distance between the two is 140 km. You will pay more than 10K rupees for a private jeep hire. It helps if a few friends are sharing the cost of hiring a jeep.
After you cross the Rohtang Pass there are just two spots where you can get things to eat Chhatru and Batal. There are small dhabas at both the places.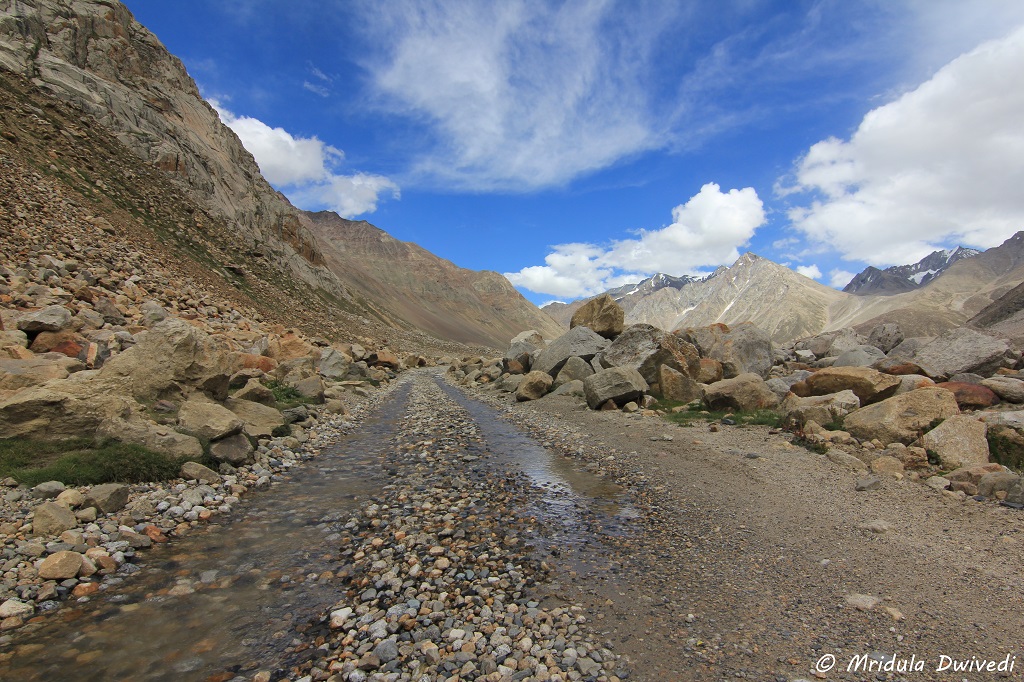 The road to Spiti has more mud and rocks than anything else! There is hardly any tar to be seen anywhere! You can find waterfalls, pagal nalas all on the road!
There are no phone services or electricity both at Batal and Chandratal. In the Spiti Valley only BSNL phones work.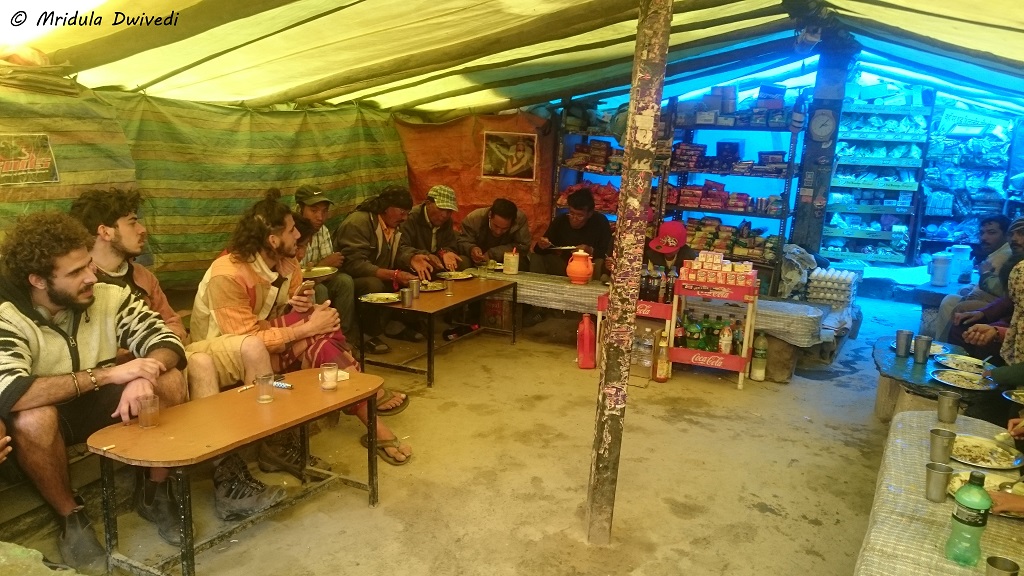 If you do not wish to hire a jeep, there is a bus to Kaza. Get down at Batal and stay there at Chandra Dhaba run by Chacha and Chachi. By staying you will acclimatize better to the high altitude. Chandratal Lake is a 14km trek from Batal. So option one is to trek! Chandratal Lake is at a height of 4300 meters.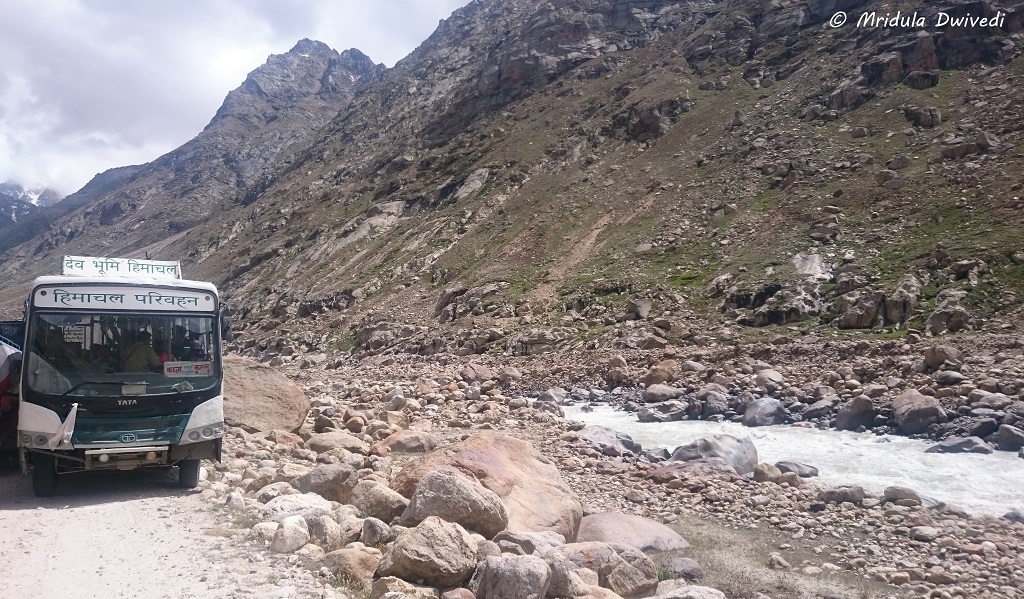 This time we reached there in one shot, in a Tata Sumo, from Manali. I had headache and mild nausea due to the altitude. I could not eat much at the night. I was better in the morning. Last year we stayed at Batal, trekked to Chandratal and I had no discomfort because I acclimatized better.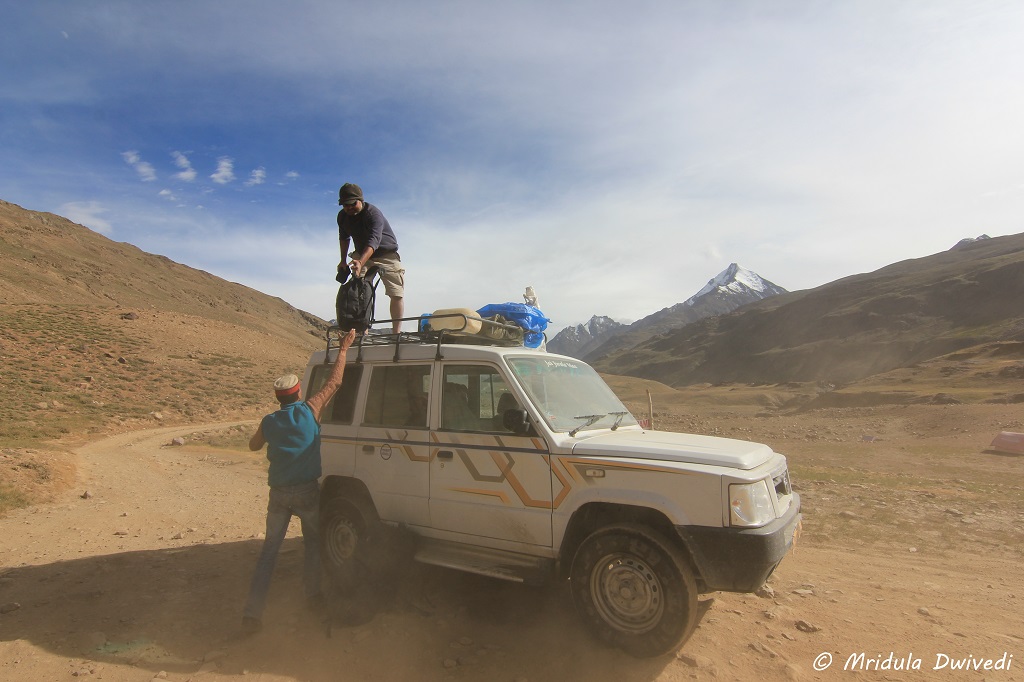 If you do not wish to trek, then you are in a mild soup. You need to hitch hike. A gentleman from Mumbai took a lift from us. We had no space in the vehicle so he went on the roof. He came back to Batal the same way! There are bikers, cars and workers going that way. Be nice to people and someone will give you a lift. Make sure that you can come back with the same set of people, or you need to ask someone for the lift again.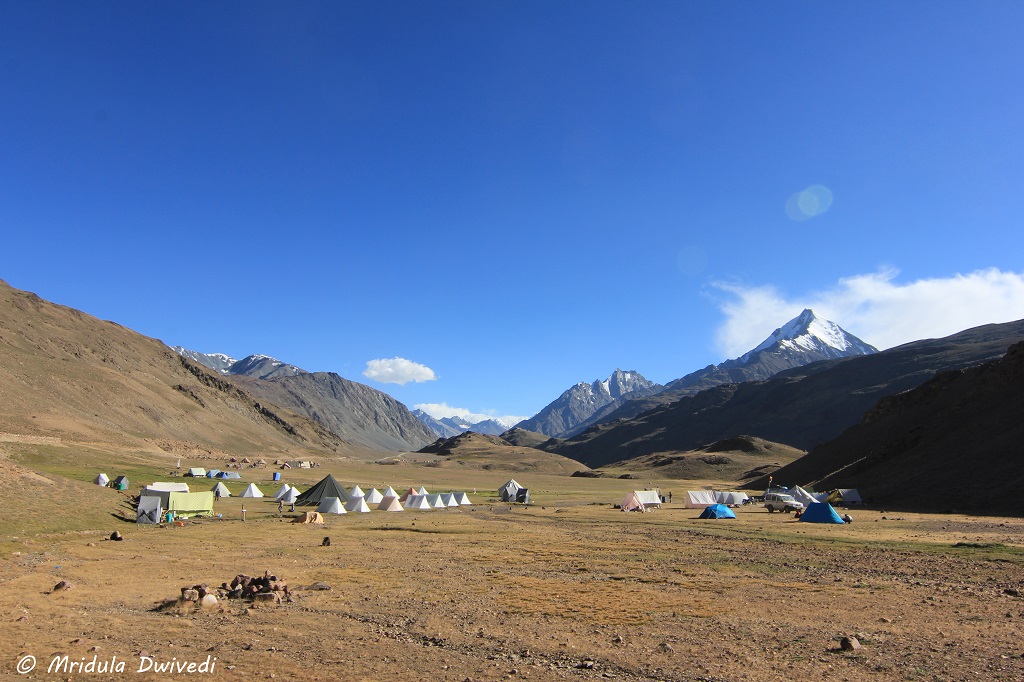 I would say stay at the Chandratal camping grounds for a few days. Please note that camping is not allowed by the edge of the lake! And it is a good thing. You want the lake to be there for your kids too, right? I went to Chandratal, both in 2014 and 2015. In 2015 the camping grounds have been pushed back further away from the lake and I like it. We could not camp where we did in 2014.
We had our own tent and kitchen tent! However, there are tents and food available at the camping grounds. Tenzing, Chacha and Chachi's son runs a camp at Chandratal. Jamaica is another tent which we saw both in 2014 and 2015! So once you reach, you can stay at the tents, they will give you food too. The tents usually cost 1200 rupees upwards. But as there are no phone services, pre-booking a tent is a pain! Tenzing told me, "Ask them to come, we have extra tents, we will pitch it if need be. We will not let them freeze at night." And it really freezes at night. The windscreen of the car had to be thawed there was so much frost on it.
From the camping grounds the lake is still about 3km way. You can take the trek route and walk to the lake. Or you can take a lift to what is known as the 'parking lot' of the Chandratal. From the parking lot, the lake is a ten minutes leisurely walk.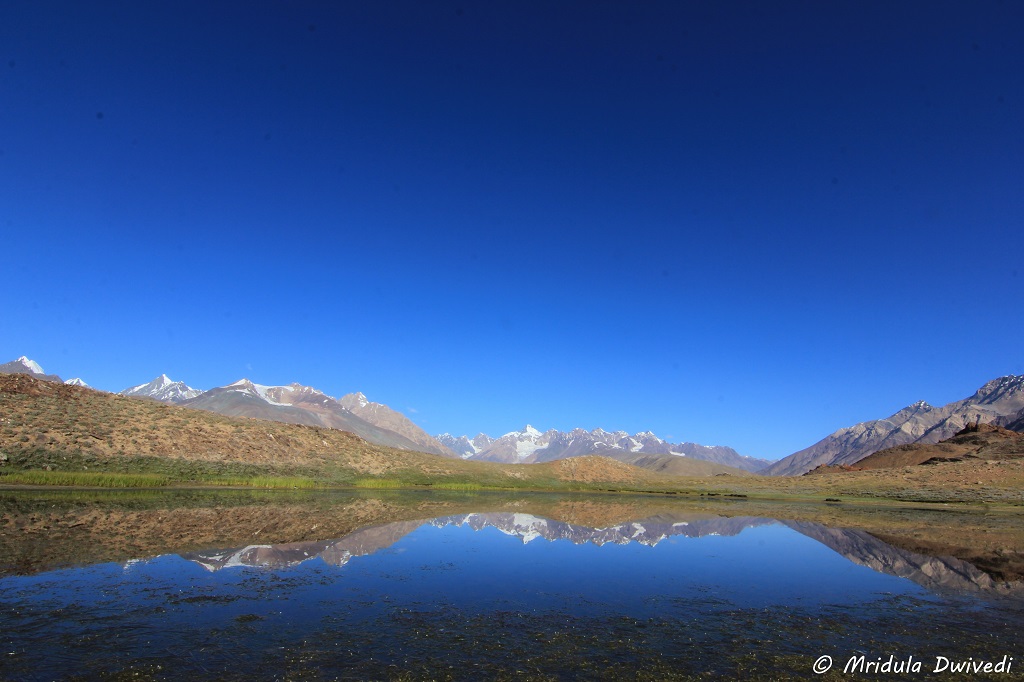 There are smaller water bodies above Chandratal. They are worth a visit. I could visit only one and spot another one in the distance. They have been marked for future exploration.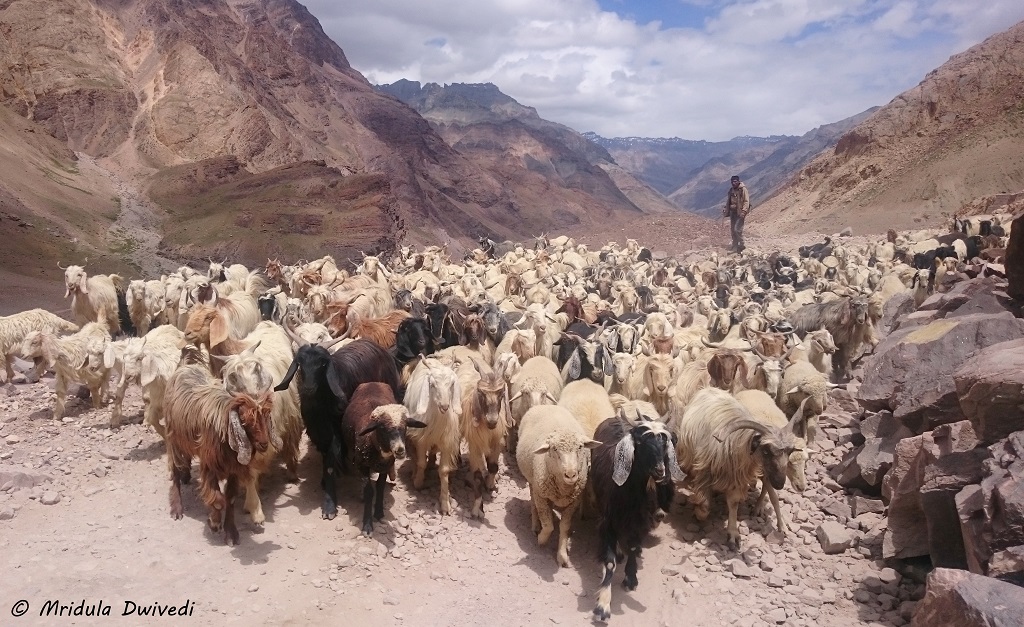 Now that you reached Chandratal you need to get back to civilization! Your first task will be to get back to Batal. Once again either trek or ask for a lift.
Once at Batal you can continue further to Kaza or try getting back to Manali. I highly recommend that you go to Kaza and beyond. There is a bus in season from Kaza to Manali. There are shared jeeps too.
Losar is another village is Spiti which offers lodges, you can stay there and then head to Kaza. The distance between Batal and Losar is about 50 km.
I met a young Indian couple who were doing the trip to Spiti using public transport. I met many foreigners who were doing this trip using public transport.
I met another young Indian couple who were doing this trip hitch hiking with truck driver!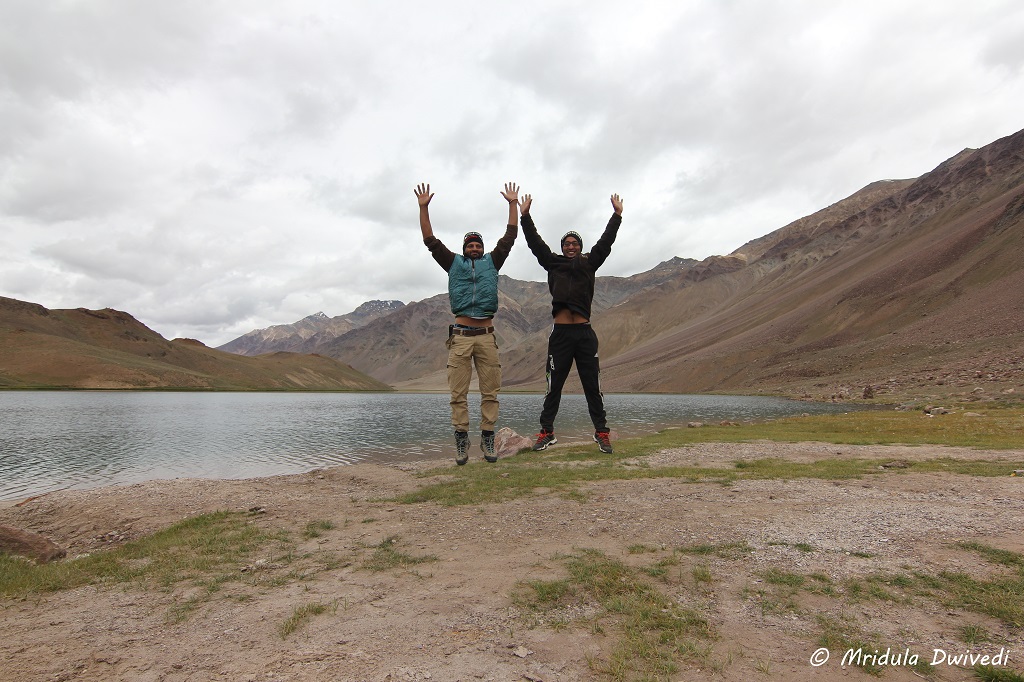 And if all this feels like too much work just get in touch with my guide Rama Kant Sharma and he will arrange the trip for you. He can be reached at 9816183284
And now you know that the nearest resort near Chandratal is at Manali. At Chandratal there are only tents.
Bonus: Check out DOW's post on the same topic for crazier ideas.