When I hear of a heritage walk in Ahmedabad City, I was quite keen on going. The walk is organized by the Ahmedabad Municipal Corporation and they charge just 50 rupees for it. The walled city walk happens early in the morning at 8.00 am and we were staying in Gandhinagar.  We still made it. The walk starts from Swaminarayan Temple and ends at Jama Masjid. It is aptly called Mandir se Masjid Tak!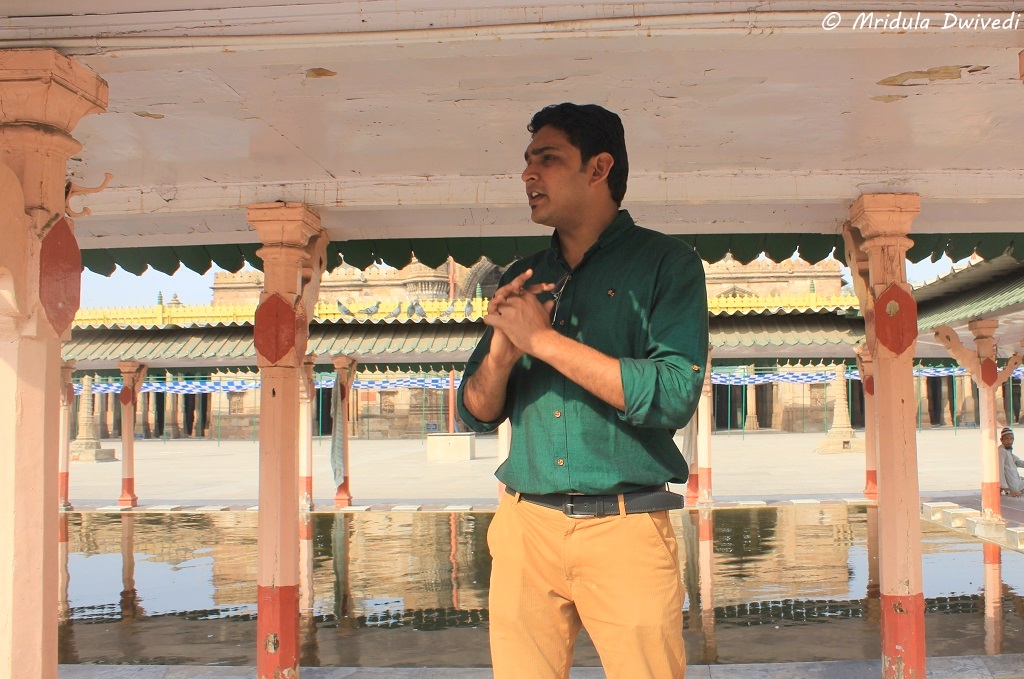 Four of us wanted to go, but in the end just two if us turned up in the hotel lobby at 6.30 am in the morning. Then we could find no cabs at that hour! The front desk employee at ITC Fortune Haveli, Jayant, came to our rescue and booked an Ola cab for us. We made it to the Swaminarayan Temple just in time, the slide show was on when we went in and joined our group. We were seven in number. Naman was our guide for the day.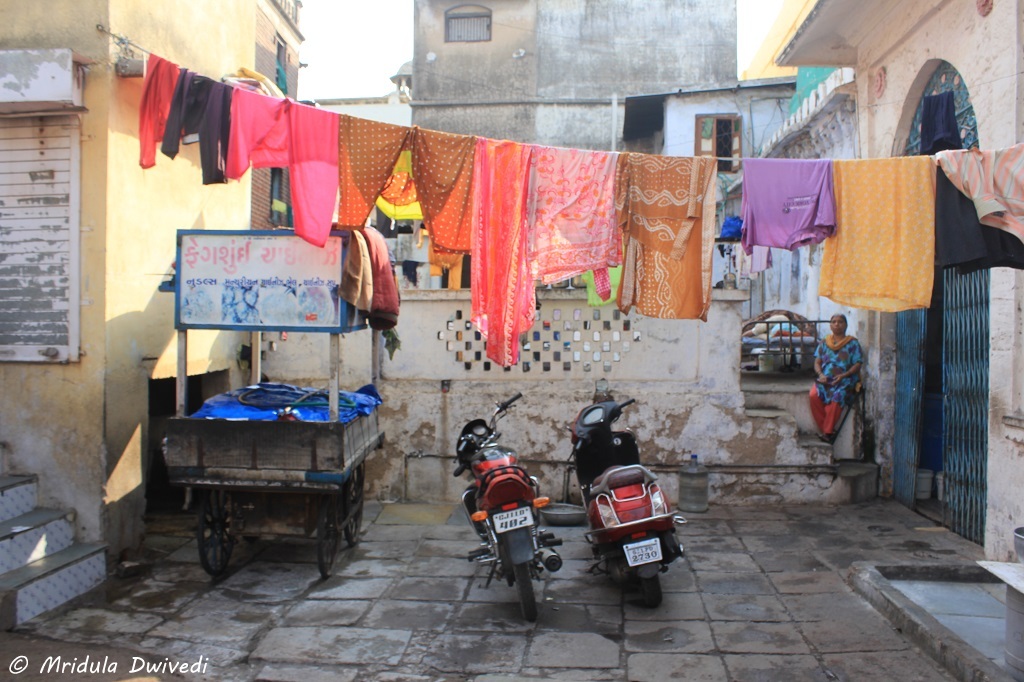 The walk was rich in information but what I could retain of it is another matter! However, I came back mighty impressed with the way of life of a bygone era!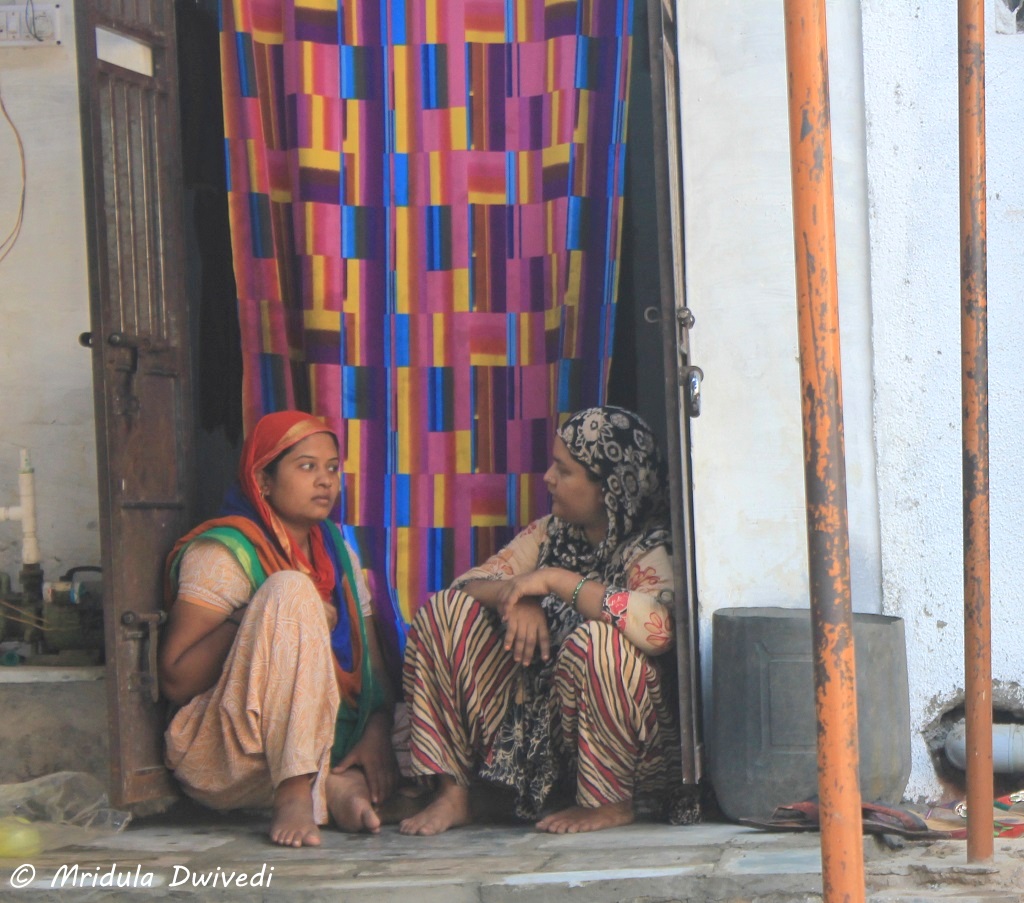 The old city is divided into pols, and here a pol means a locality rather than a gate. People in a particular pol belong to the same community even now.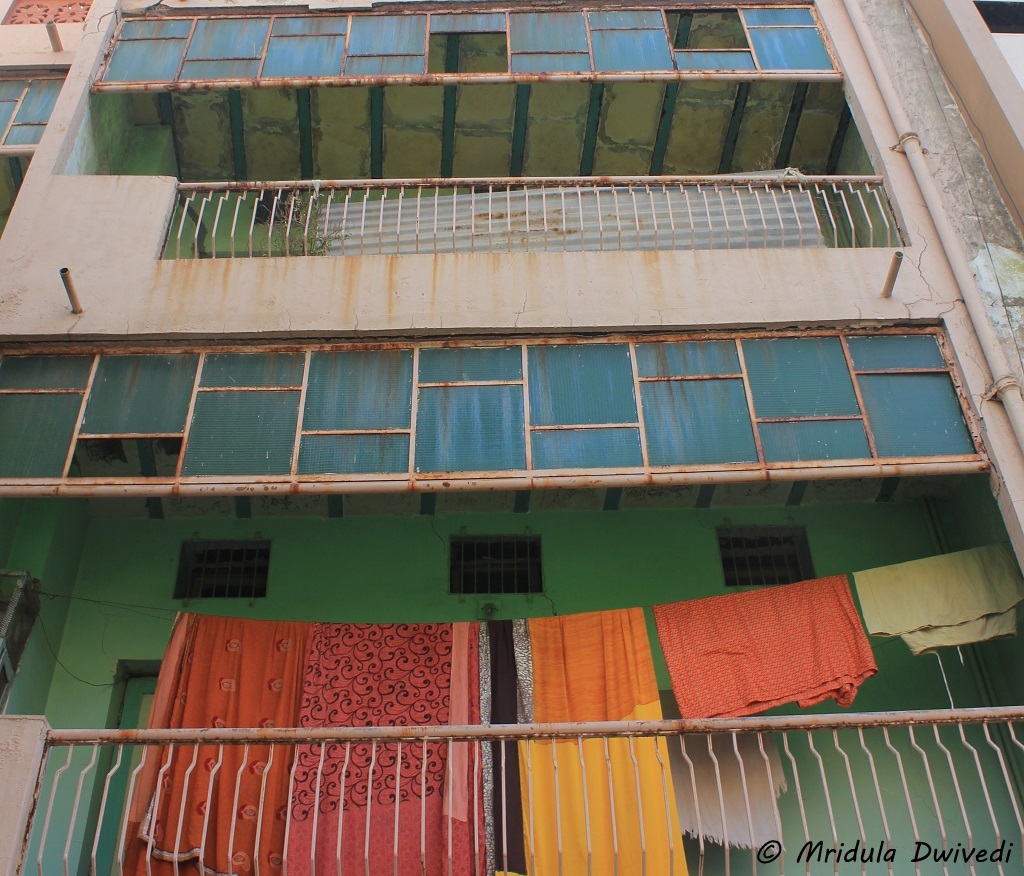 Every pol has its own temple, market square and a place to feed the birds. Naman mentioned that homes are all clustered together so sense of privacy is almost non-existent.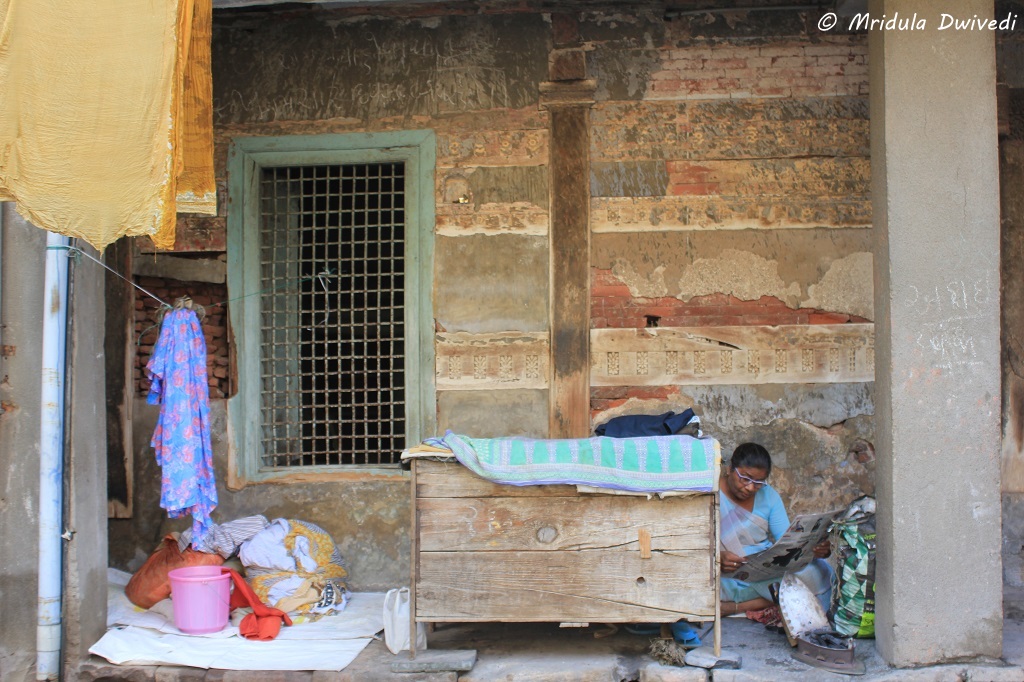 I know it is a myth but it felt time went a little slowly in these lanes! Before the start of the work day, news paper had to be completed!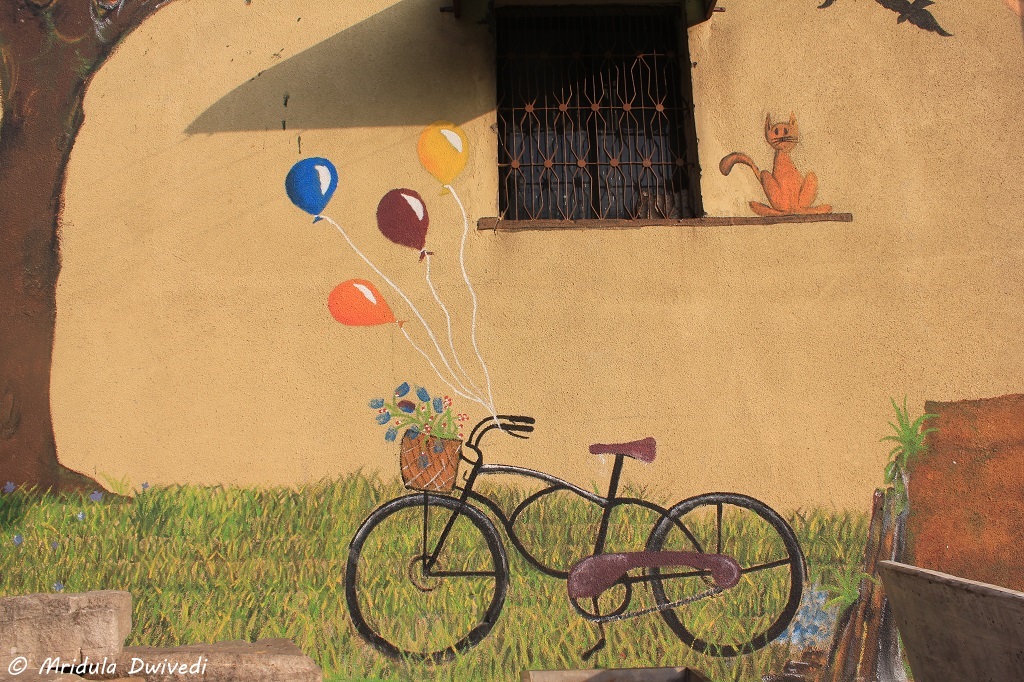 I noticed only one home with this eye catching, modern wall art. We also went into an under group Jain Temple where photography was not permitted. When I asked Naman why was the temple built underground, he said such temples were built when worship was openly not possible.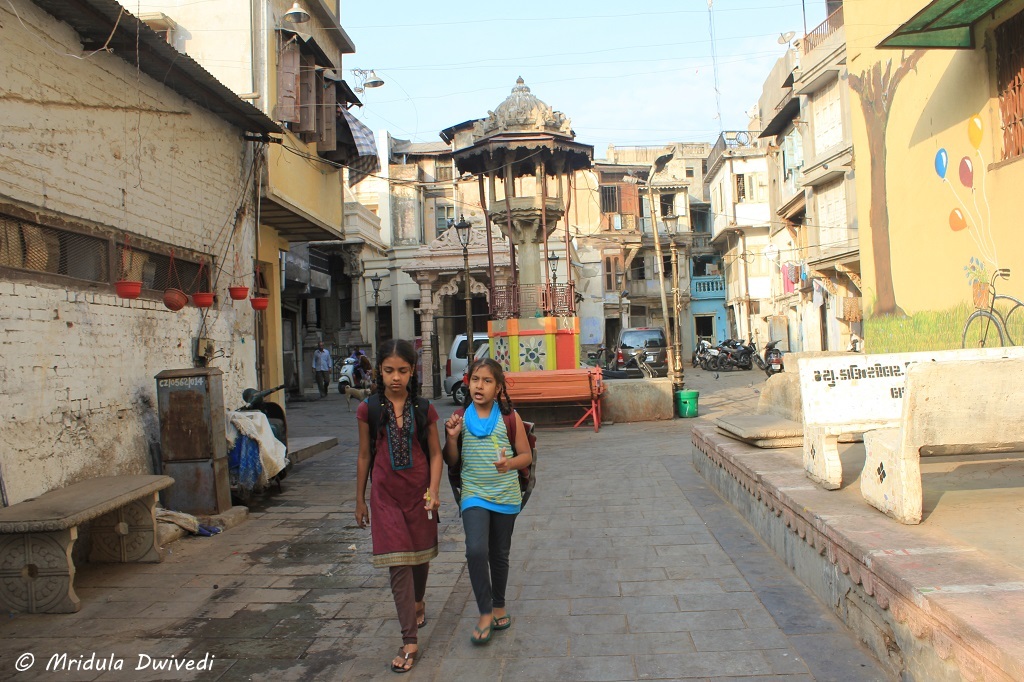 And then came two sisters lost in their own world. Like younger ones usually are, she seems to be the chatter box, while the old one looks bored, the typical behavior assigned to elder sisters!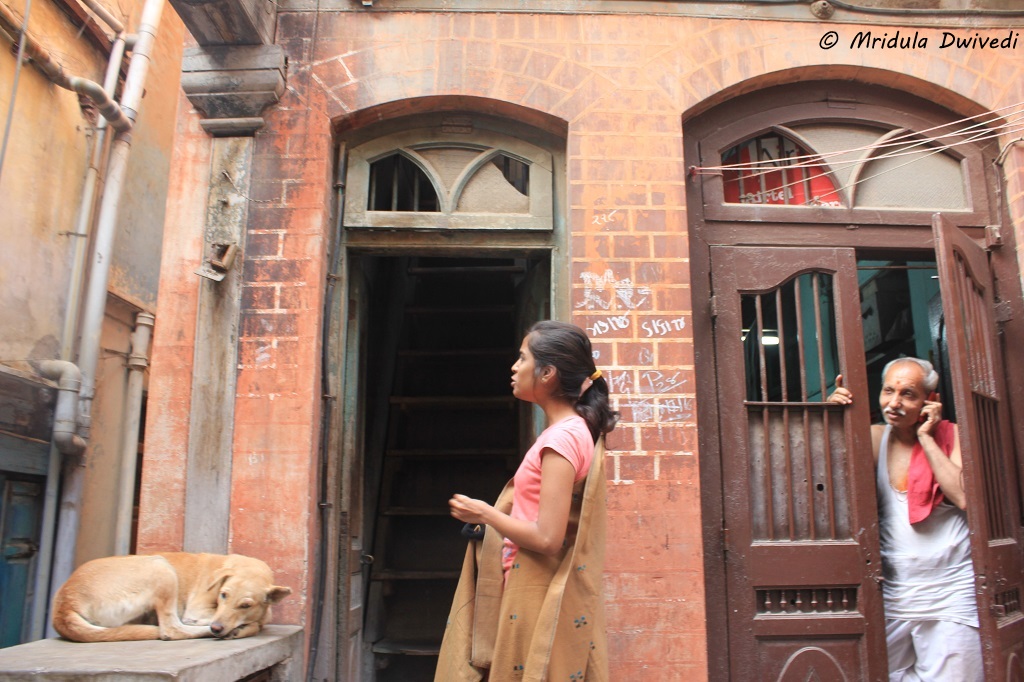 We were standing in a chowk where there were houses exhibiting four different styles- European, Marwai, Jain and I forgot what! When I started clicking the scene, no one was out. Before I could complete the shot, suddenly the door opened and the girl also walked through my frame!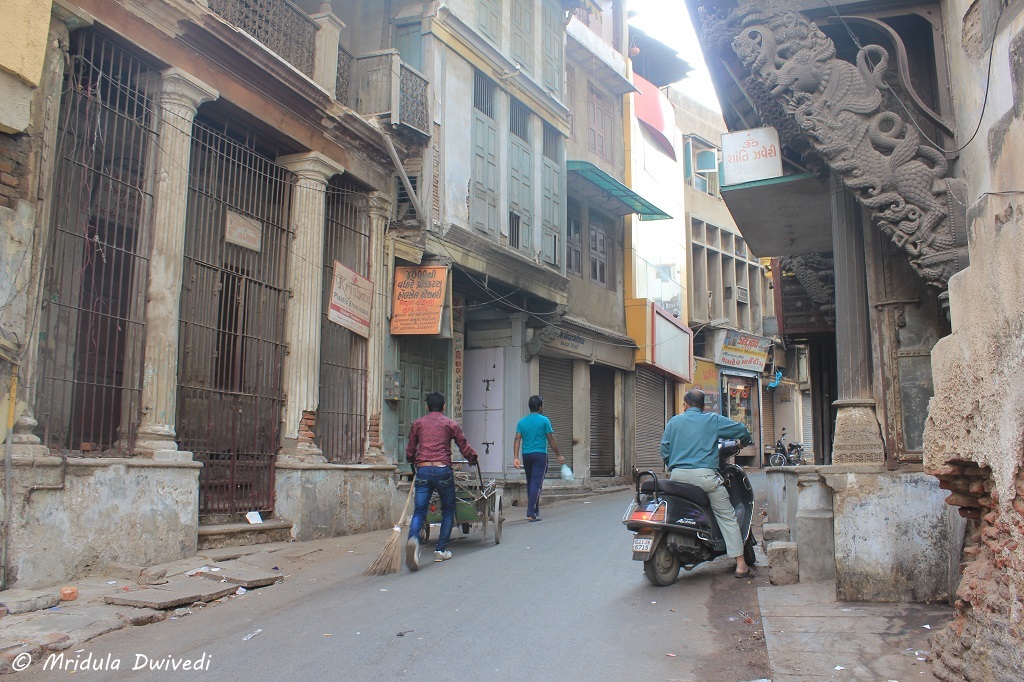 Almost all the havelis belong to seths except the Harkuvar Sethani Ni haveli! Her haveli has the most massive brackets in the whole of old town too!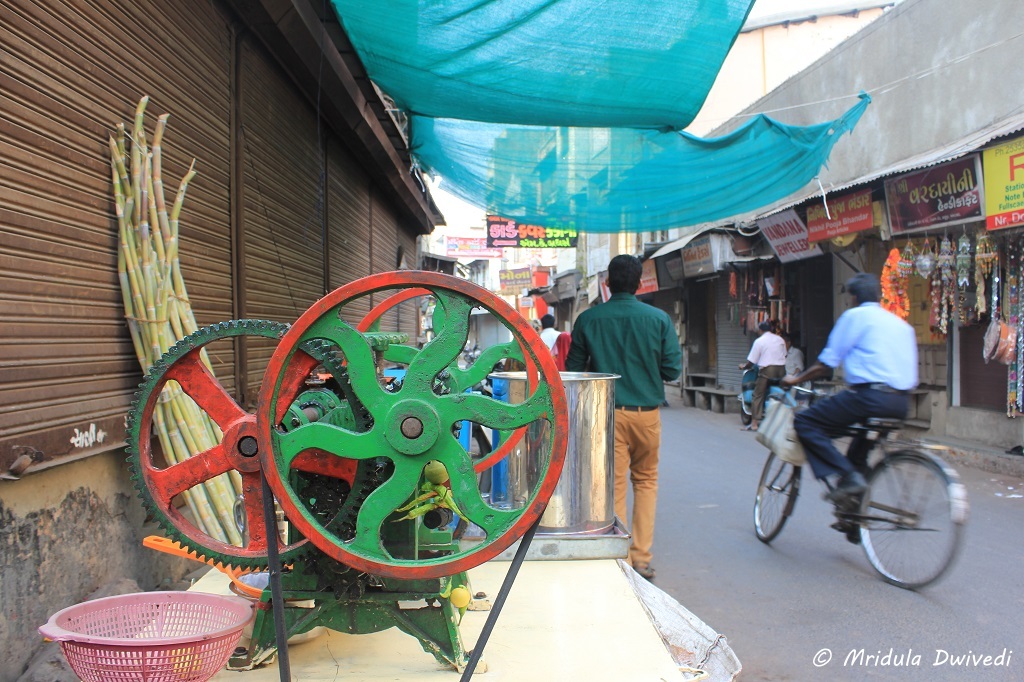 As we were walking through the lanes, Naman mentioned that this area used to be a river bed! A little ahead was a bridge too.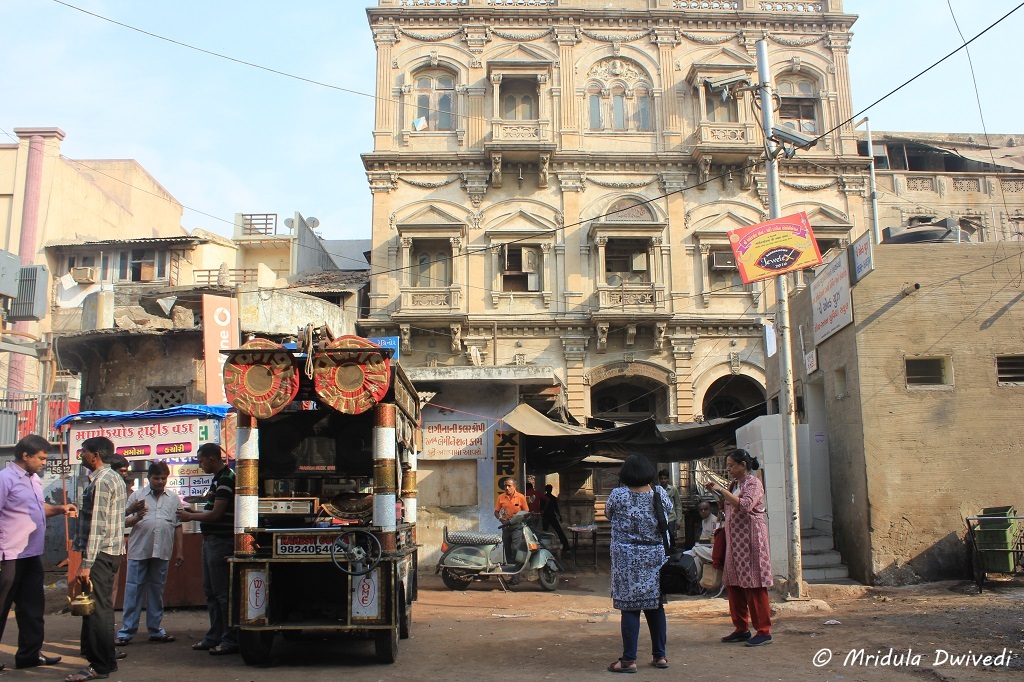 Naman explained that the city was built such that market came first, then residence cum market area and in the end the residential area. That way if an invasion happened homes will get affected last and provide enough time to escape through the secret passages. By now we were in the market area and almost at the end of our tour.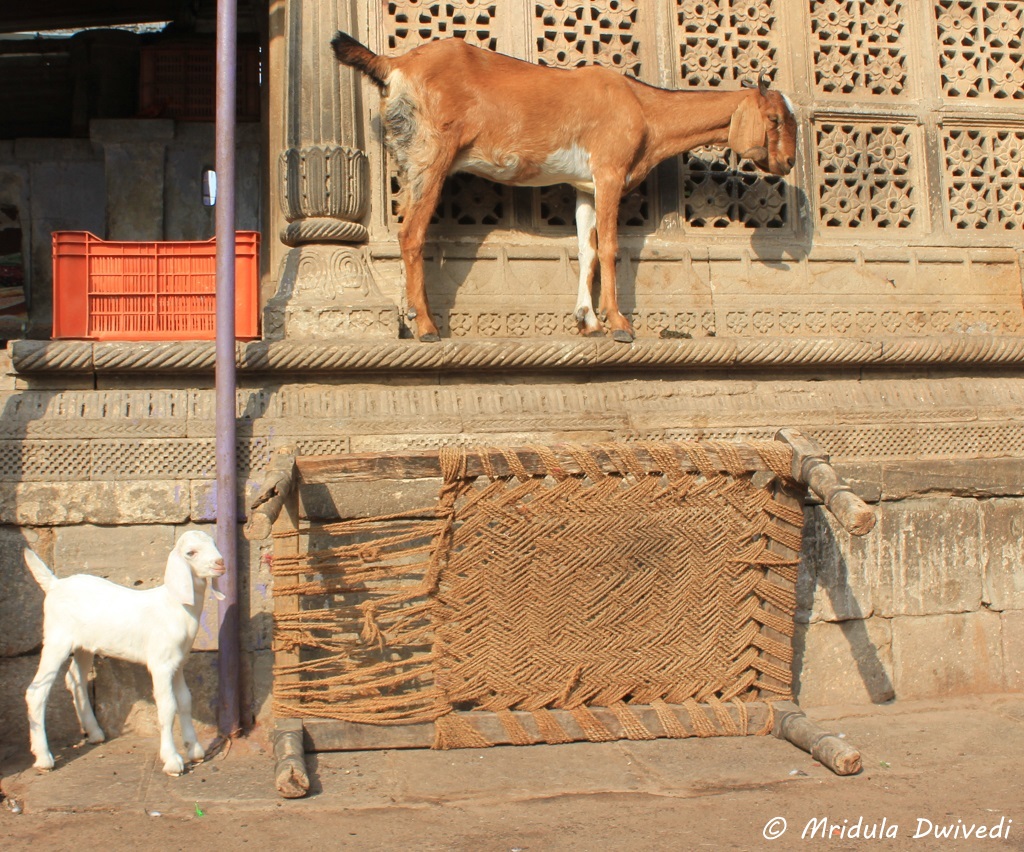 What was exotic for me, it was the home turf for the goats. I can imagine a boy walking in with grass, feeding the goats sitting on the charpai.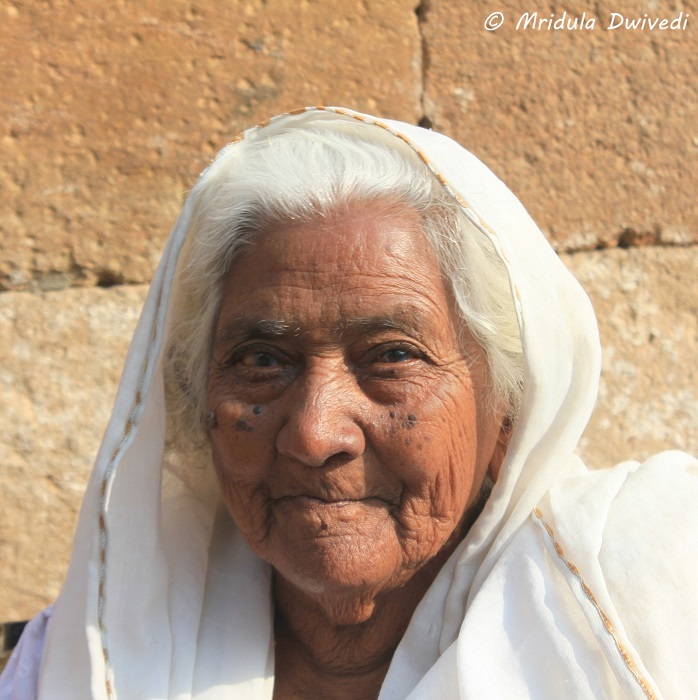 As we were walking towards our last stop, mai asked me if I would click her picture! She was sitting with a younger woman and both had much to talk to each-other.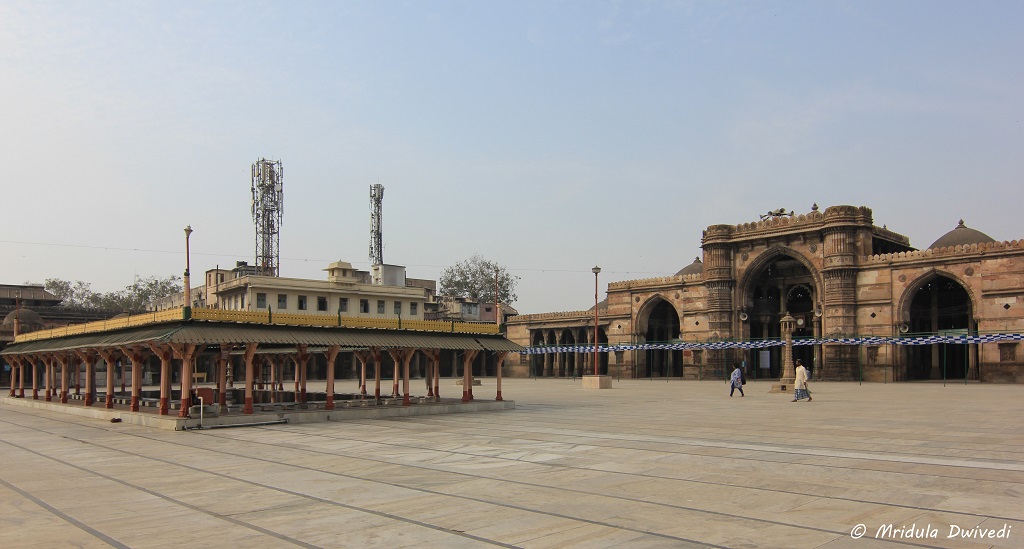 Jama Masjid was our last stop. I had no problem in wearing a sleeveless top and a capri except at Jama Masjid. Capri was fine but sleeveless was not. Luckily one member of our group was carrying a dupatta and she gave it to me. A man was in shorts and he also had to cover up with a sarong, his girlfriend dug it out of her bag. Do keep this restriction in mind when you go on the heritage walk.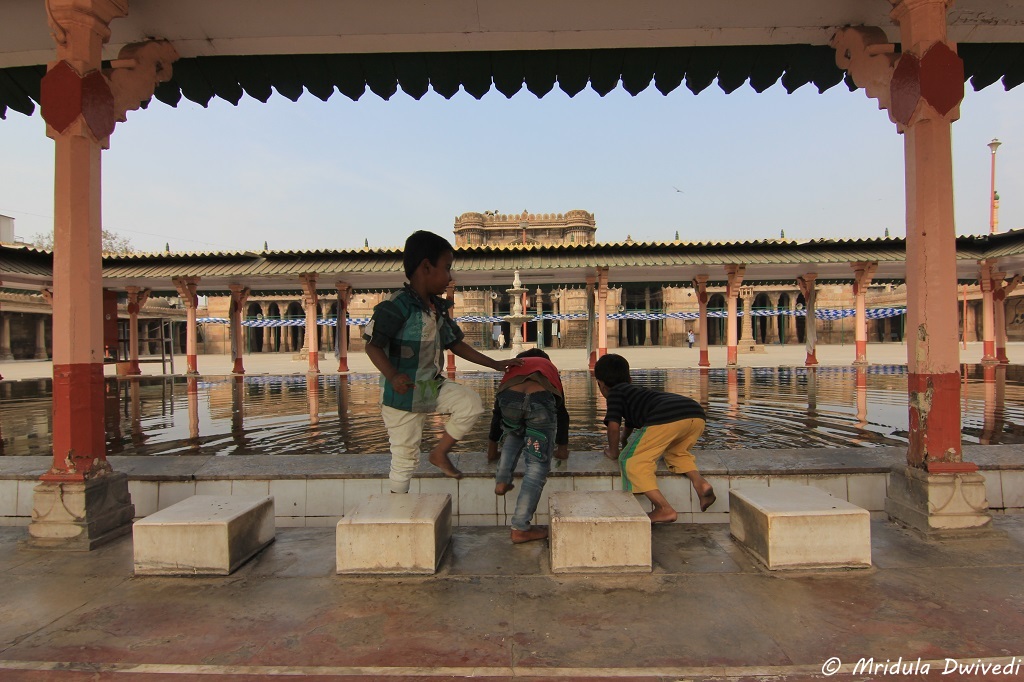 Jama Masjid is ornate and quite unlike a mosque. It was built by Jain artisans and Ahmed Shah a liberal ruler. There are many Hindu symbols on the premises.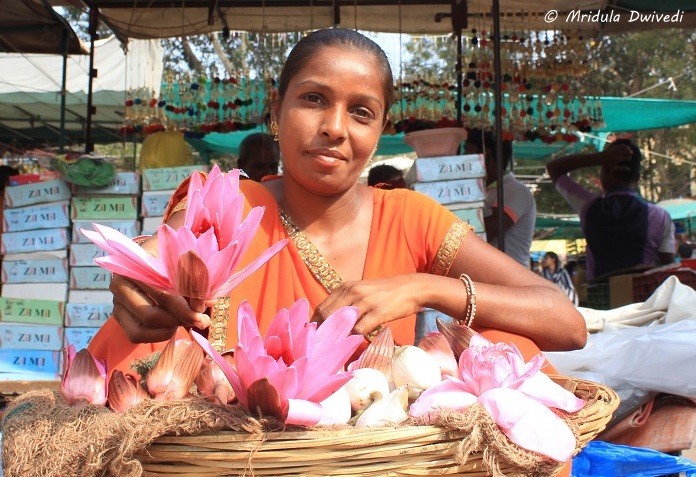 We said bye to Naman at Jama Masjid and walked towards Bhadra Fort on our own. It is close to a temple and where there are temples there are flowers too!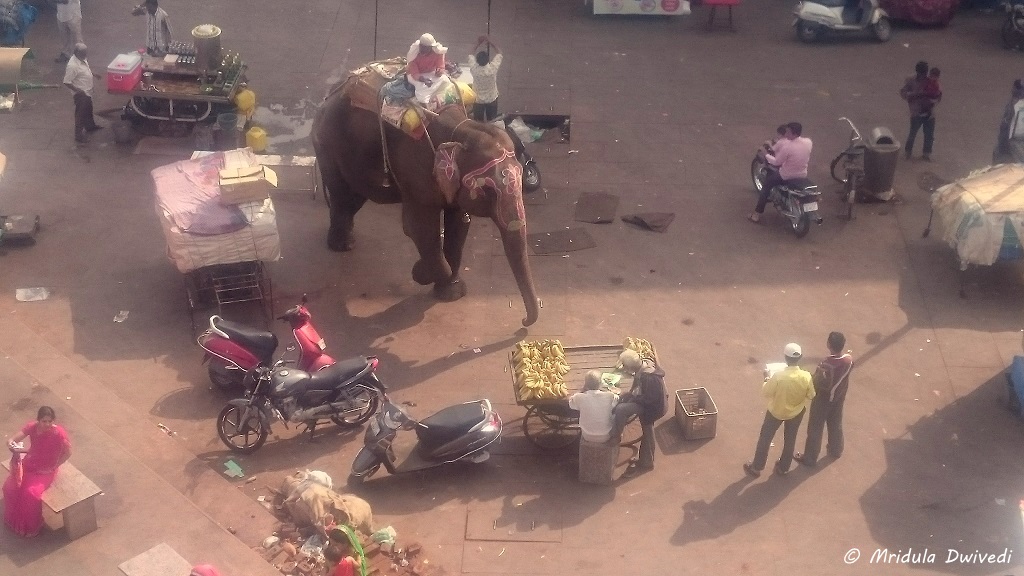 The fort does not get many visitors but it offers a good view of the city. There was a caretaker outside the fort but not much was available by the way of information.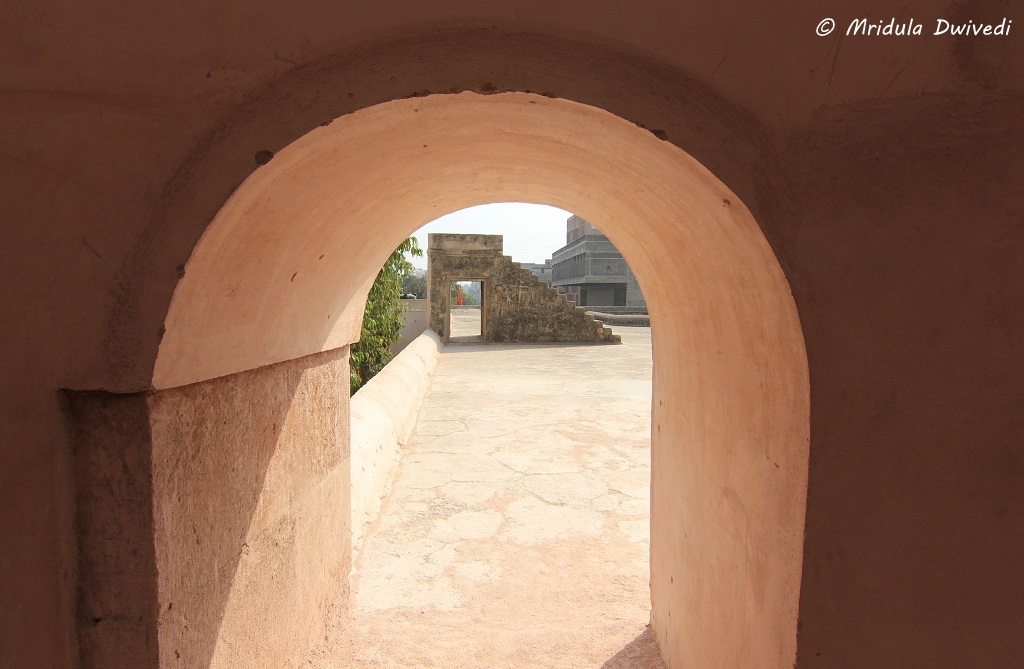 I kept chasing all the stairs within the fort. At one point I ended up on a parapet where if I fell in I would crash within the fort and if I fell out I would crash to the city side. I decided it was enough, it was time to head back to the hotel!
Practical Tips for the Heritage Walk in Ahmedabad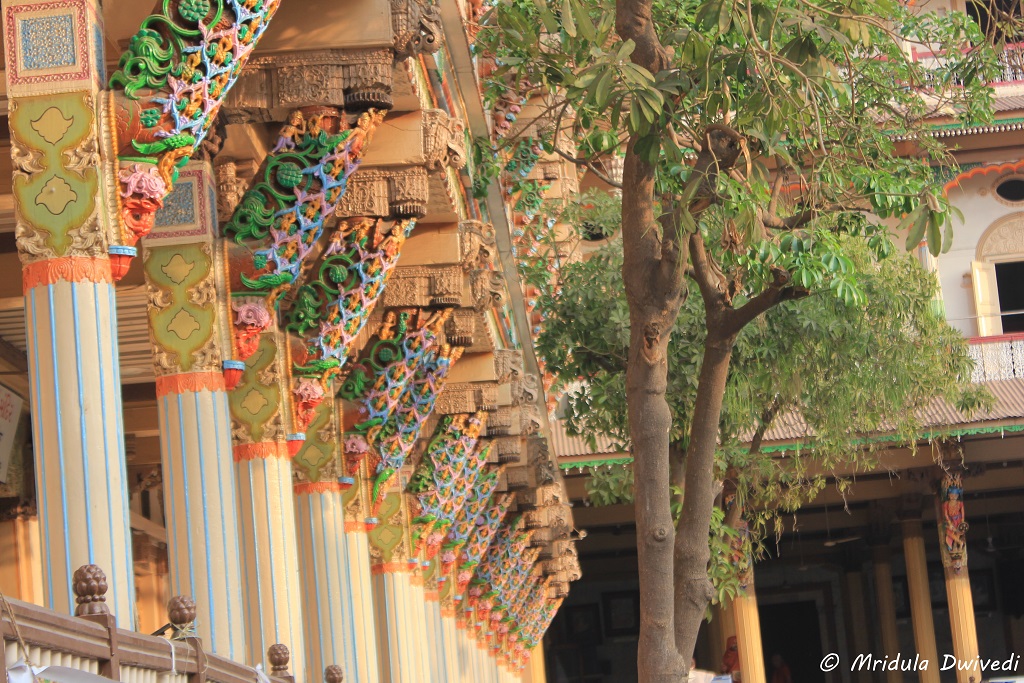 The starting point of the walk is the Swaminarayan Temple at Kalupur.
The office is at the first floor, ask the security guards of the temple, they will guide you to the office.
You need to enter a few details and give fifty rupees for the fee and you are all set! For the value it delivered, I consider it as free!
The walk starts punctually at 8.30 am, the slide show at 8.15. The walk ends at about 10.30 am.
Wear comfortable walking shoes. You would also need to remove your shoes at the temples.
You cannot enter Jama Masjid in shorts or sleeveless shirt. A capri is fine. If you are wearing shorts/sleeveless you can wrap around a shawl or sarong over it.
The walk happens every day of the year. It is run by volunteers in collaboration with the City Municipal Corporation.
PS. My trip to Gujarat was sponsored by Gujarat Tourism but this was not a part of our itinerary. This was something I did on my own.