I used to sleep almost like a log on the Everest Base Camp Trek (apart from Gorek Shep) but no such luck on the VOF trek. I don't know why every day I would struggle to sleep. The first night at Ghangaria was particularly bad. I woke up at some point with a start, feeling as if someone was shaking my sleeping bag rather badly. After a second of panic I told myself to go back to sleep again and I thankfully I did. But the feeling came back to haunt me everyday with lesser intensity.
But somehow sleeplessness doesn't affect me the same way as it does in the plains. If I do not sleep well here I can give hell to everyone around me. But if I do not sleep well in the mountains I can still trek up to Valley of Flowers or even Kala Patthar! I tell you it is something about the nature that makes me behave so.
The entry fee to the Valley of Flowers for an Indian national is 150 rupees and all kind of cameras are free except professional videography equipment. The entry gate to the park is close from Ghangaria however we had to walk 3km moderately uphill to reach the Valley. The Valley of Flower is an UNESCO World Heritage Site.
The 3km path to the Valley in itself is very beautiful and is full of beautiful flowers. We spotted Himalayan Blue Poppies on this path and then no where else in the Valley!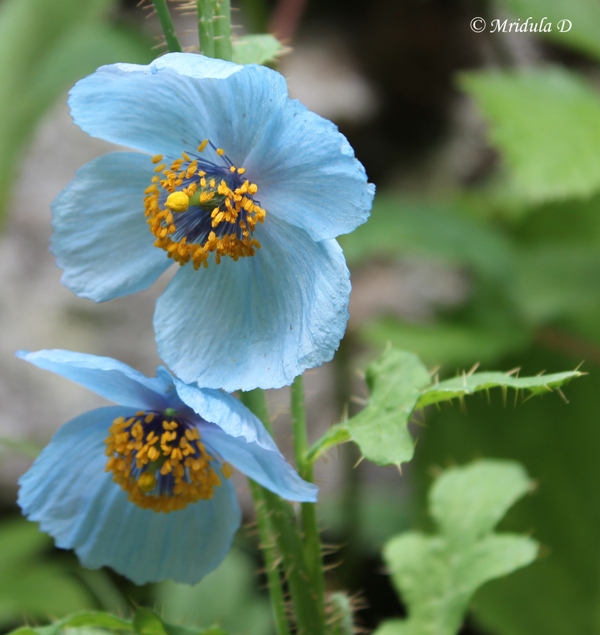 I was quite excited to see these rare flowers and I clicked quite a few pictures! River Pushpawati flows through the park. And there are countless waterfalls too.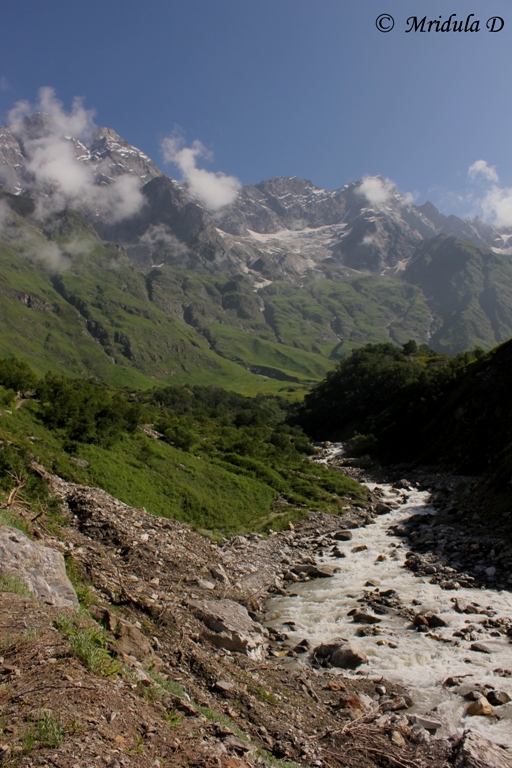 When we were reviewing pictures later at the hotel in Ghangaria Sohan Singh ji complained, "You click too many landscapes! We will click more flowers tomorrow when we go to Hemkut Sahib." So at the risk of you all also complaining here are the waterfalls.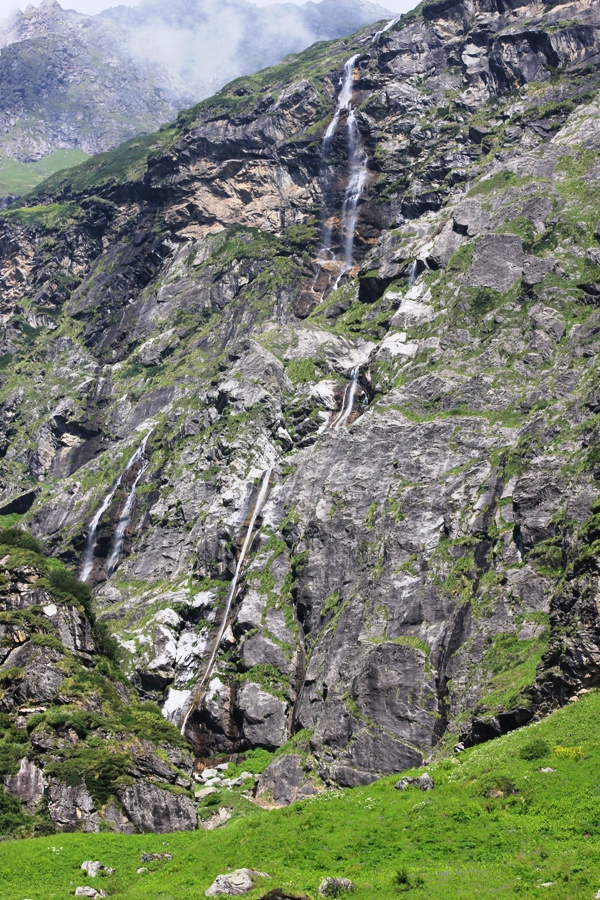 Once we reached the Valley the path became almost flat and we waked at least 3 km more crossing small streams and reaching up to a bigger one. Sohan Singh ji would have preferred to walk more but thankfully there was too much water in this stream to cross safely. That is where we had our packed lunch. It was quite hot that day and I ate every scrape of paratha, eggs and chocolates we were carrying. We also carried back every scrape of plastic that we had plus whatever else we found on the way.
I saw countless flowers, I need to do a separate photo post on it I guess.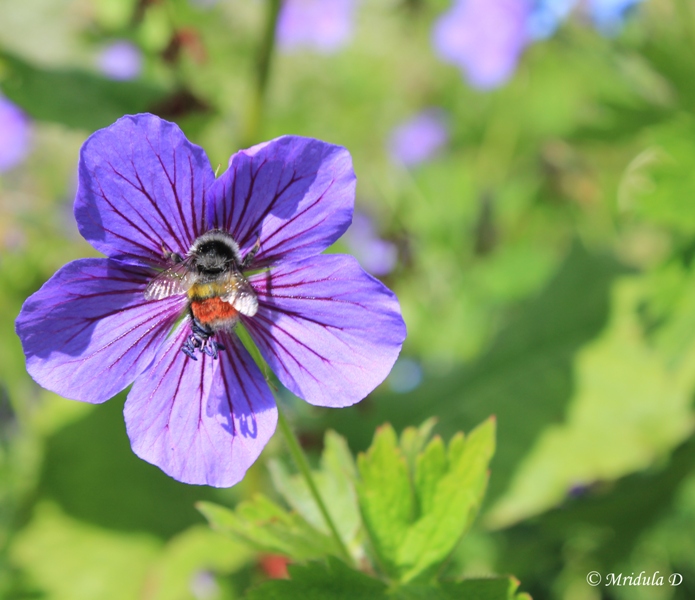 And here is a Red Potentilla flower with an insect. And if I keep posting all the flowers I clicked this post will become 10km long!
Red Potentilla Flower with an Insect
And before I try to sign off here is one exotic flower called Bladder Campion (Silene Vulgaris) and I saw it at more than one place!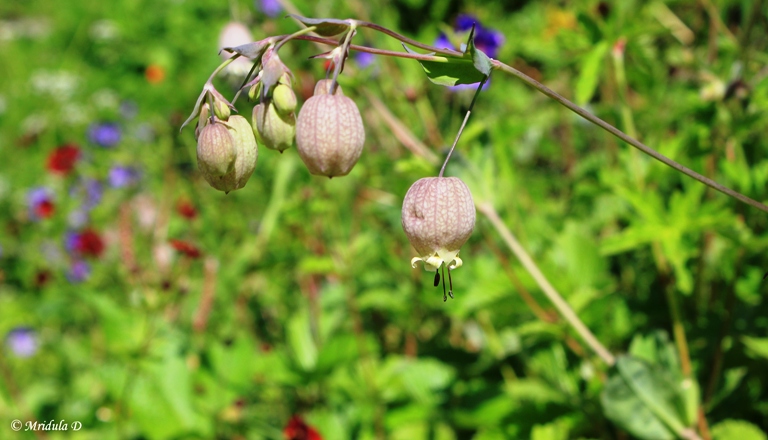 But you what I liked most? The pathways that were lined with flowers.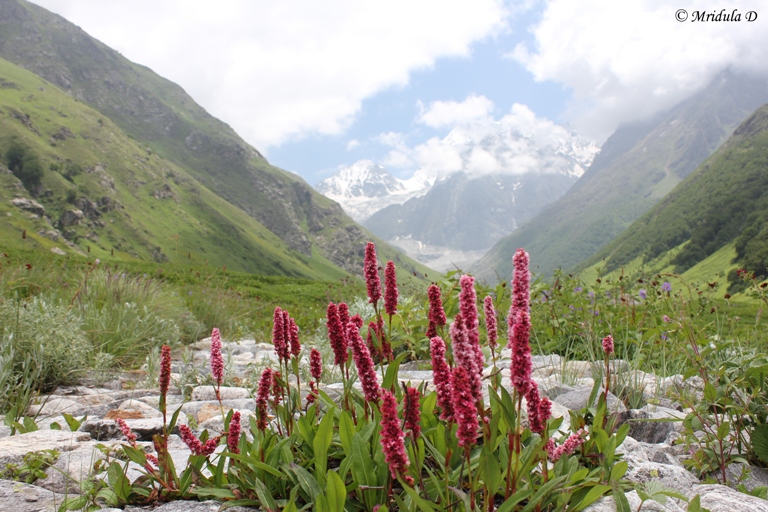 I was a bit tense as I saw a notice at the ticket counter saying you are supposed to be out of the Valley by 2.00 pm where as Sohan ji didn't seem to be too bothered. When I asked him later he said trust our authorities to frame such rules that cannot be observed. We got out around 5.00 pm and we had started at 7.30 am. So it was again a 12km and an 8 hour day.
For dinner I had a Garhwali dish called Chainsoo made of various color rajama flour (kidney beans). The next day we were walking up to Hemkunt Sahib.
You can check out the entire trip account day wise from the following links-
Traveling to Rishikesh and Joshimath (Day 1 &2 of the trip)
Rest Day at Joshimath (Day 3 of the trip)
Trekking from Govinghat to Ghangaria (Day 4 of the trip, day 1 of the trek)
Trekking from Ghangaria to Hemkunt Sahib (Day 6 of the trip, day 3 of trekking)
Trekking from Ghangaria to Govindghat (Day 7 of the trip, day 4 of trekking)
PS. Have a look at my Antarctica Dream Page too.