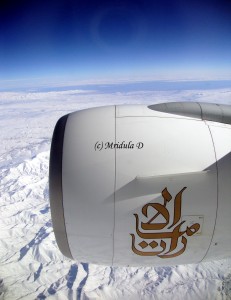 I am not a frequent flyer, I probably average about two flights in an year. If I am lucky it is one domestic and one international. In 2009 I managed to fly Emirates again after 8 years. In 2001 I took an Emirate flight from New Delhi India to Athens via Dubai. I had liked my experience then, I liked it again.
When I was going to Athens by some mistake they had booked my meals as Vegan and it was a sheer torture to see my fellow passengers polishing off pastries and stuff and I always got fruits. No such mistake in 2009.  I must also say that by 2009 I have become quite indifferent to flight meals and it was just about OK this time, nothing too great but not at all bad. My 2009 I also have started drinking wine on the flights even though I would be hard pressed to name two brands of wine. Whatever they gave me was nice.
What I liked most about the flight? My window seat and those shots from the air. But the most surprising aspect of the flights was the amount of movies I watched. In all, counting both ways I watched 8 movies, which I otherwise probably do not watch even in an entire year! I watched Jungle Book, Finding Nemo, Ice Age III, Angel and Demons, Delhi-6,Pathar Ki Sanam, Love Aajkal and Kaminey. That also means I didn't sleep a wink. All in all my kind of a flight.
Flight crew was quite alright, I anyway do not need much, only second helpings of tea and coffee, that they gave me. In all my four visits to UK I have been on a different airline, BA, Jet, Virgin and Emirates and the most immature crew that I met was on Virgin. So will I fly Emirates again? That largely depends on who is doing my ticekts, but if they wish to do it on Emirates I won't mind it at all.