I have taken three flights overall with Emirates. The first one was a long time back when I was traveling to Athens to attend an academic conference. The second and the third flights were to Manchester related to my work. So while the first flight was Delhi–Dubai–Athens, the other flights were Delhi-Dubai-Manchester and back. All my flights were in the economy class.
I have to say I am impressed by the airline. They are consistent; all my fights were comfortable and on time. I like flying Emirates because they are professional. Here are some of the salient features of my flights with them.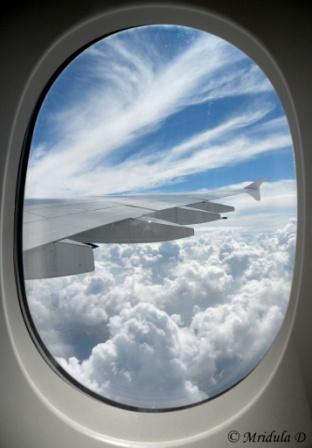 They have a good inflight entertainment system, which offers many options to pass time in flight. They have a wide range of movies to keep you engaged—I have enjoyed watching Monsters Inc. and Ice Age on their flights.
The food is good on Emirates flights. Being a vegetarian is never a problem on the flights originating from Delhi. There was once an issue when I was coming back from Manchester but they managed to find an extra-vegetarian meal for me in the end.
The wine and coffee/tea on the flight are good too. It is easy to get eye contact from the cabin crew. I like the airlines that offer a refill of tea/coffee, and Emirates does it as a matter of routine.
I like the shorter line for the web check-in at IGI Airport. From the flights originating from Manchester, it was sort of a must to do an early web check-in or you end up with only middle seats.
The Dubai–Manchester–Dubai flight had Airbus 380-800, my first experience of flying in the jumbo aircraft. It felt like I was flying in a small city!
Dubai Airport is fun to be at, so a connecting flights scenario is comfortable.
Even though it could have happened on any flight, one of my pictures that sold for a lot of money was a wing shot on an Emirates flight!
Overall, I have had good experiences with Emirates on all my flights. I hope I will fly with them again soon.