It happened by accident. Chhavi (my two year old daughter, also known as Brat 4) is quite fond of eating Ornages these days. She does not eat the flesh completely, so I gathered it all and kept it at the front wall. And then the fun began!

First came the Jungle Babbler and started the feast. They were making so much noise that I came out with Brat 4. She too was quite excited too see them all.

Then came the squirrels and for a while they had the field to themselves. Two squirrels would chase each other a bit and nibble the Oranges and the other stuff that was lying there from a day before.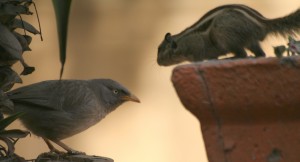 In the meanwhile my camera battery conked and I used the opportunity to get a glass of milk for Brat4 and put my battery on the charger. My daughter was quite excited to see so many birds and squirrels and drank her milk without any fuss!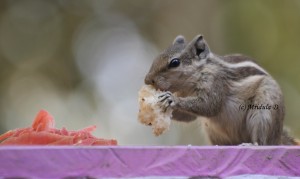 After that milk my daughter got quite sleepy and I put her to sleep by rocking her a bit and then she was fast asleep. And my camera had a little battery. The above two shots were taken after Brat 4 had gone to sleep. You can see that the feast lasted for quite some time.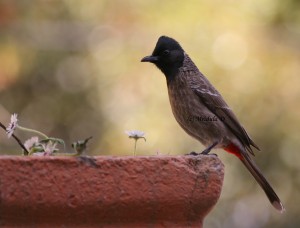 When the entire field was clear a Red Vented Bulbul also came and took part in the feast. By this time I was alternating between reading a book and keeping a watch for the birds.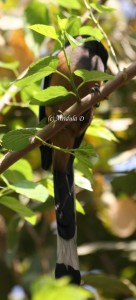 A Tree Pie also came on the nearby tree but was satisfied after looking at it from the distance. I don't know where it managed to hide its face in this picture!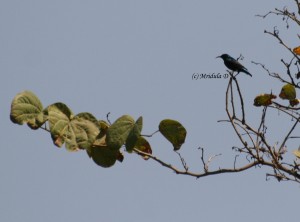 The Purple Sun Bird is the biggest tease of them all. I can see it every weekend but not close enough. On one occasion when it was, I managed to mess up all the pictures.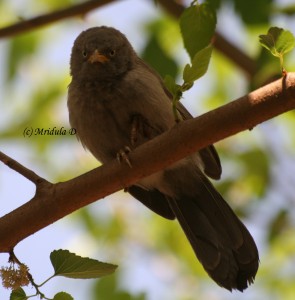 After its stomach was full, the Babbler went up on a nearby tree and started to look down on me!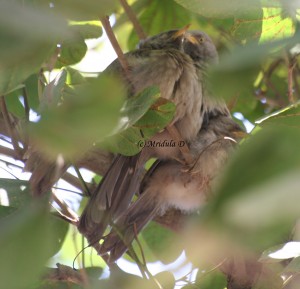 Others had gone up in a close huddle and enjoying a chat. It was quite sometime till I managed to read a few pages of the book.
This time it happened by accident but the next weekend I think I will put some Oranges for the birds and Squirrels by design.