I don't think I ever in my life did this before. I put my feet up and had a glass of wine by myself at Pokhara. The venue was Bamboo Bar which has an excellent location. It is right next to Phewa Lake and as I was walking by the lake I just entered the bar because I liked the ambiance.
So I sat on the low seats and ordered a glass of red wine and peanuts. And by my choice you can see I know next to nothing about wines. I have had one introductory session with Four Seasons and recently tasted their excellent Merlot wine as well. When I got that Merlot bottle the temperatures in Delhi were around 45 degree Celsius, so I had to refrigerate it to bring it down to suggested 16-18 degrees. And it tasted good on those hot days. But you can see it has not done much for my wine knowledge in the end, I order wine with peanuts, not sure if it is a done thing or not. Anyway even though I have enjoyed the Four Season wines, I had only Australian wines available at the Bamboo Bar.
I had just come back from a trek in the Annapurna Circuit region where I had only seen rains for most of the time. My legs were aching and this was my first day back at civilization. The seating was so comfortable and my feet so tired that I eventually succumbed and put them up on the table. It was a great thing to do, something I should probably do more often in life.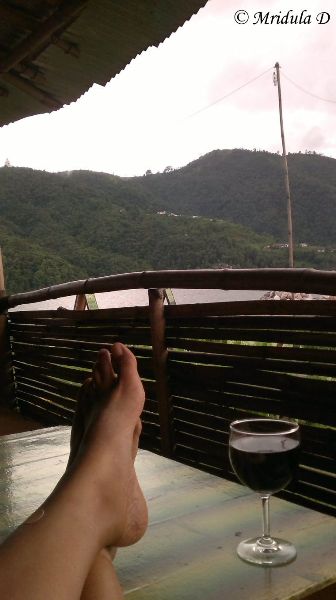 Putting my Feet Up!
At 7.00 pm that day the skies just opened up at Pokhara. It was a heavy rain, the cat and dogs type and the only break came at 10.00 pm. In between I ordered food and hoped that the rains would lesson. I went and asked the owner (a foreigner) when would they close and he reassuringly said when the rains stopped as he also could not go home in such rains. That breach, as I said, came at 10.00 pm only and this was my first day at Pokhara. Now I had to walk back to my hotel on flooded roads late at night in a new city.
I had a bulky raincoat for the trek which made me feel like Gandalf with a cloak but without any magic but that day I left it at the hotel room, I was sick of it anyway on the trek. During those hours of rain how I wished I had it with me. The bar owner was an experienced hand and he had various size of polythene to hand to to the rain stranded customers. I grabbed a big one, dumped my small shoulder bag (with my precious, my camera) inside it and walked out in the weakening rain.
I had only mild adventures on the way to the hotel. Like yelling at a taxi guy to leave me alone, like telling 3 motorcyclists to go to hell and navigating through water filled roads. The road was not isolated as there were many stranded people coming out at this hour and that is why I kept walking.
After half an hour I reached the lodge and they had locked the gates and gone off to sleep, the building being pitch dark. That is when I panicked mildly. I had to bang the doors for quite some time (it felt like eternity then) and then a sleepy lady came out and let me in!
Once I was inside my room I was fine, I fell asleep quickly. The next day I went again to the Bamboo Bar in the evening to enjoy another glass of wine but this time with a Cheese Platter (and an excellent one too) and no rains.
I will take the glass of wine by myself anytime again but minus the rains.