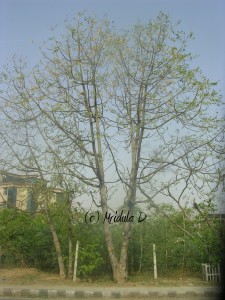 Sometimes I feel that most of the things I see, I see from a moving car! And most of the landscape is quite full of construction dust at the moment. And the weather quite hot. In this scenario, the tree in the picture above is a very familiar one for me. I often stop at the red light here on my way to work.
This is another place I cross daily and I noticed for the first time that there is a Census of India hoarding here now. Must be a recent change. But it is also possible that I took notice of it only today. I wonder how many we will count this time. It already feels that we are way too many, myself included.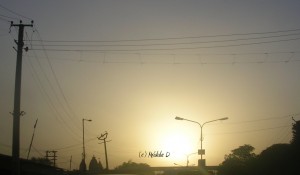 And if you look hard in the left hand corner you will find the top of a temple in this picture. This is the bane of my morning commute, if there is a festival (which seems to be on a large number of days) the traffic goes for a complete toss. But this is also the place where Mynas fly in a bunch of 100s particularly in March. Next time, when I see that spectacle again, I will stop my car and make a video. The Mynas are still there but not in that big a number.