I got only a fleeting glimpse, much of it from a moving bus, but it has been an unforgettable journey to Eastern Sri Lanka. I have but briefly touched upon the cities of Batticaloa, Kattankudy and Trinclomalee but the impressions I am going to carry back are lasting.
The Grand Old Tree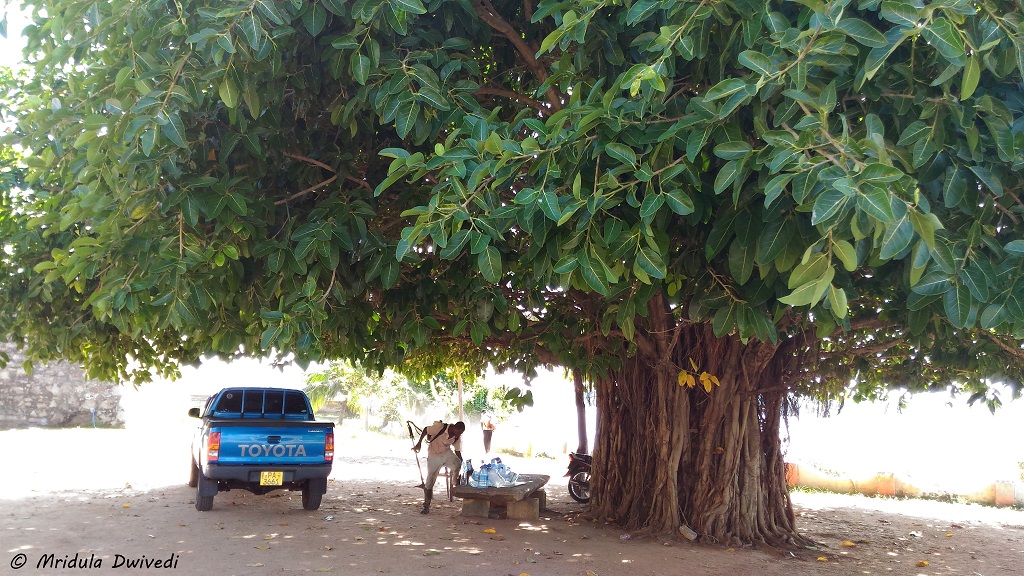 As a tourist I crave for scenic beauty and I got it in plenty. But it were the fleeting glimpses that made me pause. It all started when I was rushing by this grand, old tree. I thought the old tree could tell me stories if only I had time to listen. It could be the story of the vehicle parked or the dreams of the man standing beneath it, but I had to move on. Maybe my sub-conscience registered it, because never before I tried to document the fleeting scenes I encounter on my trips!
As They Went Past the Bus- The Places of Worship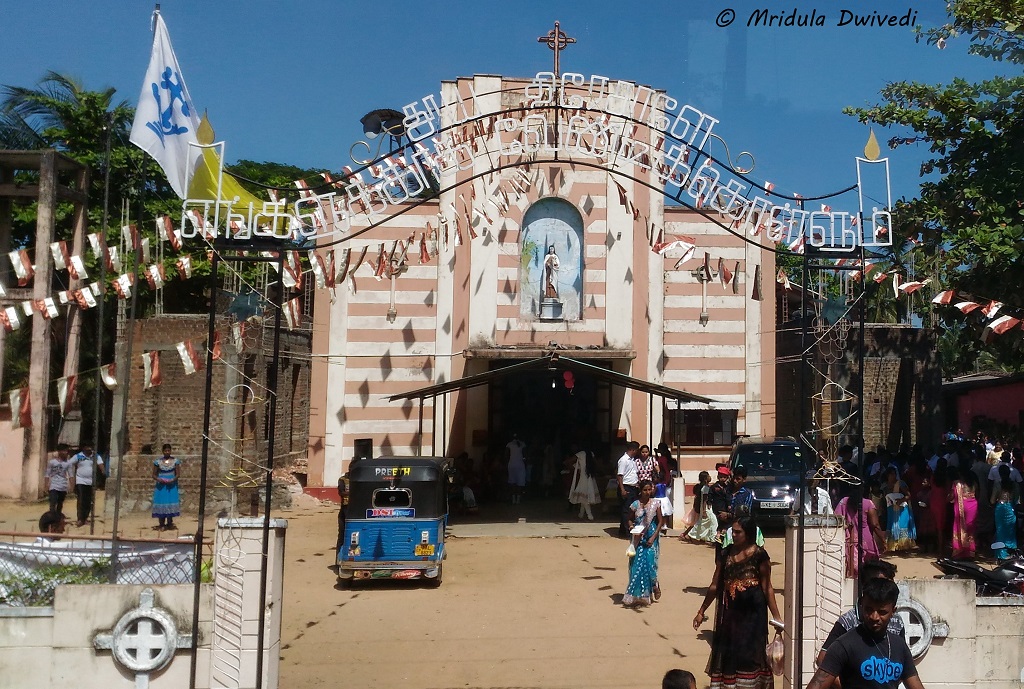 As the bus moved from Kandy to Batticaloa and reached eventually Trincomalee, I could see bits and pieces of places of worship. Sometimes it would be a corner sometimes I got electric wires in the frame but they were there! The Church I saw from the window seat, had many visitors.
We overshot our destination, Trincomalee by a few kilometers. The driver was trying to compensate by driving a little faster than his usual! And yet, I could spot the mosque, it was all serene there!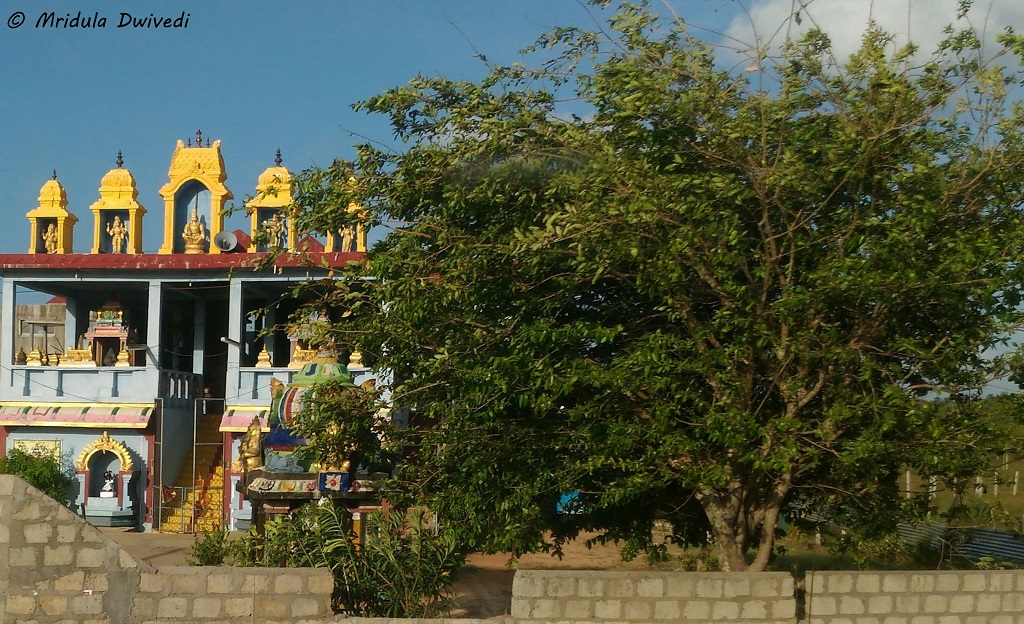 I also caught the corner of a Hindu temple while the bus roared towards the Trinco Blu, our destination for the day.
My first impression was that people seem to co-exist peacefully in the region. And yet I know the Eastern Province has seen a lot of conflict during the civil war! But now I find no traces of it, I see only serenity.
The Friendly People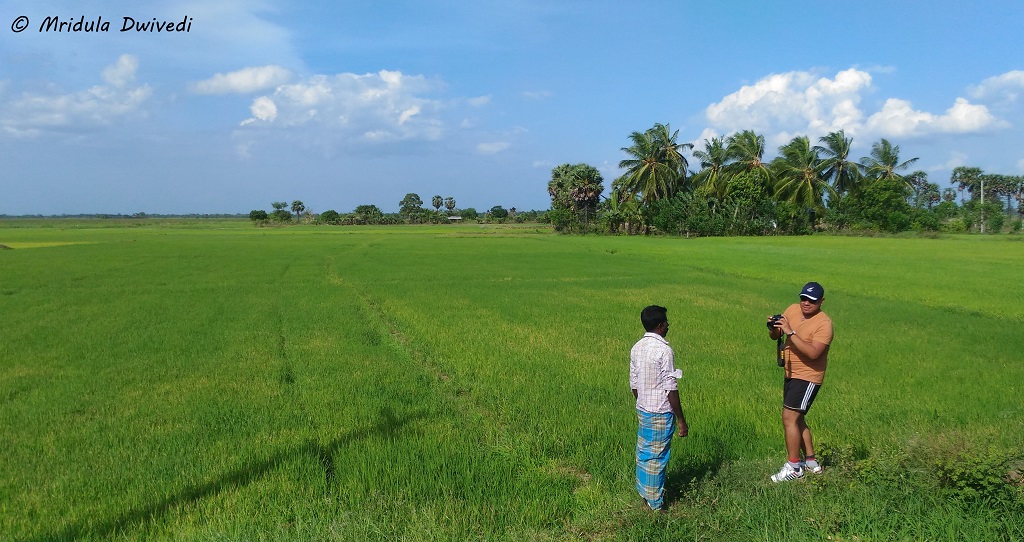 We stopped our bus near a beautiful rice field while we were traveling from Batticaloa to Trincomalee. The farmer was happy to pose, the blogger was happy to click! And I was happy to stretch my legs too!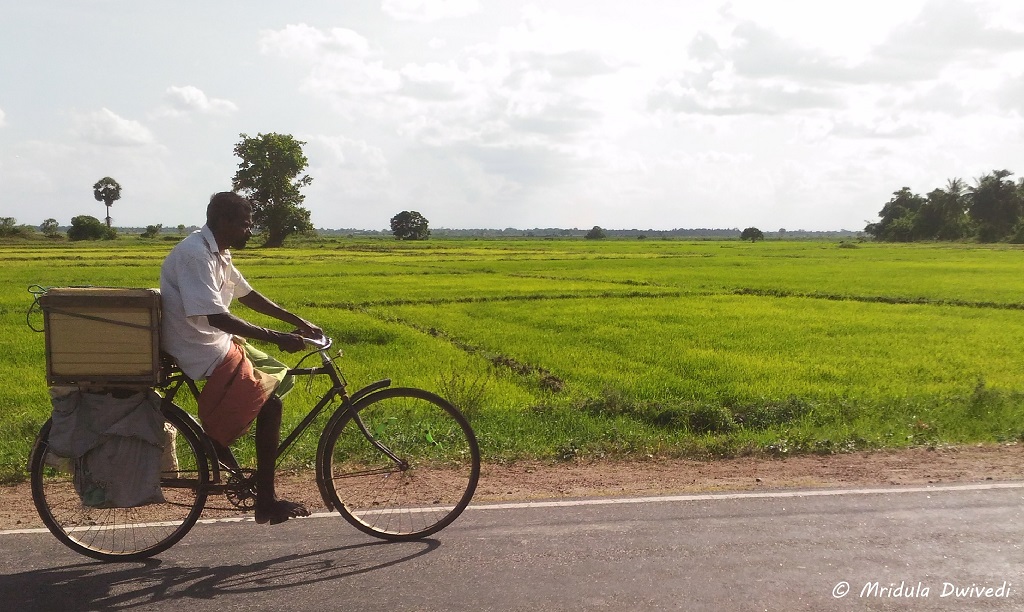 While we were on our break, he passed by on the bicycle carrying something. He knew I was pointing my camera at him and yet calmly he went on! He might have been mildly curious about the commotion near his peaceful fields but he did not pause!
If you have not tried Sri Lankan Hoppers yet, you are missing out on good food! And if you find yourself in the main market at Kattankudy look out for this genial man who runs a cart shop on the streets.
You know what happens when 15 bloggers converge on such a place! All of us want pictures and videos as soon as we arrive. This gentleman worked at fast pace, we were continuously in his way. Yet he went on without a frown, making amazing hoppers! Lesser mortals would have told us to get to the other side of the shop and stick there. But not him. I have to admit I ate two coconut hoppers, his sambhal was so amazing!
And if you are still hungry in Kattankudy go buy some bananas from a local fruit shop. Once again there was a mild curiosity about our big group but they were cool customers when it came to posing for the camera!
The Village Scenes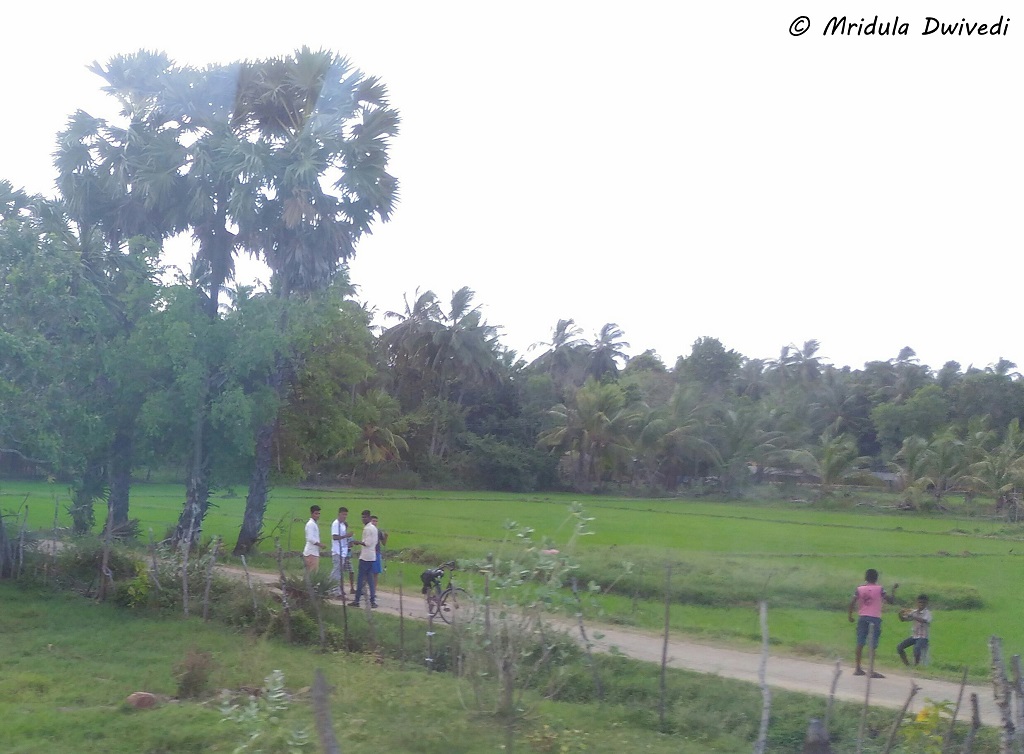 As I took a lot of pictures from they moving bus, they are not carefully composed, they are not sharp either. But I believe if I did not take them, I would have missed out on an essential part of my journey to Eastern Sri Lanka! I could so identify with the village scene, it could have been a country road in India! And they were chilling in their village!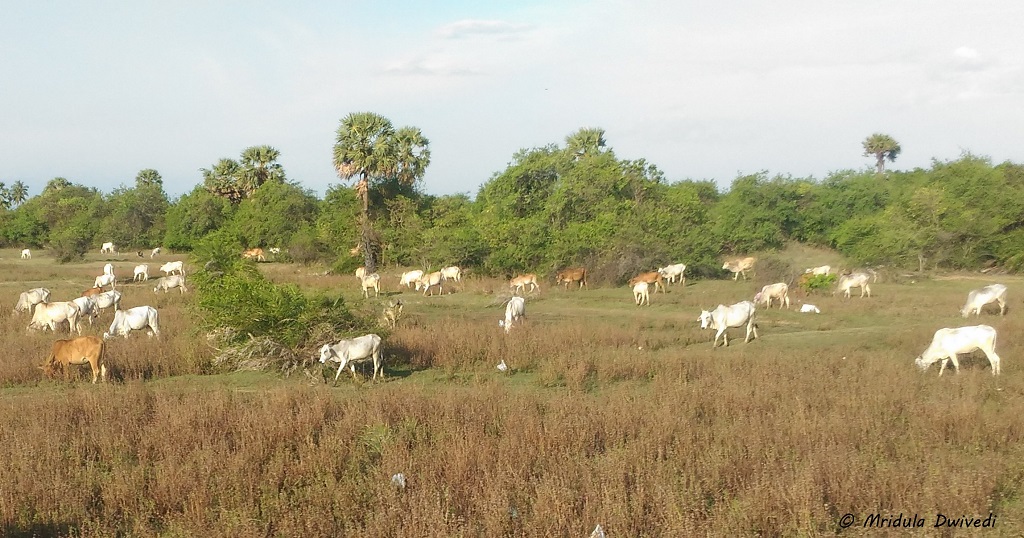 From my moving bus I saw a lot of cows too. I have visited a cow farm only once in my life, and a herd like this brings me immense cheer. These animals are part of households, they will probably have names unlike their factory counterparts!
The Scenic Eastern Sri Lanka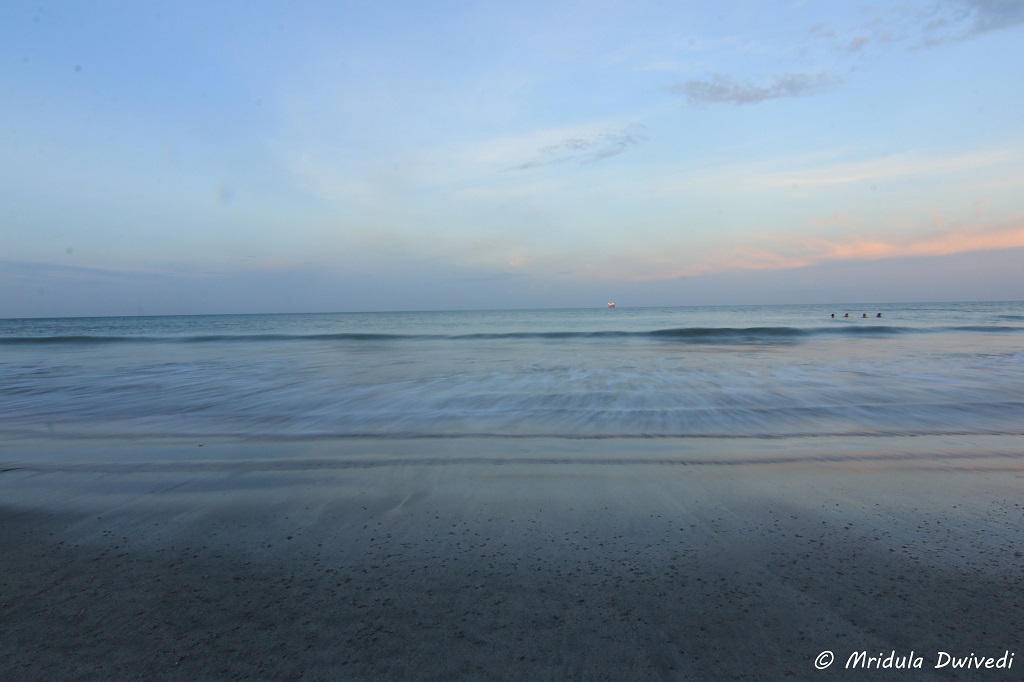 Eastern Sri Lanka is picture postcard beautiful, it looks like a painting more than a place! I would say visit now, before it firmly gets established on the tourism map! You know what happens to places then.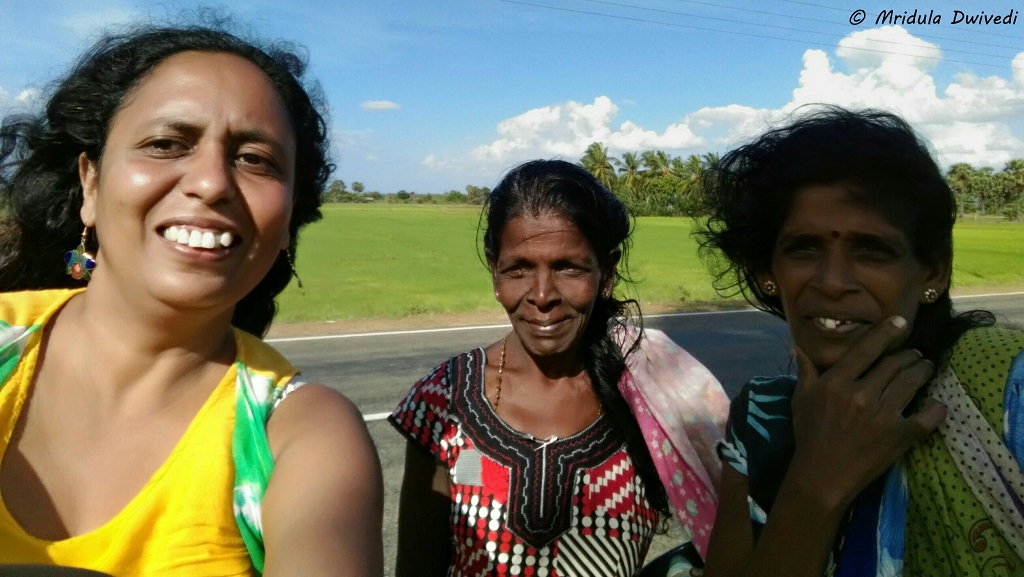 You could come for the scenes to Eastern Sri Lanka, but I would say come for the smiles!
PS. I was part of a group of bloggers participating in TBC Asia sponsored by Cinnamon Hotels. The trip to the Eastern Sri Lanka was a joint initiative with Market Development Facility. I feel immensely privileged to be a part of it!