I recently got UE Boom Bluetooth Speakers by Ultimate Ears for review. They are mine to keep. The speakers are cylindrical in shape and they come in a box of the same shape. To open it, we discovered that we need to slide the doors. The product is from the Ultimate Ears, which is a brand of Logitech. It is priced at 14,995 rupees.
For me the appeal of the speaker is due to its Bluetooth capabilities. I could use it on my travels too. Its Diameter x Height is 5 cm x 18 cm. It weighs only 538g. The product is water and stain resistant, a useful quality in a home which has children!
I am not good at anything tech. I usually run to my nephews for such things. But I could easily pair the speaker with my phone. I tapped the Bluetooth on, both on the phone and the speaker, and lo and behold they simply connected without any problem at the first try.
The sound quality on the speaker is amazing. Tu meri zindagi hai sounds lovely on it. I live in a duplex, so I left the phone in the living room and started to take the speaker to the various parts of the house. It works outside. It works in both the bedrooms upstairs. When I try to take it to the balcony with the phone still in the living room, the connection becomes erratic.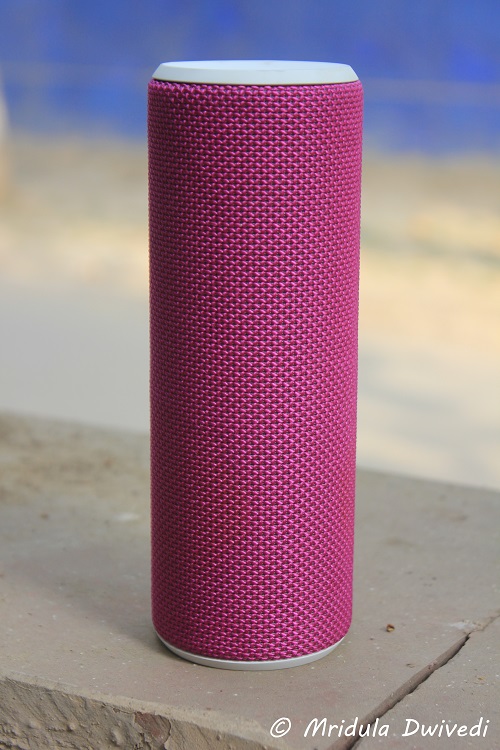 At my home my husband is the sound and music person. He plays the violin, he records his songs, he sometimes goes out and plays at events too. He practices violin almost everyday for a few hours, all this with a full time job and a wife who travels frequently! Speakers and sound are his forte. He has quite a collection of speakers but he immediately started using UE Boom with his laptop. It can be used with a wire too.
I can also imagine how much my trekking guides would like the speaker. They like to play music while camping, I am much more of the book reading type. Even though the speaker has a maximum charge of 15 hours, our treks are of 4-5 days at least with no electricity on the route. That is one problem to be solved.
Overall, I quite enjoy the UE Boom speaker in my daily routine. It is fun to leave it in one corner of the home and control it with my cell phone. I am yet to take it on a trip though.